Build and manage customer-centric Merchandise Financial Plans and Improve Alignment of Strategic goals
With Top Down and Bottom Up go-to-market Strategies, Resources and Initiatives with the ability to plan by attributes and establish Open-to-buy controls.
Top Reasons Organizations are Upgrading their Merchandise Financial Planning capabilities
Omni-channel financial plans
Ability to have more forward-looking driver based merchandise financial plans
Leveraging AI/ML capabilities for financial forecasts
Move from legacy systems to cloud based system
Use cases / capabilities favored by our clients
Retail or cost based merchandise financial plans
Real-time aggregation and dis-aggregation at any level in the hierarchy
Modeling growth by business drivers such as assortment changes, promotions, demographic shifts etc.
Connected planning top-down and bottoms-up with real-time reconciliation
AI/ML driven projections
Real-time reconciliation to assortment, allocation, replenishment etc.
Visibility to competitive data, consumer data etc.
Flexible and easy-to-use reporting
Cycle over Cycle changes
Assumptions tracking
Post-game Analysis
What-if scenarios and simulations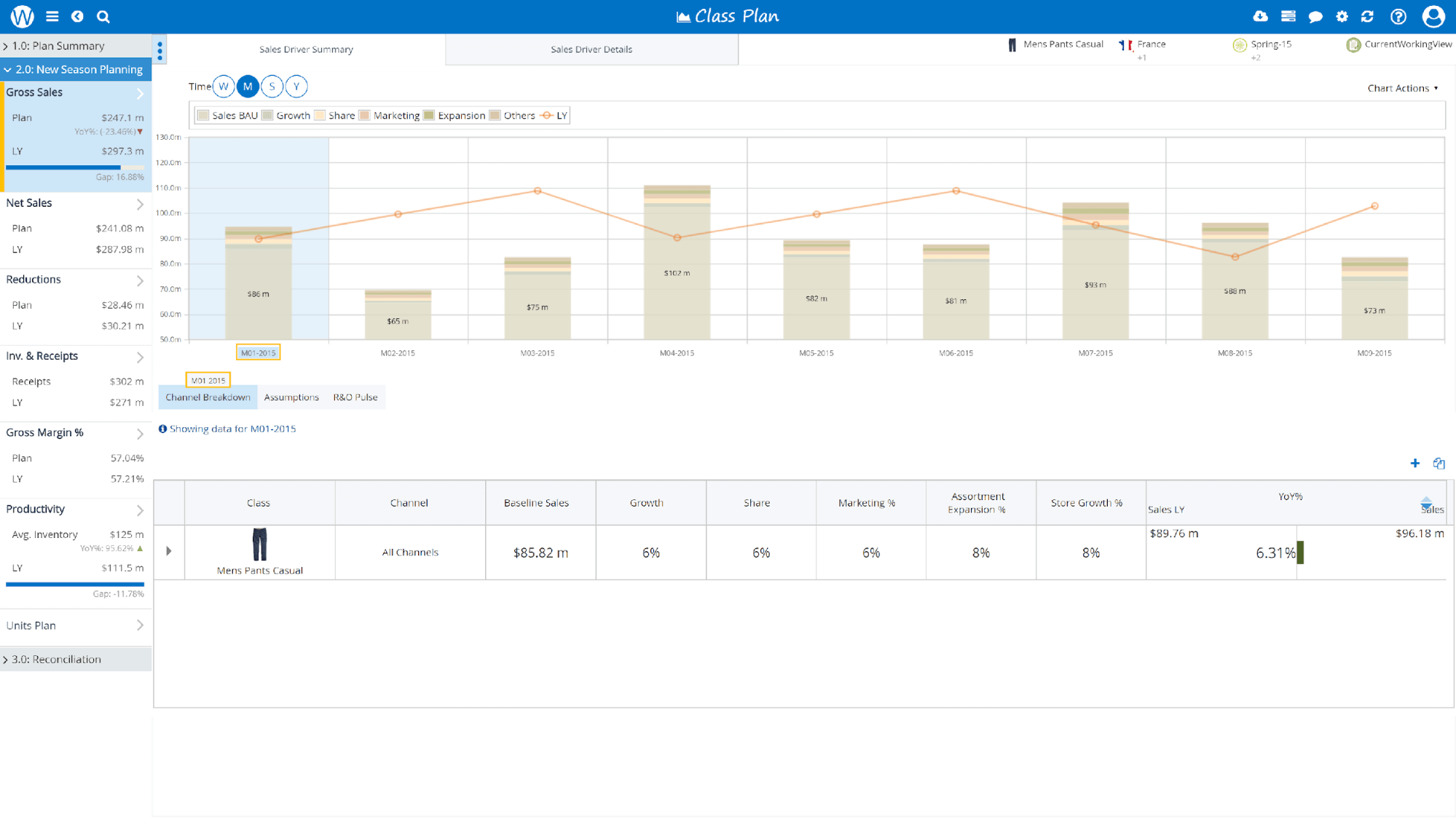 Merchandise Financial Planning with the o9 platform
Struggle to reconcile top down targets with bottom up forecasts? Find it difficult to understand the margin impact of mix changes? Don't have good visibility to the assumptions and initiatives driving bottom up forecasts? o9's AI platform can upgrade your revenue planning to a digital platform that empowers channel, regional sales management, sales operations, finance and product marketing to collaborate, plan and align on plans, forecasts, initiatives and resources to optimize revenue and margin performance.
Looking for a next generation AI/ML based Merchandise Planning solution that can handle omni-channel challenges, multi-region challenges, large product portfolios and provide a collaboration framework?
Request a demo that will highlight the capabilities that matter to you