Published: October 25, 2022
Reading time: 4 min

o9 Solutions
The Digital Brain Platform
Published: October 25, 2022
There is not a one-size-fits-all solution to global supply chain shortages. There is not a one-size-fits-all problem, either. That's because today's global supply chains are so complex that every seemingly minor disruption creates a domino effect of events that drive demand and supply volatility.
The causes of disruption are not individually unique. Still, how they come together puts leaders in the difficult position of understanding the combined impacts on their specific Supply Chains. In the auto industry, this topic rapidly gained relevance with the growing need for semiconductor chips driven by the digitization of automobiles. The global pandemic caused intermittent shutdowns at chip maker's facilities, and already constrained supply became even tighter. At the same time, the ongoing conflict between Russia and Ukraine contributes to decreased wiring harness production. With the climate crisis and additional geopolitical tension, the situation will likely worsen rather than become any better soon. 
On top of these cross-industry pain points, the automotive industry is dealing with increasing volatility driven by inflation and economic uncertainty, rising transportation costs, trade wars, aging and outdated manufacturing facilities, and climate and regulatory concerns. In parallel, on the consumer side, the industry is experiencing a shift in behaviors related to electrification, alternative buying channels, and the potential for subscription-based services.
At every turn, automotive supply chain leaders face challenges that do not happen in isolation. The "New Normal" context of the industry will continue for the foreseeable future, and today's leaders must simultaneously manage for today and plan for tomorrow.
New tools are critical for transformation
In today's context, it is more challenging than ever for OEMs to predict customer demand. As a result, the forecasts they send to their suppliers fluctuate considerably. The rapid and sometimes sizable changes whip through the tiers of the supply chain, increasing lead times for components and raw materials and driving down supplier reliability. 
Proactive auto suppliers know they must transform their supply chain planning to stay competitive under these changed circumstances. That transformation means building the critical capabilities to visualize the state of their business, anticipate disruptions, and respond with agility. In doing so, they must transition to a digital operating model that will be the foundation for their future success. 
Marelli, a leading global supplier to the automotive industry, understood the significance of this change. In an aim10x webinar titled What the Future Holds: Key Planning Capabilities Automotive Suppliers Will Need in the Next 10 Years, Marelli's VP of Supply Chain, Jesus Beas, said:
"We will definitely see changes in our industry in the future, so we need to become ready. It is imperative to select the right tools and the right technology partners and work your operational excellence by consolidating your network, methods and procedures to achieve a faster and more agile decision-making process."
This path forward for Marelli, and many others, is a step toward higher granularity supply chain models that include and analyze a wide array of internal and external factors. When converted to knowledge, that data becomes the insights that shape tangible enterprise-wide value, even during times of uncertainty and complexity. 
Automate and analyze new data
Automotive supply chains built on "the way it's always been done" and using antiquated, siloed tools struggle to gather and consolidate the relevant data needed for effective decision-making. If they have access to the data, it is often impossible to analyze it to help them know what is happening now and predict what will happen next. 
The move to digital operating models connects the dots across products, channels, customers, and markets. It allows suppliers and OEMs to better understand their markets and customer demand drivers by leveraging vast amounts of information, such as geographic vehicle registration, mobility data, Dealer sales trends, economic activity, etc. 
Such increasing data availability unleashes the potential of AI/ML forecasting to improve accuracy. OEMs and suppliers can apply automated workflows and advanced analytics to new equipment and aftermarket planning. Even more important might be the ability to consolidate and integrate the two. By linking demand and supply from both areas, state-of-the-art planning allows for optimized inventories and maximized sales/profits for both the short and long term.
Next-generation automotive supply chain planning flexibly models end-to-end plans, deviations, and potential gap closure activities. Fully financialized volume and value plans sense and respond to the ever-changing environment, with real-time scenario analysis contributing to faster, more agile decision-making across multiple time horizons. 
Explore the interactive demo of o9's next-generation solution to see the automotive digital operating model in action. In the self-paced tool, you can see "live" an illustration of Integrated Business Planning at a Tier I auto parts manufacturer.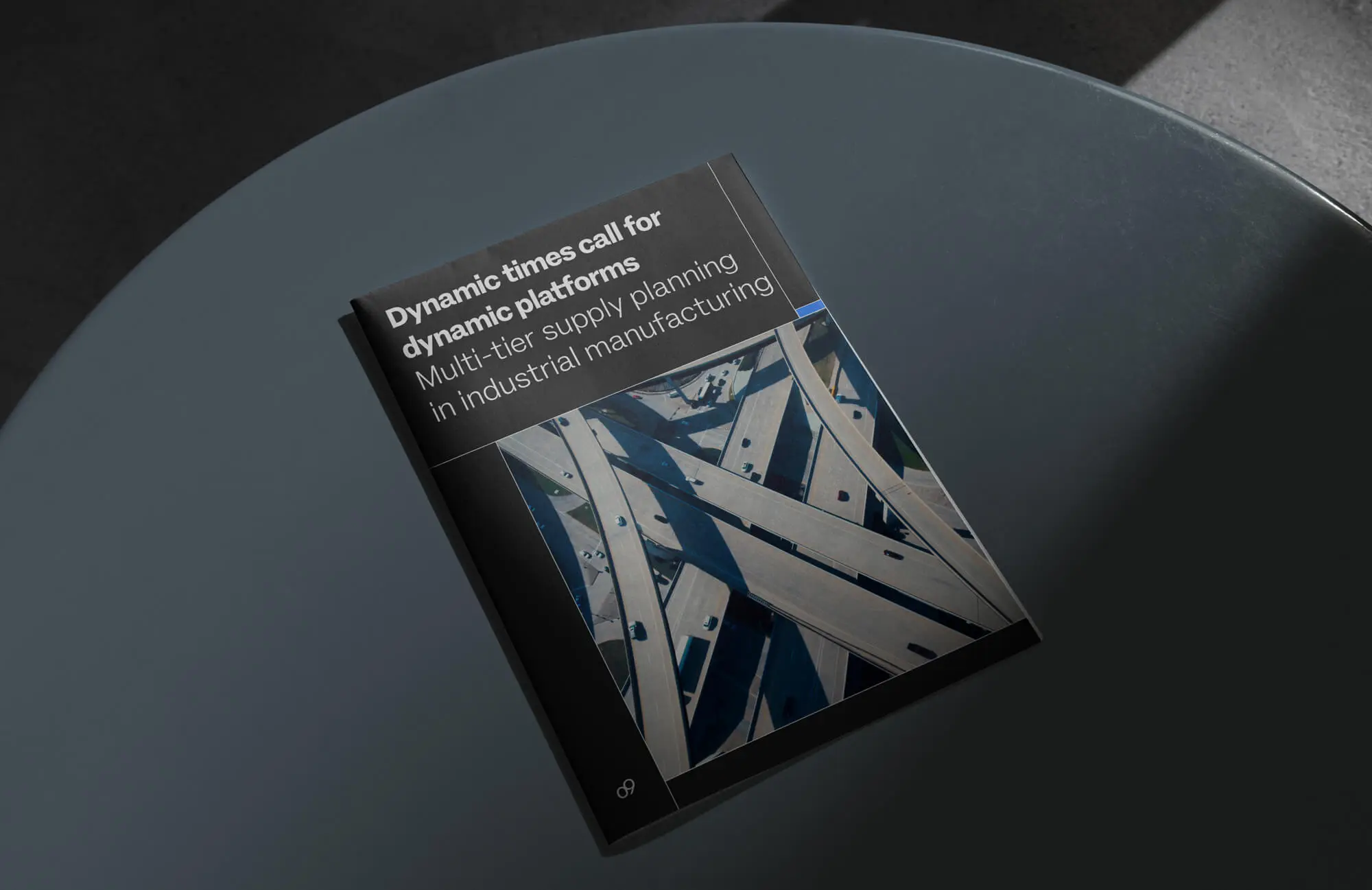 Multi-tier collaboration: The next frontier in supply chain planning
Supply chains are global ecosystems. Leading companies are leveraging technology to collaborate with all partners and achieve closer alignment.
About the author

o9 Solutions
The Digital Brain Platform
o9 offers a leading AI-powered Planning, Analytics & Data platform called the Digital Brain that helps companies across industry verticals transform traditionally slow and siloed planning into smart, integrated and intelligent planning and decision making across the core supply chain, commercial and P&L functions. With o9's Digital Brain platform, companies are able to achieve game-changing improvements in quality of data, ability to detect demand and supply risks and opportunities earlier, forecast demand more accurately, evaluate what-if scenarios in real time, match demand and supply intelligently and drive alignment and collaboration across customers, internal stakeholders and suppliers around the integrated supply chain and commercial plans and decisions. Supported by a global ecosystem of partners, o9's innovative delivery methodology helps companies achieve quick impact in customer service, inventory levels, resource utilization, as well as ESG and financial KPIs—while enabling a long-term, sustainable transformation of their end-to-end planning and decision-making capabilities.