Sales & operations planning (S&OP) software
Reimagine Sales & Operations Planning
Request a demo
Trusted by leaders across industry verticals
Redefine Sales & Operations Planning with in-line collaboration
o9 is helping organizations move from executive dash-boarding to a collaborative, analytic insights driven platform for alignment of cross-functional plans and initiatives. Enable your digital transformation of S&OP by integrating commercial planning and finance into an existing S&OP with on system meetings.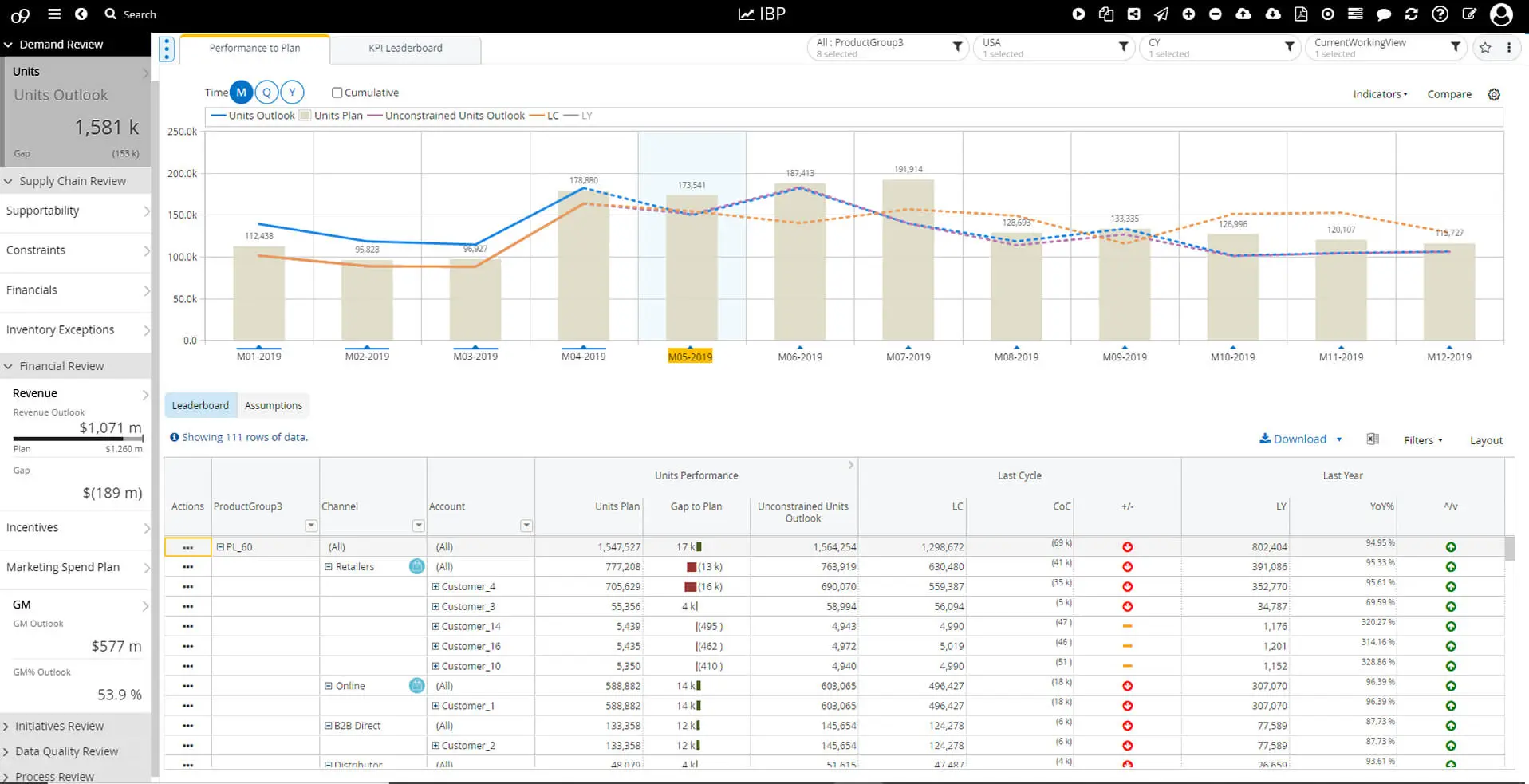 Create a unified
plan with live data
Integrate all plans with the flexibility to model different sources of data, and accommodate the different granularity of the plans and understand the gaps between the plans. Resulting in a unified plan, in volume and value, constrained and fully financialized. Use the S&OP dashboard as a part of the full Integrated Business Planning (IBP) solution from o9.
Why customers choose o9 for their S&OP
Live Platform
Enhance the effectiveness of S&OP by moving to a digital collaborative platform with current plans & analytics.
Insights over Reporting
Move from status and gap reporting to an insight-rich S&OP process.
Complete Financial Perspective
Cross enterprise, move from just Supply Chain centric to a Business Unit, P&L centric S&OP.
With o9 Sales & Operations planning customers are able to use live data for in-line collaboration.
The entire S&OP process orchestrated on the system
Real time visibility to plans, forecasts, gaps, initiatives, and KPIs as they change
Alerts, Information sent out to stakeholders prior to S&OP meetings
In-line collaboration, task management improving the culture of execution with meetings conducted on the System
Visibility to biggest performance, forecast gaps – assumptions behind forecasts, plans, and gap closure proposals
Supply Chain Constraints, Excess Capacity & Inventory – Demand and Supply Shaping Action PlanReal time scenario planning – Demand or supply changes, P&L impacts along with Top NPI, Marketing & Sales initiative visibility
Plan better. Reduce waste. Create an efficient business for a better planet.
o9's Integrated Business planning software capabilities including S&OP are helping global enterprises improve the overall plan, which directly correlates to better and improved financial performance. And when a business plans better, it creates operational efficiencies that significantly reduce wastage.
The integrated planning efficiencies delivered by o9 is helping corporations do more, be more and mean more, internally and to the world at large.
Take the first step to redefining your Sales & Operations Planning workflows
Click to experience an interactive demo of the art-of-the-possible on o9's next generation solution for S&OP. You will see "live" some of the favored use cases of our clients.
Start live demo
The link will require you to login using your existing Microsoft account or you can create one for free