Move from monthly Sales and Operations Planning using spreadsheets and PowerPoints to a daily / weekly real-time collaborative process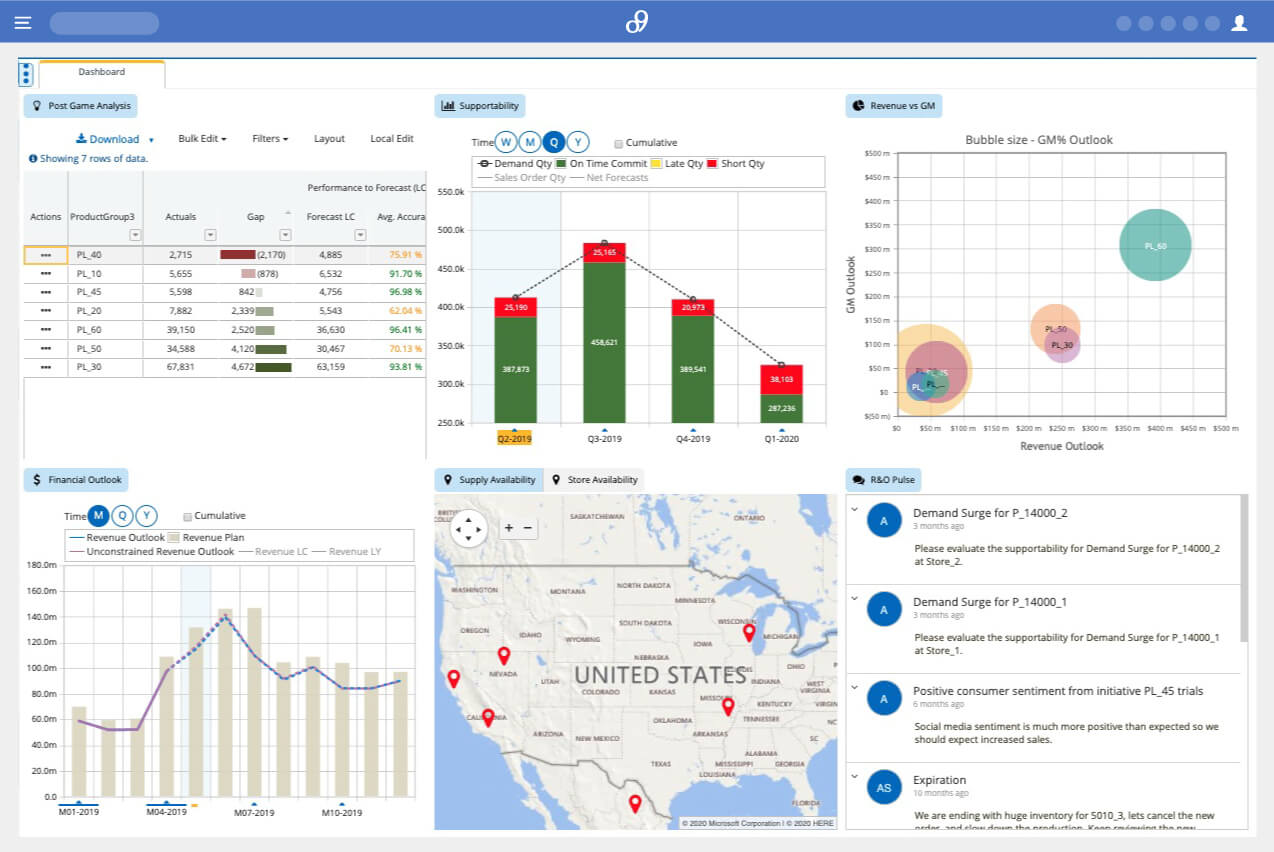 Sales and operation planning on the o9 platform
Top Reasons Organizations are upgrading their S&OP Capabilities
Enhance effectiveness of S&OP by moving from spreadsheet/powerpoint to a digital collaborative platform
Move from status and gap reporting to an insight rich S&OP process
Move from just supply chain centric- to a business unit P&L centric S&OP
Move from monthly and quarterly powerpoint business plan review meetings to a real time collaborative S&OP platform where sales & marketing, finance, supply chain and business unit executives can collaborate and drive alignment on plans, forecasts, initiatives and resources to maximize performance.
Use cases / capabilities favored by our clients
Entire S&OP process orchestrated on the system
Real time visibility to plans, forecasts, gaps, initiatives, KPIs as they change
Alerts, Information sent out to stakeholders prior to S&OP meetings
Meetings conducted on the System
In-line collaboration, task management improving culture of execution
Visibility to biggest performance, forecast gaps – assumptions behind forecasts, plans and gap closure proposals
Top NPI, Marketing & Sales Initiatives visibility
Supply Chain Constraints, Excess Capacity & Inventory – Demand and Supply Shaping Action Plan
Real time scenario planning – Demand or supply changes, P&L impacts
Do you want to know more about sales and operations tools? Have a look at our upcoming or on-demand webinar plan, we might host something related to sales and operations planning soon! Can't find what you are looking for? Get in touch with us for a tailored presentation of our platform.
Looking for a digital platform to orchestrate your entire S&OP process?
Request a demo that will highlight the capabilities that matter to you