Published: October 4, 2023
Reading time: 7 min

o9 Solutions
The Digital Brain Platform
Published: October 4, 2023
How to Introduce a New Product?
New Product Introduction (NPI) is a process in which an idea is taken from the first working prototype to a refined and reproducible product. In the process, a new or improved product is defined, developed and launched through a set of activities. The NPI process is framed from the contract manufacturer's point of view.
NPI is how organizations bring about innovative goods and services to the markets. NPI is often confused with NPD, or New Product Development. But, NPD deals with the concept generation, design and commercialization of a new product, whereas NPI deals with the manufacturing and launching of new products. Since both in a way deal with the product cycle that flows from concept to development to launch, there is an overlap between the two terms. 
In this blog, we are going to focus on the New Product Introduction process. We shall understand the fundamentals of the process as well as the steps involved in it in detail.
Why is New Product Introduction Important?
New product introduction establishes a framework to help organizations turn an initial concept or idea into a finished product. It enables businesses to enhance manufacturing efficiency, lower development costs, accelerate time to market, and enhance product quality.
New Product Introduction (NPI) is a critical process for companies looking to stay competitive in the market. NPI is the process of developing and launching a new product, from ideation to commercialization. It involves activities such as market research, product design, development, testing, manufacturing, and marketing. NPI is essential for the success of a company, as it allows them to stay relevant and meet the changing needs and demands of their customers. It also enables companies to gain a competitive advantage, increase revenue, and expand their market share. Through NPI, companies can innovate and develop new products that meet the evolving needs of their target market, stay ahead of their competitors, and adapt to technological advancements. NPI is a vital tool for businesses that want to grow and thrive in today's dynamic marketplace. 
New Product Introduction Process
When creating a new product, a number of moving components have to be managed at the same time. Every step needs to be carefully monitored, right from the design stage to the first launch of the product. The New Product Introduction process helps streamline these operations.
The exact steps that are involved in the New Product Introduction vary from company to company and project to project. However, the goals of the process are the same throughout. These are to minimize waste in the process, avoid any sort of miscommunication, enhance production speed and save money.
The process involves multiple steps to take the product to the market. A special team tracks progress and performs assessments at regular intervals to make sure that the project is going in the correct direction.
New Product Introduction (NPI) is the process of bringing a new product to market. It involves a series of steps and activities that aim to ensure that the new product meets the customer's needs and is successful in the market. Here is a brief explanation of the NPI process:
Idea Generation: This is the first step in the NPI process. It involves generating ideas for new products or product improvements. Ideas can come from various sources, such as customer feedback, market research, or brainstorming sessions.

Product Conceptualization: In this step, the product concept is developed. This includes identifying the product's features, target market, pricing, and positioning.

Feasibility Analysis: Before proceeding with the product development, a feasibility analysis is conducted to assess whether the product is technically feasible, financially viable, and aligned with the company's objectives.

Product Development: This step involves the actual development of the product, including designing, prototyping, and testing.

Testing and Validation: The product is tested and validated to ensure that it meets the required quality standards and specifications.

Launch Planning: In this step, the launch plan is developed, which includes marketing, sales, distribution, and customer support strategies.

Commercialization: The product is launched and made available to customers.

Post-Launch Review: After the product launch, a post-launch review is conducted to assess the product's performance, customer feedback, and sales data. This helps in identifying areas for improvement and making necessary adjustments.
NPI Strategy
An effective NPI strategy is essential for organizations that want to bring new products to market successfully. A solid NPI strategy should consider factors such as customer needs, market share and demand, competition, technology, and resources. It should also incorporate a structured and systematic approach, including clear objectives, timelines, and metrics for success. Collaboration between cross-functional teams such as engineering, marketing, sales, and supply chain planning  is also essential to ensure alignment and a smooth NPI process. An effective NPI strategy can help companies minimize the risk of failure and increase the chances of success by delivering products that meet customer needs and generate revenue.
New Product Introduction Goals and Benefits
In the present market, companies need to develop products at the right time and cost, and a robust NPI process can help achieve this. Here's a clearer explanation of how the process aims to get these goals. 
Introducing new products to the market can bring several benefits to a business. Firstly, it can help to increase revenue and profitability by expanding the product range and reaching new markets. Secondly, it can enhance brand reputation and customer loyalty by demonstrating innovation and responsiveness to changing customer needs. Thirdly, it can lead to a competitive advantage by differentiating the business from competitors and providing a unique selling proposition. Finally, it can stimulate growth and create new opportunities for the business, both in terms of sales and the development of new technologies and processes.
Lower cost of development - when the customer's needs are integrated early on in the process, continuous changes in design leading to higher development costs can be avoided.

Faster time to market - Following the above, since the time of development would also be reduced, the products can then be released faster. Faster release would also lead to quicker revenue generation.

Enhanced product quality - The NPI process tries to make sure that the necessary tools for making high quality products consistently to meet the customer's needs are developed.

Improved manufacturing efficiency - Best practices for design are employed so that the design process takes into consideration the manufacturing process. This way, any hiccups can be avoided.
What is NPI in the Supply Chain?
New Product Introduction is a critical phase in the supply chain that involves the planning, design, development, and launch of a new product. It is a complex process that requires collaboration among various departments, including product development, manufacturing, marketing, planning, and logistics. In the context of supply chain management, NPI involves ensuring that all aspects of the supply chain are prepared to support the launch of the new product, from sourcing and procurement of materials to distribution and delivery to the end customer. Measuring the impact of new product introductions on existing products is an important factor; Cannibalization is when demand for other products decreases while Halo Effect is when demand increases for other products. Effective NPI management can help to minimize risks, maximize opportunities and ensure the success of the new product launch, which is crucial for the long-term growth and sustainability of the business.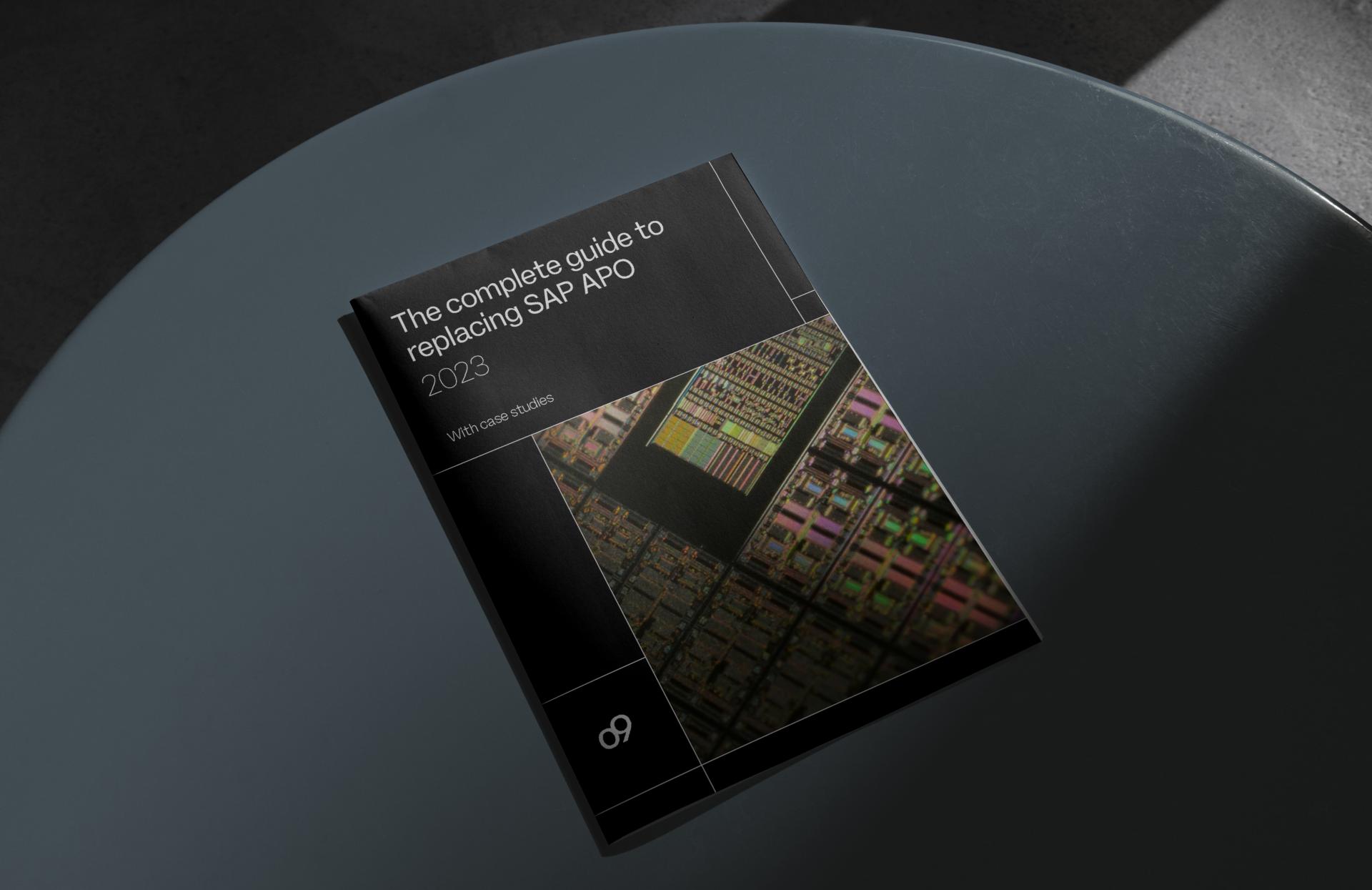 The complete guide to replacing SAP APO in 2023
Download this guide to learn everything you need to know about replacing SAP APO.
About the author

o9 Solutions
The Digital Brain Platform
o9 offers a leading AI-powered Planning, Analytics & Data platform called the Digital Brain that helps companies across industry verticals transform traditionally slow and siloed planning into smart, integrated and intelligent planning and decision making across the core supply chain, commercial and P&L functions. With o9's Digital Brain platform, companies are able to achieve game-changing improvements in quality of data, ability to detect demand and supply risks and opportunities earlier, forecast demand more accurately, evaluate what-if scenarios in real time, match demand and supply intelligently and drive alignment and collaboration across customers, internal stakeholders and suppliers around the integrated supply chain and commercial plans and decisions. Supported by a global ecosystem of partners, o9's innovative delivery methodology helps companies achieve quick impact in customer service, inventory levels, resource utilization, as well as ESG and financial KPIs—while enabling a long-term, sustainable transformation of their end-to-end planning and decision-making capabilities.