Published: February 27, 2023
Reading time: 8 min

Guillaume Bothier
EMEA Industrial Manufacturing Sales Director
Published: February 27, 2023
There is not a single day without the metals industry making the headlines: from targeted cyberattacks to price volatility to the semiconductor crisis impacting the automotive industry and consequently swinging supply and demand for metal manufacturers. In addition to the unprecedented operational challenges in the sector, longer-term issues such as meeting the target of net emissions of greenhouse gases by 2050 are amplifying complexity (European Commission, 2020).
The supply chain planning function is at the heart of these challenges. And while there are many differences between operating a steel company, an aluminum company, or any other metal company, there are common business challenges they all are trying to solve. For example, planners and supply chain managers must ensure the continuity of operations while also optimizing profitability and sustainability.
Digitization is an essential enabler in addressing these issues.  As a supply chain planning and AI/ML-driven software platform provider, o9 Solutions can uniquely help address the challenges facing the metal industry. As such, we want to share some of our findings.
Solving the metal industry's supply chain challenges with digitization
In 2022, o9 reexamined the most common business challenges to solve with digitization through continued discussions with 50+ supply chain leaders.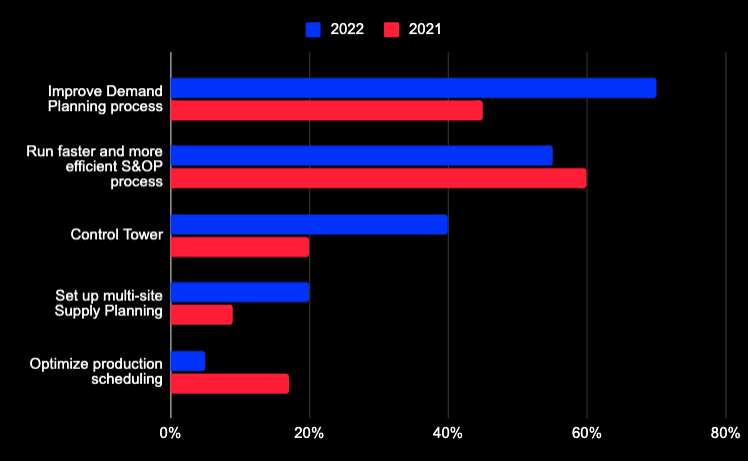 The business challenge rising most from 2021 to 2022, and the overall most common, is the ability to run a better demand planning process (70%). Specifically, the first and most urgent need is the capacity to run demand forecasting at the product family level (e.g., grade) and translate it into attributes (dimensions, coating, etc.) to be able to assess the impact on the supply chain. In addition, companies want to generate forward-looking forecasting based on leading indicators of metal demand (e.g., construction, automotive, etc.). Finally, more metal manufacturing companies have moved to online sales and want to leverage their customers' data.
Although slightly less important than in 2021, the second most pressing issue in 2022 is the ability to run a faster and more efficient S&OP process (55%). This category includes business challenges like running data-driven/rule-based S&OP processes at the right aggregation level (e.g., alloy grade by region), running demand scenarios (volume and product mix), and evaluating their financial impact and supportability within the supply chain.
Another area of significantly growing priority in 2022 is that supply chain leaders want a Control Tower capability (40%) to react faster to disruption and balance the load across the network. Control towers are more traditionally associated with the consumer goods and retail industries. However, recent events, like energy crises, geopolitical conflicts, and a looming recession, create the need to quickly identify potential disruptions and the possible consequences of each and respond accordingly.
The fourth most pressing issue, and another growing area of interest, is the need for multi-site supply chain planning (20%), complete with the respective production site capacity (e.g., mills and cast houses), and considering the prime metal and scrap constraints. Too often, companies also need more help to define the right inventory level at the right place to guarantee a given service level.
Finally, of decreasing priority year-over-year, but still significant, the last challenge is the capacity to run optimized production scheduling (5%). Based on the production constraints, supply chain teams want to maximize production capacity (e.g., through better sequencing, campaign optimization, etc.) and increase their service level while minimizing CO2 emissions and energy consumption.
While business leaders see clear benefits in digitizing their supply chain, they debate whether to pursue it. Here are some reasons why.
Today's digital supply chain solutions enable the flexibility and agility to solve the noted challenges. Integrated end-to-end planning capabilities link together market, sales (forecast and PO), supply chain (capacity constraints, targeted service level, and inventory policy), and finance data (product price and costs, non-standard costs, projected contribution margin). All of o9's conversations with supply chain leaders showed a shared belief that the capabilities are available today. Yet, very few in the metal industry have decided to launch a digital transformation of their supply chain.
Here are the top four reasons we hear most often.
Data quality and different ERP
"Our IT system is outdated: each production facility runs on a different ERP. Our data is of poor quality." The current patchwork of different IT systems finds its roots in legacy systems from prior acquisitions or previous local IT strategies, resulting in a heterogeneous landscape that is hard to harmonize.
Fear of failing (again) in the transformation
"IT transformations are resource-heavy and require a lot of attention. We have failed multiple times in the past to harmonize our data in a single ERP system." Since the 2000s, IT transformations touching ERP systems have been synonyms for "big bang" in the organization since they impact transactional data and day-to-day processes. All the leaders we talked to had "horror stories" to share, making them extra cautious. And with 70% of transformations failing (McKinsey, 2019), you can't blame them.
Lack of end-to-end metal-specific solution
"We have tried an AI-driven Demand Management solution, but it wasn't flexible enough to capture our market. The companies we talked to keep talking about SKUs and do not understand our attribute-based planning." The metal industry has unique planning needs that are complex to handle. For example, an ingot is rolled and cut to generate multiple final products for different clients, which is the opposite of planning assembled products (e.g., cars).
Financial justification and board approval
"The cost vs. benefit is hard to quantify. We haven't quantified the business value, so we cannot get funding." The direct consequence of the fear of failure is that any new significant IT implementation will often require board approval. This requirement pushes the team to quantify the financial or operational benefit of digitizing the supply chain, and this isn't always a straightforward analysis. As a result, companies are postponing their investment and struggling with their legacy system.
So, how can companies overcome these issues to solve urgent business challenges in months instead of years?
A look at today's most viable technology solutions: Knowledge graphs and cloud-native platforms.
Knowledge graph-based solutions can connect, structure, and cleanse data from different sources. When supply chain leaders say their data is not "clean," they are not referring to missing data or wrong information. Instead, they mean that data is sitting in different places (ERPs, spreadsheets, and data lakes) with other names in each system.
The good news is that today's knowledge graphs can ingest, cleanse and structure data, to effectively create both a data lake and the "digital twin" of the organization. Modern supply chain planning solutions like o9's can ingest external data in real-time (e.g., leading demand indicators like manufacturing index and GDP growth). o9 can also run more effective demand forecasting by storing the results at the right level in the knowledge graph (e.g., region, customer, product family, etc.).
This technology is game-changing because what was a time-consuming task becomes automatic. It sets the foundation for advanced analytics, knowledge sharing, and digital meeting in a single platform.
Recent reference models and cloud-native solutions allow for significantly faster implementation
Traditional planning systems have rigid data models because of the limitations of previous-generation database technologies. A data model that doesn't fit the company, and the metal industry's, specific challenges usually leads to greater customization or reverting to Excel to fill the gaps. Either avenue translates into data silos, inefficient processes, and projects that take several years to implement.
Today's digital platforms use a data model based on new technologies like o9's Graph Cube, which provides flexibility, extensibility, and scalability. Metal companies can deploy this technology to move beyond a simplistic representation of their business to a model that covers all their specific needs, like hierarchies, attributes, business rules, etc. This new approach allows metal companies to digitize their supply chain piece by piece—like Lego bricks—compared to previous transformation approaches that are closer to sculpting a masterpiece in marble (it was possible, but it required great talent).
Progress in supply chain technology solutions allows for incremental implementation by value case
Advanced knowledge graphs, cloud, and industry reference models mean that supply chain organizations can start implementing a given scope and later expand. For example, they can start by optimizing the throughput capacity in hot rolling, cold rolling, and finishing and, six months later, integrate ingot casting and raw material procurement. Supply chain leaders will more easily be able to quantify the target impact on a limited scope (e.g., inventory reduction by x%, capacity increase by x%), which can facilitate board approval.
Additionally, implementation waves can be built iteratively, with as many as needed. Each wave can be added subsequently on that same platform and data model until companies reach the complete digital transformation of their supply chain.
o9 Solutions provides capabilities that enable a faster digital transformation for organizations in metal manufacturing. To learn more about our impact on the metal industry or arrange a meeting to discuss the specific challenges you are trying to solve, please visit www.o9solutions.com.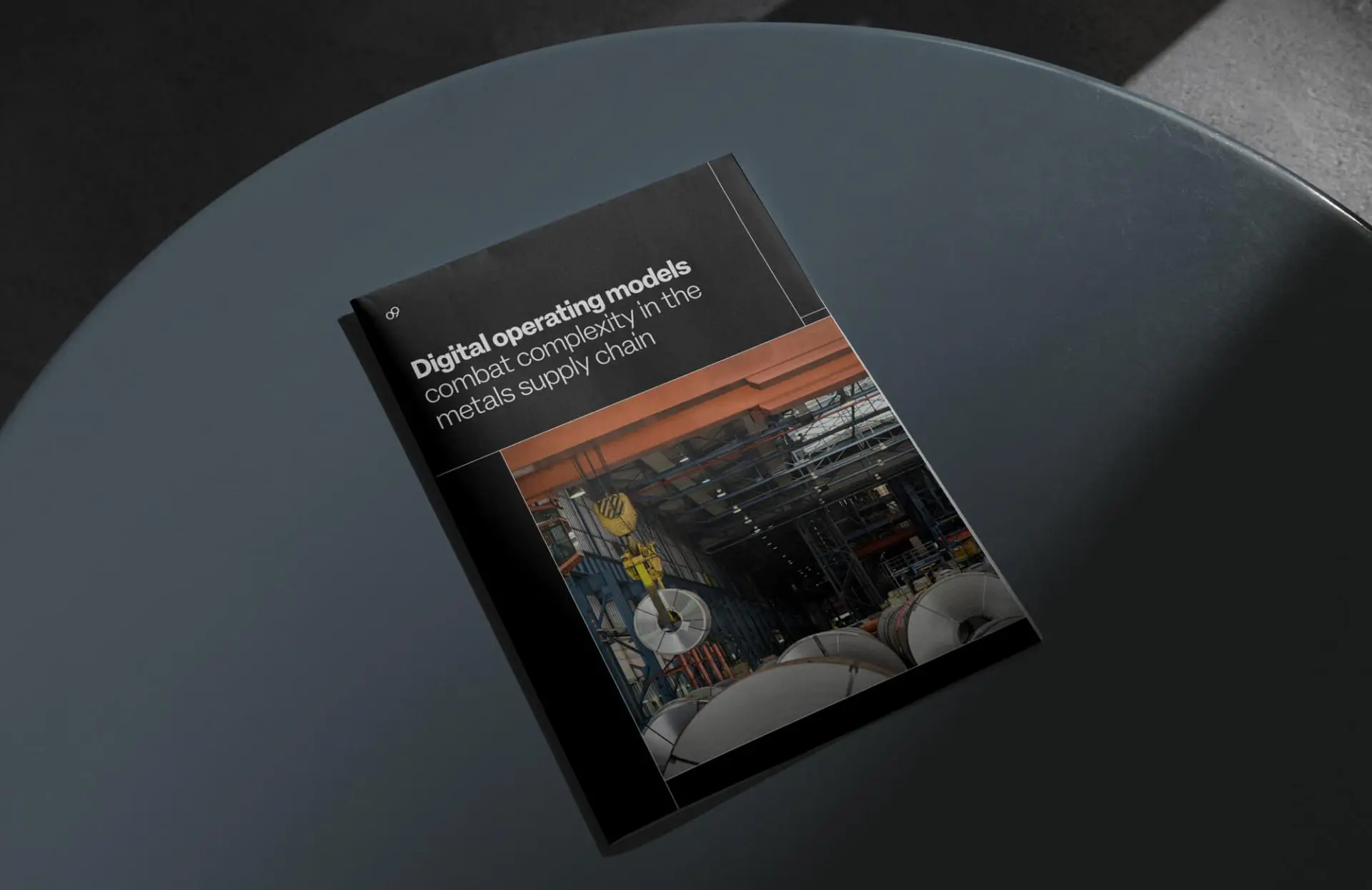 Learn how digital operating models combat complexity in the metals supply chain
The industry faces volatility due to trade wars, geopolitical crises, and government regulations. Download our white paper to learn how to overcome the challenges.
About the author

Guillaume Bothier
EMEA Industrial Manufacturing Sales Director
Guillaume is a Sales Director at o9 covering the metals market in EMEA. He has 10+ years of operation management in Industrial manufacturing.