Published: July 8, 2022
Reading time: 4 min

o9 Solutions
The Digital Brain Platform
Cost, quality, and speed are the hallmarks of any supply chain tradeoff discussion. High-quality items delivered quickly come at a high price. Less expensive items are available, but the product is lower-quality. So when one criterion goes up in priority, another criterion moves down.  
Supply chains blend the three criteria to create the value proposition of getting a product at a fair price when wanted. Except now, everything seems to be slower, and supply shortages are common. As a result, costs are increasing across the value chain, and service levels fall short of expectations. In a typical bull-whip fashion, the problems amplify with each step upstream in the end-to-end value chain. 
Delivering value in these circumstances requires enterprises to implement new planning capabilities that showcase possible scenarios and outline options in advance. These next-generation capabilities enable the understanding of supply reliability and create visibility across the network. 
Advanced capabilities lead to better insights
Traditional supply chain supply and demand formulas assume that inputs are relatively consistent. That hope is that factors like lead-time and average unit sales don't change significantly with each new purchase order.
The reality is that the variety of shortages—raw materials, labor, transportation, etc.—are driving variability to unforeseen levels. Customers scramble without the stability needed for traditional operating models because they are unsure how many of their orders will arrive.  
The urgent need is to establish better supply chain planning capabilities to support companies in managing volatile and disruptive market conditions. In the short-term (3-6 months), opportunities to improve the current situation include: 
Create higher visibility and better supply allocation decision-making in a high-demand market facing many constraints. 

Focus and scope a system (one BU, a subset of the products, etc.) to address constrained supply allocation and the need for formal demand prioritization.

Invest in a stand-alone, cloud-based solution and begin cross-functional collaborative data exchange across the enterprise across departments and with key suppliers and customers
With more time comes the opportunity to extend capabilities in an agile way. The extended functionality supports more granularity and functional scope while integrating into the IT landscape. For example, advanced capabilities include looking beyond the boundaries of the enterprise by using leading indicators and supplier collaboration to see upstream disruptions earlier. Or, supply chains can look further downstream by understanding the end consumer demand (e.g., the demand for cars instead of the OEM forecasts) to understand ordering patterns.
Long-term, Integrated Business Planning (IBP) transformation must align with business priorities. Best-in-class IBP helps supply chains to evaluate different real-time scenarios, understand the impact on the supply chain, identify relevant bottlenecks and develop the most desirable plan based on accurate demand plans. 
Drive value-added decision-making
Without investing in next-generation planning capabilities that enable visibility and an understanding of supply reliability, companies won't be able to anticipate shortages. Even less important parts can bring down a supply chain for finished goods with thousands of pieces. Famously, a bolt shortage delayed the launch of Boeing's 787 Dreamliner. Likewise, the slowdown in production of wiring harnesses in Ukraine impacts Volkswagen, Porsche, and BMW. 
Supply chains must embark on a step-by-step journey focusing on the highest value case and driving transformation to unlock the potential to manage global shortages and mitigate risk. Starting with the highest value use-case supports the move towards a more resilient supply chain, complete with scenario planning and evaluating the financial impact of decisions like alternative sourcing, inventory building, etc.
To learn more about how o9 creates a consolidated view of demand, supply, and (cross-functional) priorities, see the whitepaper entitled "Overcome constrained supply with digital operating models", where you will learn:
How constrained supply is exposing the limitations of relying on many different legacy applications and siloed processes

Why advanced, platform-enabled capabilities such as AI-driven demand forecasting and real-time supplier collaboration are critical to overcoming constrained supply

How digital operating models bring advanced visibility into play, encouraging faster and more impactful decision-making
If you're more interested in seeing the solution, request a demo or visit the interactive demo of the Art of the Possible on o9's next-generation solution for S&OP / IBP.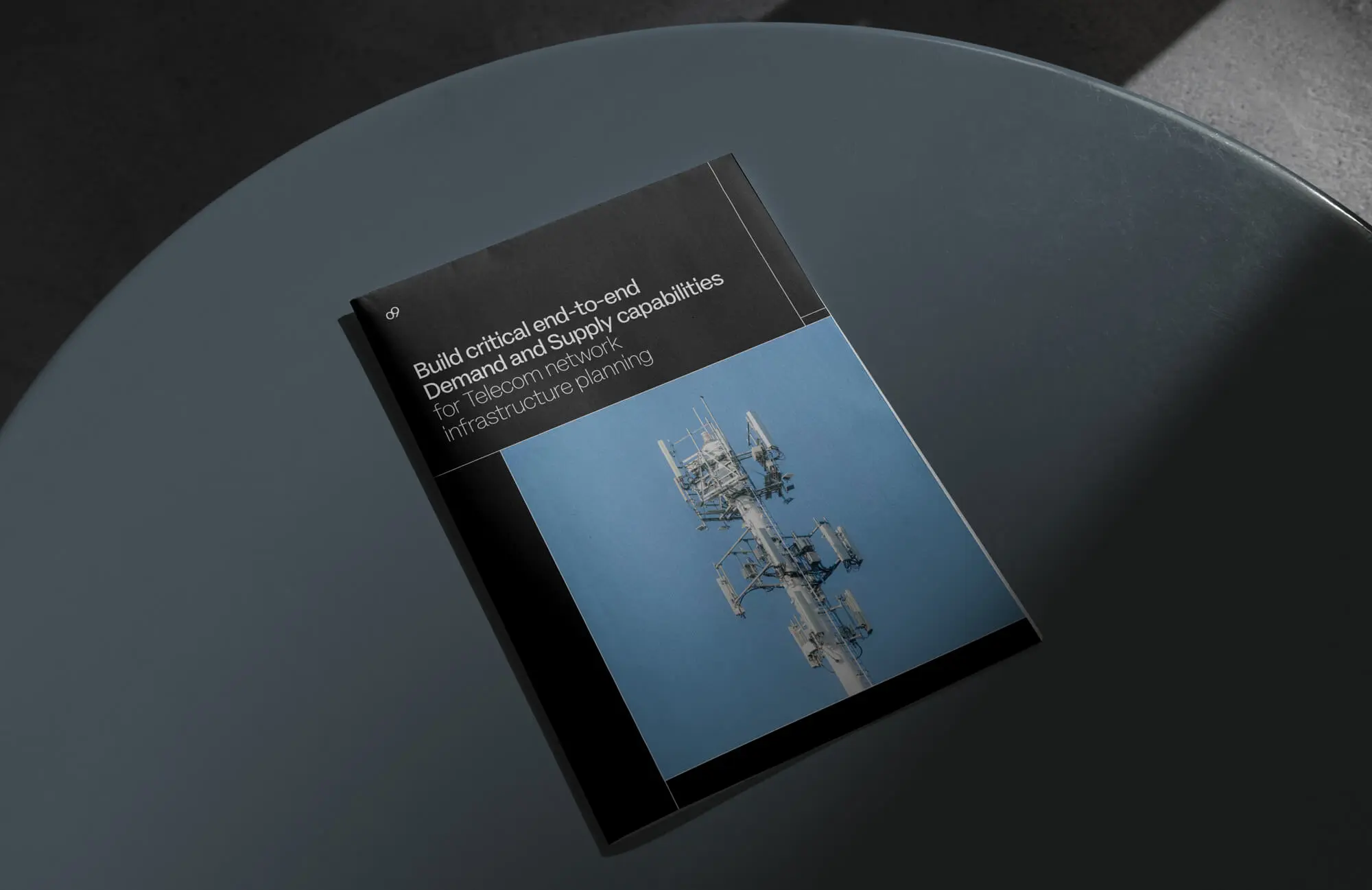 Building critical supply and demand capabilities for Telecom network operators
Platforms with advanced supply and demand capabilities enable better, faster decisions.
About the author

o9 Solutions
The Digital Brain Platform
o9 offers a leading AI-powered Planning, Analytics & Data platform called the Digital Brain that helps companies across industry verticals transform traditionally slow and siloed planning into smart, integrated and intelligent planning and decision making across the core supply chain, commercial and P&L functions. With o9's Digital Brain platform, companies are able to achieve game-changing improvements in quality of data, ability to detect demand and supply risks and opportunities earlier, forecast demand more accurately, evaluate what-if scenarios in real time, match demand and supply intelligently and drive alignment and collaboration across customers, internal stakeholders and suppliers around the integrated supply chain and commercial plans and decisions. Supported by a global ecosystem of partners, o9's innovative delivery methodology helps companies achieve quick impact in customer service, inventory levels, resource utilization, as well as ESG and financial KPIs—while enabling a long-term, sustainable transformation of their end-to-end planning and decision-making capabilities.