Natively integrate production scheduling
into your planning workflows
Request a demo
Trusted by leaders across industry verticals
o9 combines the best innovations in production planning and detailed scheduling
With the benefits of a single integrated end-to-end planning platform, with a natively integrated scheduling UI in o9's end-to-end Planning framework to avoid silos in process and data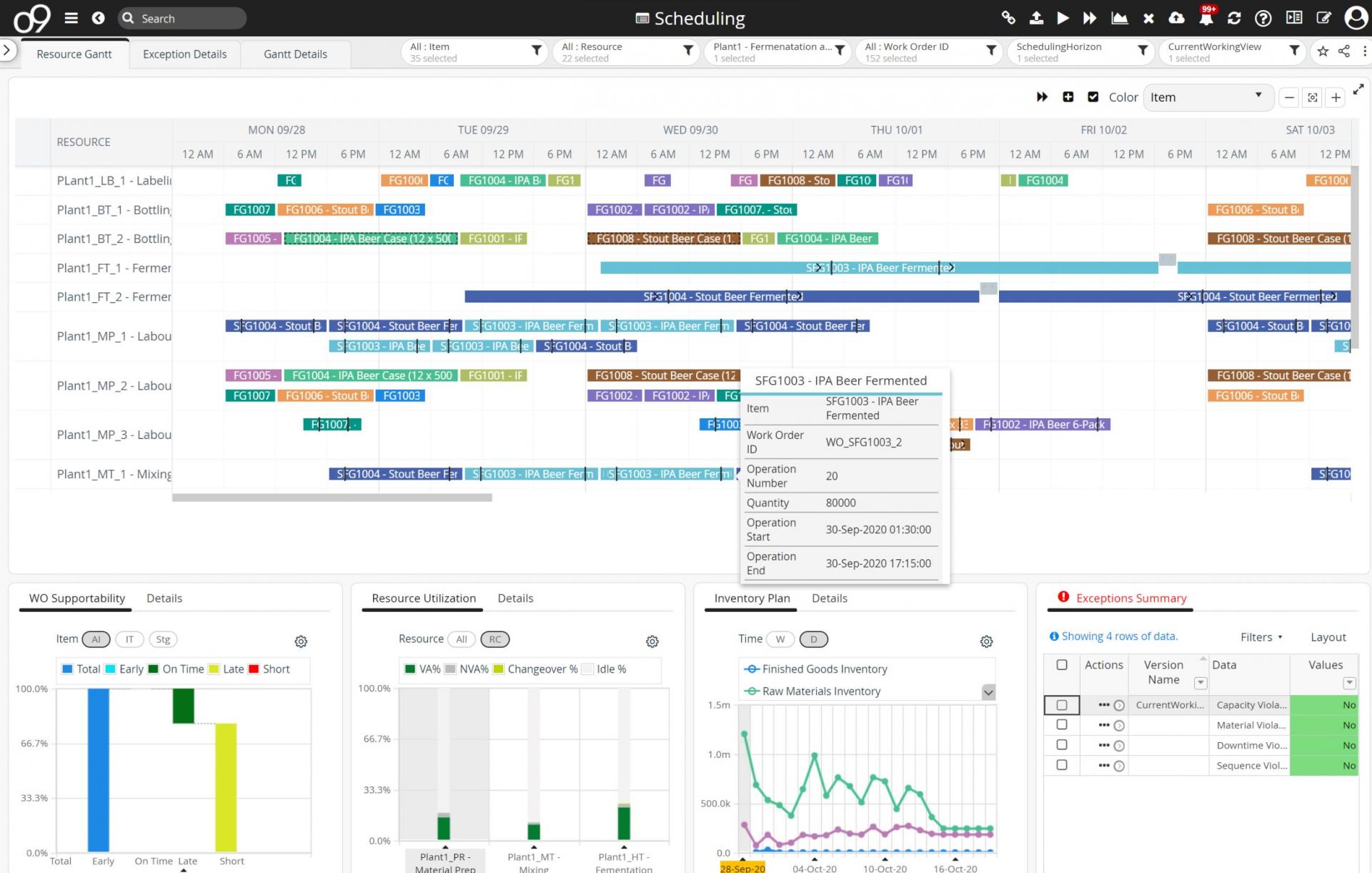 Natively integrated detailed scheduling with other supply chain planning processes to create realistic plans
The flexibility of the data model to accommodate any shop floor setup, process-related constraint, and business rule
Direct integration to manufacturing execution systems (i.e., MES, LIMS, IoT) to use all available real-time data on actual performance
Powerful and flexible "meta solver" approach with a range of solvers to solve a wide variety of scheduling problems in an optimal and efficient way
With our o9 natively integrated Production Planning and Detailed Scheduling Solutions,
our customers are able to achieve near real-time production scheduling and sequencing for complex operations.
Campaign scheduling, production wheel planning, shelf-life, lot planning, tank planning and complex flow optimization.
Proprietary and unique solvers with a meta-solver approach, creating unprecedented performance levels, fast resolution, and near-autonomous planning, which results in a strong OEE impact.
Ability to use all available real-time data from the manufacturing shop floor in scheduling to consider changing local conditions in optimization.
Continuously track and monitor actual transactional data against master data settings to flag exceptions and automatically update the data model.
Single data model that enables full integration with Control Tower, Procurement and Supplier Collaboration.
Plan better. Reduce waste. Create an efficient business for a better planet.
o9's next-generation production scheduling software capabilities are helping global enterprises improve planning accuracy, which leads to better plans and improved financial performance. And when a business plans better, it creates operational efficiencies that significantly reduce wastage.
The integrated planning efficiencies delivered by o9 is helping corporations do more, be more and mean more, internally and to the world at large.
Take the first step to natively integrate production scheduling
into your planning workflows