Published: July 25, 2023
Reading time: 6 min

Sebastien Calais
Senior Director Industry Solutions
The dairy industry is not only a key component of our food system, but also has significant implications for the broader Environmental, Social, and Governance (ESG) framework. While the environmental aspects often receive the most attention, it is essential to recognize that the social aspects are equally important.
In this blog post, we will explore how supply chain planning plays a crucial role in addressing the ESG challenges of the dairy industry and driving positive change across the entire ecosystem.
Environmental implications
The dairy industry is complex, characterized by a constant push of raw milk and highly variable production quantities and properties. Factors such as seasonality and cows' genetic variation contribute to milk production with varying percentage levels of fat and proteins, often resulting in an imbalance in demand and supply.
Additionally, milk has a short shelf life, which comes with both the risk of creating waste as well as an opportunity to drive higher efficiency and responsiveness. From an environmental perspective, these factors present challenges that require careful supply chain planning.
There are many ways of producing the full range of dairy products that we all know (yogurt, milk, cheese, butter, cream, powder), and they come with complex manufacturing and transformation processes, requiring multiple and accurate allocations of materials and capacities. This complexity can lead to a high risk of creating waste, not only from raw milk but also from packaging and the finished products.
Advanced supply chain planning can help reduce this waste by optimizing production processes and minimizing inefficiencies. By implementing demand forecasting models and production scheduling systems, dairy companies can better synchronize operations along the entire value chain, ensuring the latest demand signals inform the upstream decisions, and reducing the likelihood of overproduction and subsequent waste.
Another significant environmental concern in the dairy industry is the energy and carbon emissions associated with the storage and transportation of dairy products. Most dairy products require controlled temperatures for storage and transportation, resulting in a high energy footprint.
Additionally, the transformation processes involved in milk processing, such as sterilization, can be very energy-intensive. Supply chain planning can play a vital role in optimizing storage and transportation routes (thus reducing greenhouse gas emissions) and reducing energy consumption by pooling transformation batches and producing what is strictly required by the market.
With environmental sustainability ranking among the highest strategic priorities for dairy executives, an increasing number of dairy companies are introducing new corporate ambitions and KPIs to address this issue. One example is Danone, which has committed to becoming Net Zero by 2050 and reducing methane emissions from fresh milk by 30% by 2030.
Social implications
The dairy industry consists of a vast ecosystem involving various stakeholders, including around 150 million farmers and families whose livelihoods depend on the demand and price of raw milk. However, the industry's imbalance between demand and supply often generates volatility, making it challenging for farmers to maintain stable incomes. This volatility can have adverse social consequences, affecting the well-being of farmers and their families.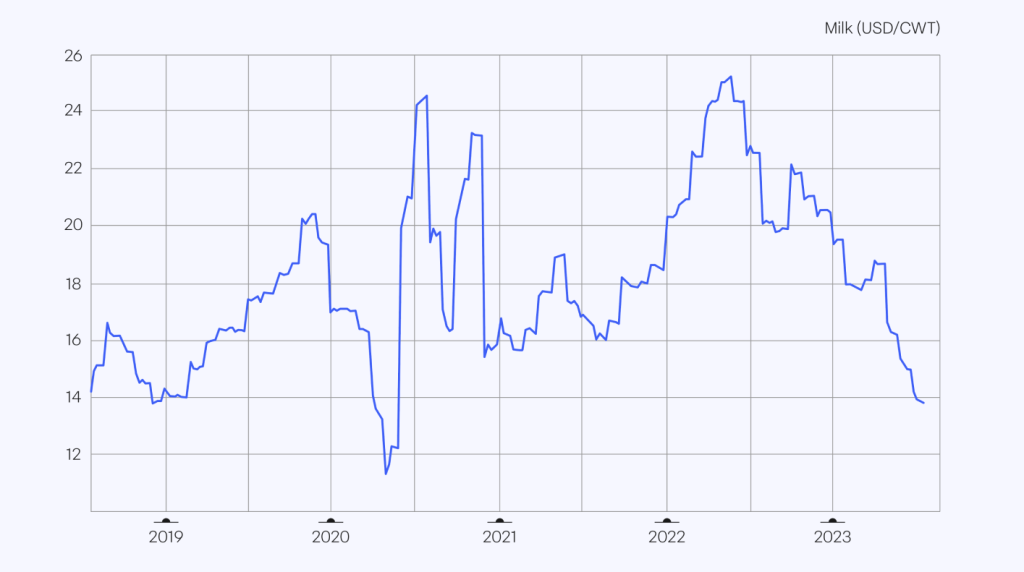 Fluctuations in milk price. Source: Trading Economics.
To address this issue, dairy companies have a social responsibility to mitigate the demand/supply mismatch. Supply chain planning can play a crucial role in anticipating demand shifts and shaping demand in a way that fosters stability.
By collaborating closely with farmers, retailers, and other stakeholders, dairy companies can develop effective win-win strategies across the end-to-end stakeholders. This may include optimizing the mix of short and long-shelf-life products, exploring alternative markets and recipes, adjusting marketing calendars and targets, adjusting drivers of raw milk composition, or implementing flexible production processes. 
Such close collaboration can be seen at companies such as Danone, which is working proactively to strengthen its relationships throughout the entire ecosystem to achieve more sustainable processes and value for its stakeholders. The vast majority of the farmers that Danone partners with own small-scale family farms (with less than 25 cows), located in emerging countries. To support them, Danone not only provides equipment and training but also addresses the issue of income volatility by entering long-term contracts with them. 
By taking a proactive approach to collaboration with the wider stakeholder network as well as supply chain planning, the industry has the potential to provide farmers with more stable incomes and create a more sustainable and equitable dairy ecosystem.
Governance implications
The dairy industry includes manufacturing companies that are organized as cooperatives owned by farmers themselves. These organizations, in which the perfect balance of demand and supply is the key purpose, benefit the most from end-to-end planning optimization.
However, cooperatives often face challenges when it comes to selecting and investing in sizable supply chain planning capabilities. The decision-making processes within cooperatives can be complex, requiring consensus among many members, and prioritizing investments in supply chain planning may sometimes be difficult.
Demonstrating a strong return on investment (ROI) is crucial for driving the adoption of new technology and advanced supply chain planning capabilities. Private non-cooperative organizations, such as Danone, play a significant role in this regard by acting as frontrunners, showcasing the benefits, and mitigating the risks of undergoing a digital transformation. 
By implementing cutting-edge supply chain planning systems and demonstrating their positive impact on efficiency, sustainability, and profitability, these organizations can inspire and encourage the whole dairy ecosystem to follow suit.
Collaboration between cooperatives, private organizations, and industry associations can also facilitate knowledge sharing and provide resources to support the adoption of supply chain planning practices. This collaborative approach can help cooperatives overcome the challenges they face in implementing advanced supply chain planning capabilities, thereby promoting improved governance within the dairy industry.
Conclusion
Supply chain planning is a crucial driver of positive change within the dairy industry, impacting not only financial aspects but also the environment and social ecosystem. By reducing waste, optimizing energy consumption, and mitigating volatility, supply chain planning can contribute significantly to the industry's ESG goals.
Collaboration between dairy companies, retailers, farmers, and private organizations is vital to ensure a sustainable and socially responsible dairy industry. Now more than ever, the role of supply chain planning extends beyond the financial realm, creating a positive impact on the environment, social well-being, and the overall sustainability of the dairy ecosystem.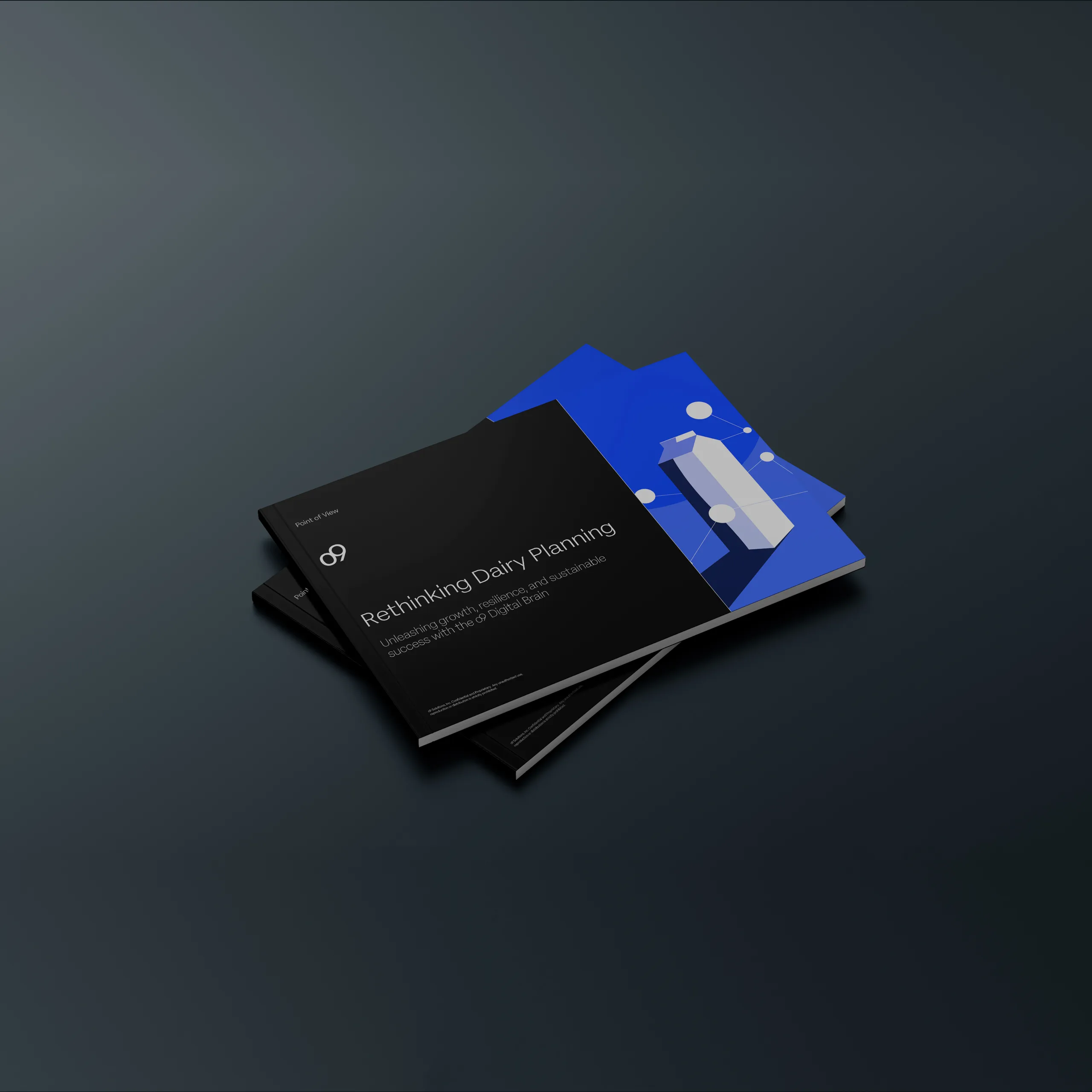 Next-generation Dairy Planning
Download our Point of View for a break-down of the key planning capabilities needed for dairy companies to unleash growth, resilience, and sustainable success.
About the author

Sebastien Calais
Senior Director Industry Solutions
Sebastien has extensive experience within Supply Chain and Consulting with a focus on the Consumer Products industry. He is passionate about helping companies unlock the next S-curve of business and operational performance in volatile and constrained environments - by linking strategy and goals to execution via next-gen planning technology.