Published: February 21, 2023
Reading time: 7 min

o9 Solutions
The Digital Brain Platform
What is forecast maturity?
5 forecast maturity levels
Increasing forecast maturity
Published: February 21, 2023
So, you have a poor forecast?
Inefficient planning systems, with siloed data, and disconnected processes produce inaccurate forecasts. Looking deeper into these challenges we will find disparate databases, mismatched levels and horizons, poor allocation methodology, conflicting usage, departmental bias, resource capability and ownership challenges.
These types of pain points contribute to rampant spreadsheet usage and unreliable forecasts. Which parts of your demand planning processes are most broken or need the most improvement? Understanding your planning maturity is the best pathway to resolving these system, data, process and resource challenges.
What is forecast maturity?
A forecast maturity assessment will evaluate the capability of your forecasting systems, data, resources and processes. Analyze your planning capability to industry standards and then define a strategy to reach improved capabilities. Increasing your forecast maturity will lead to improved forecasts, and greater agility to mitigate risks and exploit opportunities—or in other words, better decision-making.
What needs to be measured?
There are five categories that should be measured as part of a maturity assessment and they can be summarized as follows:
1. Demand drivers
Also known as leading indicators, knowledge of drivers of demand is one of the key areas of planning maturity. Demand drivers can be external factors (customers or competitor actions) or they could be internal factors (commercial actions) or supply chain factors (capability and availability). Do you have the driver data? Can you connect the data and use it to explain variances between forecast and actuals?
2. Structure & Process
There are three key elements of the structure of a good demand planning system and process; horizons, cycle and granularity. A good demand planning process requires these elements to be defined correctly.
The horizon is how far out are you planning demand. Your supply chain has lead times and the lead times should dictate the demand forecasting horizon. Is yours set up correctly? Are your planners' activities and outputs focussed on the right horizon?

The granularity at which you forecast is dictated by the decisions you are trying to drive in the supply chain. A typical mistake is to forecast at a level of granularity that is too low or too far out in the horizon, which results in overwork and creates fake details. In the shorter term, you might need a forecast at a more granular level, but further out you might need it at a higher granularity depending on the decisions you are making. Granularity has to be designed based on the decisions you are driving in the supply chain.

The frequency of forecasting is another crucial element. How frequently do you forecast short-term demand? How frequently do you forecast mid to long-term demand? The wrong frequency of forecasting will result in delayed insight or unnecessary rework.
3. Collaboration
Stakeholders in the demand planning process include Sales, Marketing, Finance and Supply Chain and collaboration between them is vital. Mature planning requires a robust process where viewpoints are shared with regard to forecasting changes, especially when they're changing from cycle to cycle. An open, honest and traceable collaborative consensus is a key element of a good demand planning process.
4. Statistical methodology
Products vary in their forecastability. Some items might be eminently forecastable, but others may need a combination of human intelligence, tribal knowledge and insight to forecast correctly. Mature planning enables the segmentation of data into groupings that can then be given appropriate forecast methods. For example, some segments may respond well to univariate, others multivariate, some may respond best with a hybrid of the two while others may require manual forecasting. Can you segment your data and determine the appropriate forecasting methods? Do you have ML/AI and statistical forecasting?
5. Organization Capability
This can be grouped into two elements—system capability and resource capability.
System capability ranges from poor spreadsheets, basic systems supported by spreadsheets and presentation decks to specific or bespoke demand planning solutions.

Resource capability requires a forecasting function (drivers, data, algorithms) and a planning function (evaluation, analysis, explanation of risk and opportunity of the forecast).
What are the forecast maturity levels?
Now that you know what to measure, the next step is to determine the maturity of your demand planning. There are no hard and fast rules about maturity definitions or terminology nor is it expected that an organization or process will fall neatly into one level or another. However, you can use the following capability blocks as general guidelines to help assess how far away you are from your ideal planning state.
Modest: Low maturity and little planning awareness. Forecasts are created in spreadsheets using naive or manual methods. Information is not timely, accurate or integrated. There are many forecasts with owners creating them as side tasks. Planners are not directly in touch with internal or external partners. Forecasting is time-consuming and is considered an unpleasant and sometimes pointless task.

Improved: Average maturity with growing planning awareness. Enterprise Systems with in-built planning modules create forecasts using historical sales using time-series statistical modeling but data structures are not optimal for forecasting. Processes are more integrated and incorporate wider sets of data. Planners have system & process training and more of the right people are involved in producing plans. However, accuracy is not improving, and the forecasts and plans are still not timely.

High: High maturity with good planning awareness. Using dedicated statistical solutions with black-box methods and some progressive functions such as promotional uplift or cannibalization. Data is cleansed and KPIs are measured, reported and rewarded. An integrated S&OP process is in operation where forecast owners and planners are close to external partners and produce forecasts that are accepted throughout the business.

Class Leading: Innovative maturity with high planning awareness. Using a leading-edge, open-source AI/ML modeling solution, sensing & shaping using flexible hierarchies and horizons. Data can be structured and unstructured and includes promotions, pricing, temperature, web scraping and many other external industry-specific drivers. KPIs are measured, reported, rewarded, reviewed and changed as needed. Scenario planning and re-forecasting are frequent and unconstrained by cycle time. IBP is integrated with internal and external partners. Plans are trusted and used throughout the business.

Planning Vanguard: Cutting-edge innovation using all of the capabilities found in Class Leading maturity but now with outside-in and bi-directional orchestration planning using cross-functional resources focussed on outcome based results that win at the moment of truth.
How can you increase forecast maturity?
Knowing your existing maturity level allows you to evaluate expectations, compare against competitors and scope optimization. Knowing your planning capability level allows you to create a strategy to improve. Layout a road map on how to drive incremental, iterative improvements that focus on delivering value.
Each business situation will be unique; some will have hard constraints that prevent an element from improving while others will have a clear opportunity to raise a piece from one level to another. Use the maturity benchmarks to ascertain where you are with your system, data, process and resources elements, where you'd like to be and also what is feasible to achieve. Define a strategy and execute plans to improve and reach an advanced state of forecasting.
Don't neglect to re-evaluate your maturity on a regular basis. Planning is not a static discipline; as your business develops, so must your planning capability. Imbalanced maturity (where the various elements are at different levels of maturity) will create challenges and obtaining equal maturity growth can be difficult to achieve without the right strategy.
o9 can help resolve your forecasting maturity strategy dilemmas. o9's planning tools are flexible. Unlike legacy ERP planning systems, our solutions are extendable and adaptable without the need for re-implementation or re-structuring. Reaching innovative forecasting capability from lower or mixed levels of maturity can be achieved. Customers of o9 can grow with the tool as their resources, data and processes improve. Transform from slow, siloed planning to real-time, innovative integrated business planning with o9.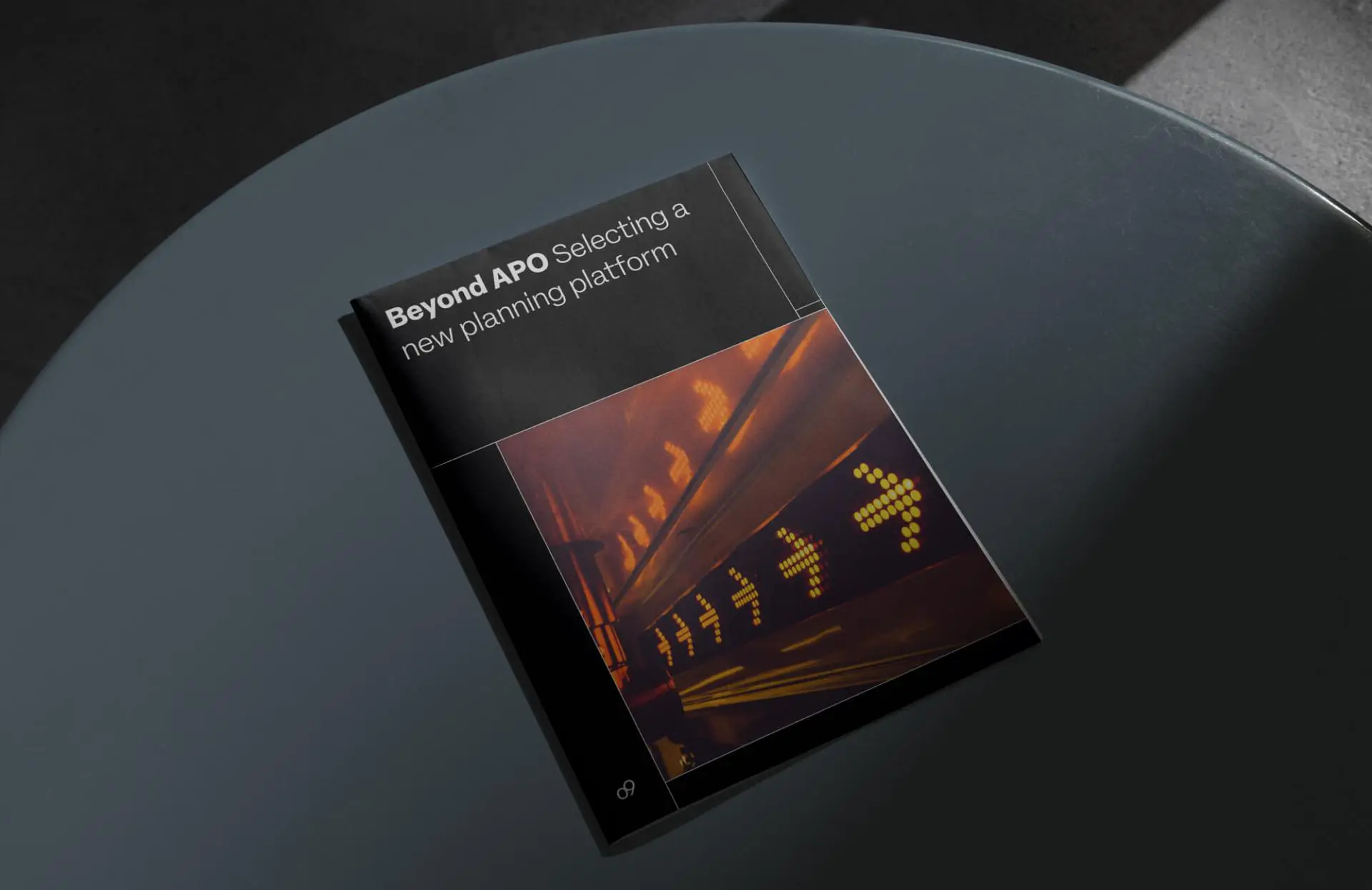 CSCOs of FT1000 companies choose the o9 Digital Brain to replace APO—here's why
Our white paper shows what next-generation capabilities FT1000 companies benefit most from when they replace APO with an AI/ML-powered platform.
About the author

o9 Solutions
The Digital Brain Platform
o9 offers a leading AI-powered Planning, Analytics & Data platform called the Digital Brain that helps companies across industry verticals transform traditionally slow and siloed planning into smart, integrated and intelligent planning and decision making across the core supply chain, commercial and P&L functions. With o9's Digital Brain platform, companies are able to achieve game-changing improvements in quality of data, ability to detect demand and supply risks and opportunities earlier, forecast demand more accurately, evaluate what-if scenarios in real time, match demand and supply intelligently and drive alignment and collaboration across customers, internal stakeholders and suppliers around the integrated supply chain and commercial plans and decisions. Supported by a global ecosystem of partners, o9's innovative delivery methodology helps companies achieve quick impact in customer service, inventory levels, resource utilization, as well as ESG and financial KPIs—while enabling a long-term, sustainable transformation of their end-to-end planning and decision-making capabilities.