Published: May 25, 2022
Reading time: 3 min

o9 Solutions
The Digital Brain Platform
5G is here! The "5G" identifier on mobile devices says so. Along with the ubiquitous advertisements from service providers, that moniker fuels consumers' ever-growing desire for faster access to more data.
The 5G opportunity extends far beyond consumers. In The Global Economic Impact of 5G, leading advisory firm PWC estimates that "​​5G technology will add US$1.3tn to global GDP by 2030." The impact will extend across healthcare, smart utilities, consumer and media applications, industrial manufacturing, and financial services.
To serve this array of markets means delivering at "100 times the speed and 1,000 times the capacity of today's mobile networks," according to PWC. For network providers to grab this tremendous growth opportunity, they must start by better planning and executing against the demand for the physical infrastructure that enables the 5G experience.
Include more demand drivers
Planning the end-to-end supply chain for 5G is one of the most significant challenges in today's telecom industry. In particular, the old way of applying forecast lifts to historical data fails to accurately capture the complexities of telecommunications and any other industry experiencing technology shifts, high expectations, and volatility. 
The low forecast accuracy that results from the old way means that network operators cannot adequately predict where new tower builds and upgrades are needed and what components are necessary to execute them. Local demand-supply imbalances often further slow tower build and upgrade opportunities. In addition to the inability to execute, poor forecasting also forces operators to compete for whatever strategic components, like semiconductor chips, remain. 
A smarter method enables forecasts that incorporate all key demand drivers from the start of the process. For example, tying subscriber growth forecasts to network demand, then connecting to the number of towers needed, etc. From there, operators can project and adjust to variations in demand pacing. They can adjust demand in advance of new plan rollouts. By starting with a better overall pace plan, operators can apply attach rate forecasting to it and plan down to the component level for short-term and more strategic, longer-term time horizons.
Improve speed, service, and cost
More insightful planning and more informed decision-making are critical to the future of the telecommunications industry, especially as user expectations are increasing the pressure to deliver. Industry experts Krishna Kulankara, EVP, and Vikram Parvataneni, SVP, at o9 Solutions, know the potential firsthand as they work with telecom leaders to recognize and realize the value created through the deployment of advanced planning capabilities.
As one telecom leader said of their planning before working with o9, "we looked at the key drivers of our mismanagement or miscommunication, and a lot of it was because we did not have a systematic means of collecting demand and translating that into what demand and buying plans should look like." 
However, upon investing in upgraded planning capabilities, the company "started developing some of the predictability needed to make sure that we are making smart buys and making good decisions on what we will allocate to our customers." The company has significantly increased deployment speed, raised service levels, and decreased inventory levels.
To hear more about success stories like this, join the aim10x webinar, Optimizing Supply Chain Planning for Telecom Network Infrastructure. Krishna and Vikram will help telecom industry professionals and leaders learn more about the trends that are accelerating the need for digital transformation and managing and growing 5G network capabilities. 
Click here to learn more about the webinar and what to expect!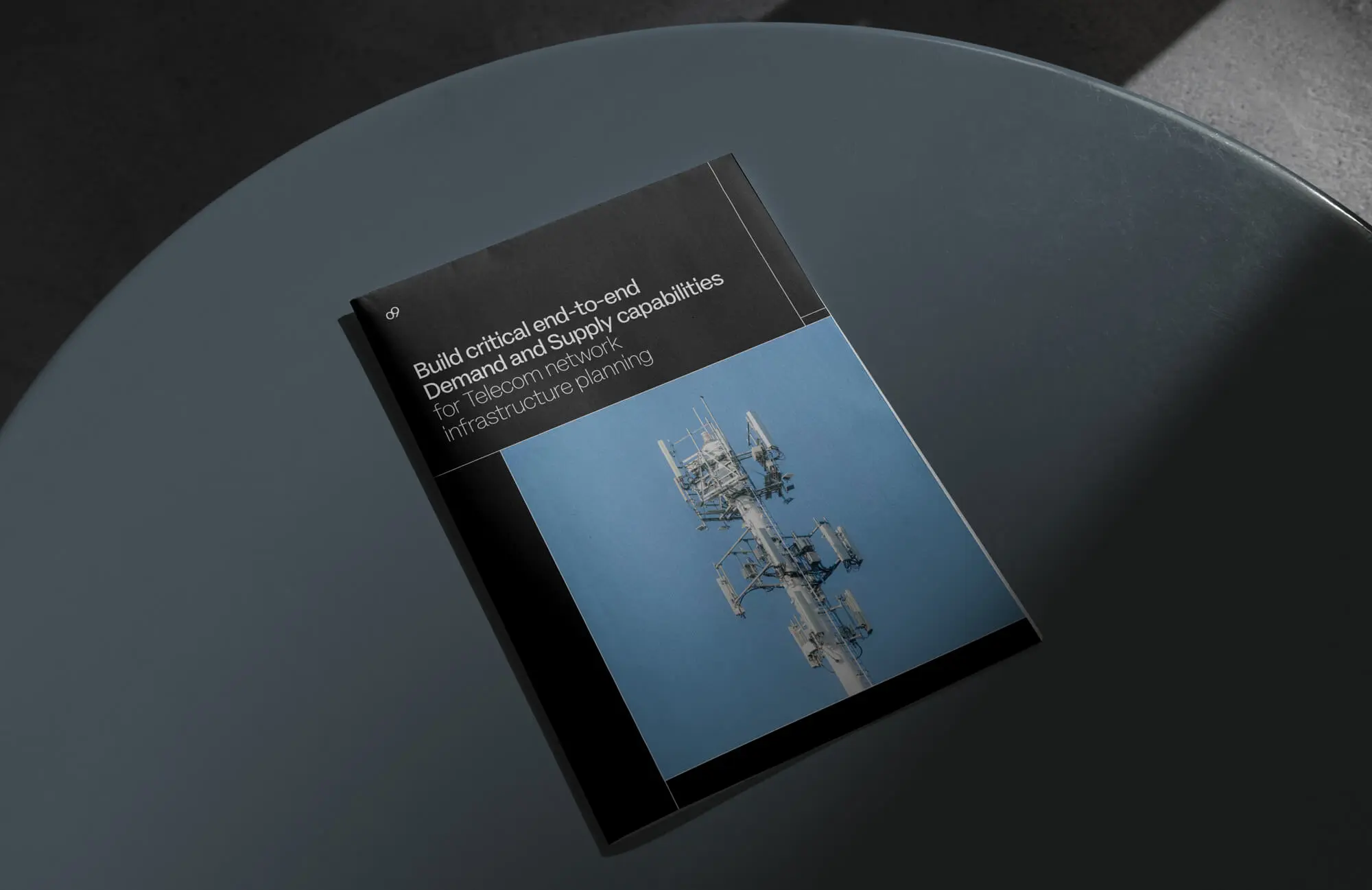 Building critical supply and demand capabilities for Telecom network operators
Platforms with advanced supply and demand capabilities enable better, faster decisions.
About the author

o9 Solutions
The Digital Brain Platform
o9 offers a leading AI-powered Planning, Analytics & Data platform called the Digital Brain that helps companies across industry verticals transform traditionally slow and siloed planning into smart, integrated and intelligent planning and decision making across the core supply chain, commercial and P&L functions. With o9's Digital Brain platform, companies are able to achieve game-changing improvements in quality of data, ability to detect demand and supply risks and opportunities earlier, forecast demand more accurately, evaluate what-if scenarios in real time, match demand and supply intelligently and drive alignment and collaboration across customers, internal stakeholders and suppliers around the integrated supply chain and commercial plans and decisions. Supported by a global ecosystem of partners, o9's innovative delivery methodology helps companies achieve quick impact in customer service, inventory levels, resource utilization, as well as ESG and financial KPIs—while enabling a long-term, sustainable transformation of their end-to-end planning and decision-making capabilities.