Can AI/ML forecasting help improve your forecast accuracy rapidly?
Yes, it can. Calculate the potential savings from AI-powered forecasting.
Start Calculator
Trusted by leaders across industry verticals
Improve forecast accuracy and sales adoption. Strengthen alignment of sales, product, supply chain and finance organizations.
o9's demand planning software is not just helping organizations predict demand better, it is also helping them sense, analyze, plan and shape demand to optimize both short-term and long-term sales and margin performance.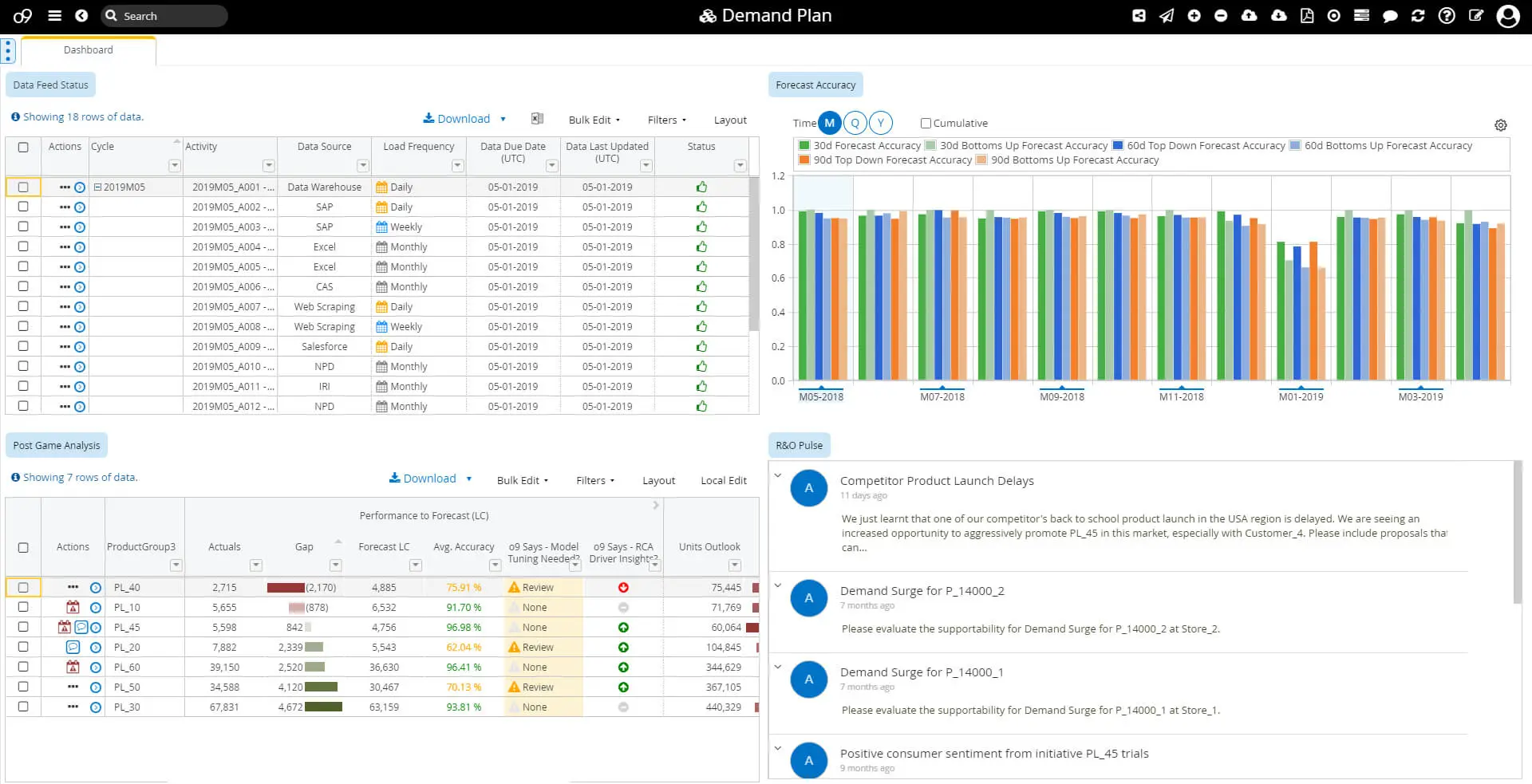 Drive significant bottom-line value
By improving forecasts based on leading indicators while providing early visibility to risks and opportunities.
Scattered market visibility and spreadsheets make responding to market changes problematic. o9's AI-powered, digital solution for demand planning features collaborative analytics, planning and continuous learning that helps your organization eliminate poorly made demand decisions.
Handling omni-channel, multi-region, large product portfolio complexity
Create accountability. Enforce planner commentary to convert tribal knowledge into corporate knowledge that is visible across the organization.
Increasing sales adoption in the demand planning process
Take away the guesswork. o9's AI/ML framework learns from multiple historical drivers to come up with a better forecast considering all the planned initiatives and events in the future.
Adopt automation. Use data-driven, actionable insights that are and highlight and prioritize areas for planners to focus on.
Rally around a single source of truth. o9's platform provides a 360 view of external and internal drivers of demand, streamlining cross-functional collaboration.
o9's demand planning software brings together
predictive analytics, assumptions visibility, collaboration, and post-game analytics.
Omnichannel, multi-region, large product portfolio planning made simpler
Multiple types of driver-based forecasting
Sell-out based forecasting for retail and distribution channels
Incorporating opportunity pipelines in CRM systems into demand forecasts
Consensus forecasting made simple
Cycle-over-cycle forecast change assumptions tracking and collaboration
Forecast accuracy and bias post-game analysis – increasing accountability
Range based forecasts – managing risks
Integration of sales, supply chain and finance forecasts
Increased sales adoption of demand planning
Visibility to marketing and promotion initiatives
Demand-shaping based on supply constraints
Plan better. Reduce waste. Create an efficient business for a better planet.
o9's next-generation demand planning software capabilities are helping global enterprises improve forecast accuracy, which directly correlates to better plans and improved financial performance. And when a business plans better, it creates operational efficiencies that significantly reduce wastage.
The integrated planning efficiencies delivered by o9 is helping corporations do more, be more and mean more, internally and to the world at large.
AI-powered demand planning software: the smarter approach to planning processes.
o9's cloud-native AI/ML-driven integrated business planning platform's capabilities solve some of the most complex challenges linked to demand planning. It resolves the disconnect from the end-customer by linking macroeconomic data, down to a local level.
It correctly defines different streams of demand, identifies them then creates a composite forecast across horizons. And it dynamically adjusts plans and scenario-based responses to changes in planning parameters. This is the power of agile thinking in creating future resilience.
See the future. Leverage o9's digital brain in your business.