Supply Chain Control Tower Software
Trusted by leaders across industry verticals
Sense demand and supply changes across the network and respond in real time with optimal, automated decisions.
The o9 Supply Chain Control Tower leveraging its Digital "Supply Chain Knowledge Graph", monitors demand and supply signals in real time, detects problems early and drives automated, demand and supply shaping decisions with intelligent evaluation of resolution options.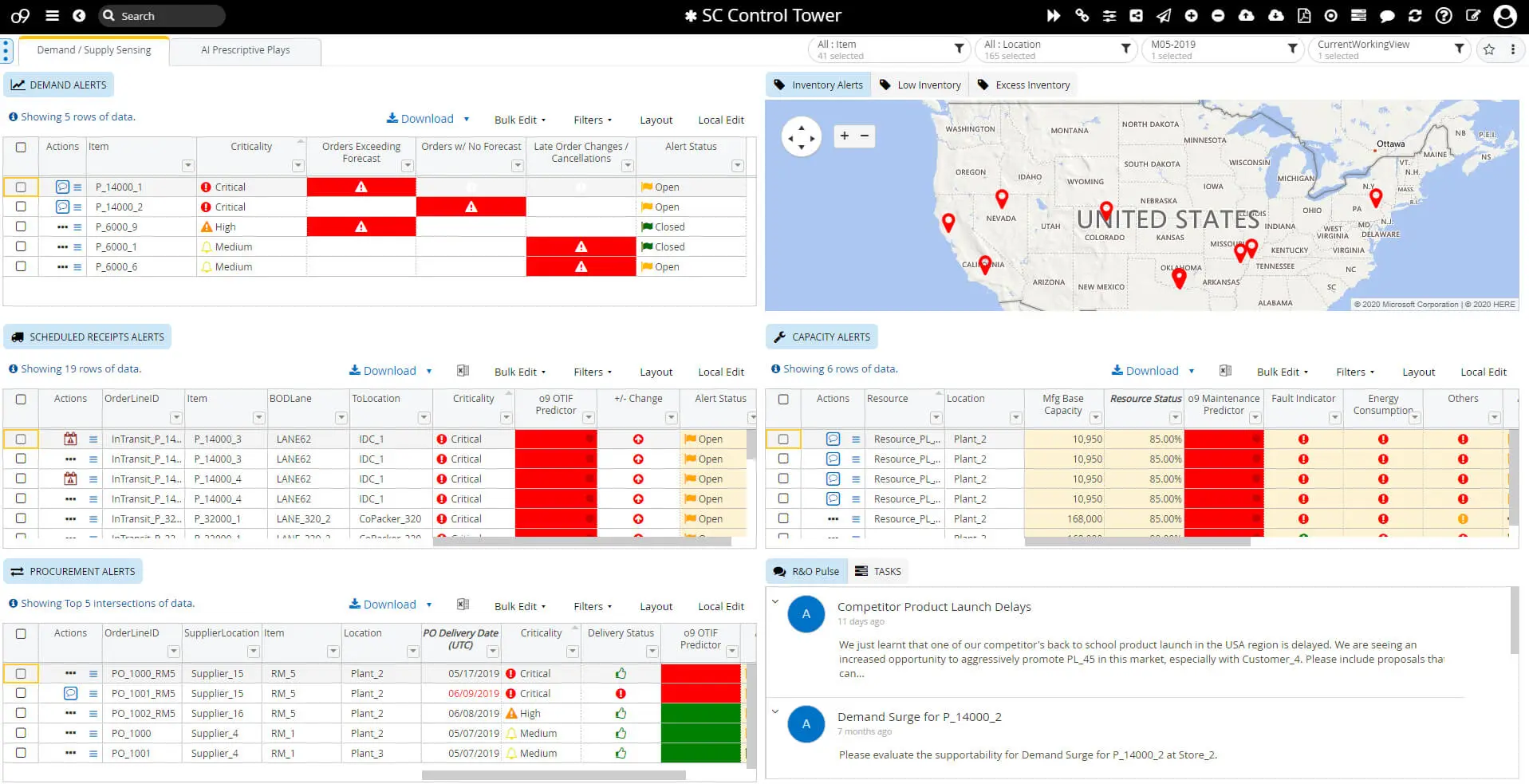 AI Powered Supply Chain Control Tower
Disruptions and market volatility are increasing exponentially. Proactively manage risk and opportunities by sensing and managing demand and supply on an AI platform.
More and more data is becoming available. Real-time signals from supply chain disruptions and market opportunities should alert planners instantly. Leveraging the o9 AI scenario capabilities, solutions to these disruptions are presented and highlighted with lead-time and cost implications. The o9 Control Tower allows enterprises to connect and harmonize planning and execution seamlessly on a common AI platform.
AI enabled real-time visibility to risks and opportunities with ongoing machine learning and prescriptive recommendations.
Ability to connect to many (unstructured) internal and external data sources.
Ability to shape demand in real-time. Present field opportunities and execute real time D/S matching.
Demand alerts (demand surge scenarios, orders exceeding forecasts, orders below forecasts, large changes to orders, etc.), scheduled receipt alerts (shipments arriving later due to bad weather or port delays), procurement alerts and production alerts.
Real-time IoT sensor alerting for monitoring manufacturing resources (Maintenance, Fault alerts, Energy Consumption,etc)
Seamlessly connect short-term S&OE planning to longer term IBP on a common platform.
With the o9 Supply Chain Control tower our customers are able to
take fast, high quality decisions that mitigate risk and capture market opportunities.
Improved visibility to demand and supply changes: Lack of integration to sources of demand and supply changes makes visibility poor and often late, reducing time available for response,
Real-time  scenario analysis: Even when visibility is available, users don't have real time ability to assess various alternative choices of resolving the issues, resulting in often late and sub-optimal decisions.
Automation at scale: Because of lack of early detection and fast response systems, a disproportionate amount of time of supply chain planners is going into manual firefighting drills.
Exceed your customer expectations: Deliver your customers needs on-time and in-full with the optimal supply chain strategy and flow plan.
Plan better. Create an efficient supply chain. Make the planet a healthy place to live
An efficient and proactive supply chain makes our planet a more healthy place to live and your employees happier in their jobs.
The o9 Control Tower can help reduce costly expediting by proactively sensing demand and supply changes and then recommending optimal transportation modes and flow paths that enable you to meet your customer service objectives without excessive CO2 emissions and suboptimal asset utilization.
Video Example: Unplanned Maintenance
The o9 Control Tower enables companies to Sense, Translate, Solve, Execute, and Learn using a robust AI enabled platform.
The o9 Control Tower utilizes advanced machine learning that enables superior supply chain results. It begins with "Sense" capabilities that detect internal as well as external demand and supply disruptions. It is followed by "Translate" capabilities which helps to highlight risks and determine the potential impact of the disruption.
Next, "Solve" capabilities provide decision support by prescribing resolutions to help mitigate the impact of the disruption. These capabilities are enabled with workflow execution orchestration that breaks down organizational silos to make informed decisions faster. Finally, the Control Tower "Learns" from past decisions and resolutions that have been taken and then adjusts future resolution protocols and recommendations for optimal performance.
Get real time visibility. Leverage the o9 Digital Brain in your business.
Frequently
Asked
Questions
✅ Yes. There are multiple deployments where the Control Tower is supporting 3rd party planning systems.
❌ No. Examples include demand alerts (demand surge scenarios, orders exceeding forecasts, orders below forecasts, large changes to orders, etc.), procurement alerts and production alerts (e.g. expected machinery downtime due to fault indicators or energy consumption).
✅ Yes.  Supply chain execution needs schedules at a detailed plant/line level or truck level for driving daily execution. o9's EKG model can translate plans generated in weekly or daily planning cycles into schedules using intelligent rules/algorithms. o9 can send the plans to intelligent schedulers that create the schedules. (for example, a factory scheduler). The o9 EKG can accept back status updates against those schedules so that it can then monitor if higher level plans are tracking or deviating.