An In-Person event for Transforming Planning And Decision-Making
Gain inspiration about the digital transformation of enterprise planning and decision-making with 100+ of your peers during this one-day event in Dallas.
Request to Join
Immersive networking and knowledge-building event for supply chain, procurement, revenue management, IT and sustainability professionals
100+ FUTURE-READY LEADERS
ONE UNFORGETTABLE DAY
Why should you join?
Your industry is changing—fast. This event is your opportunity to stay at the cutting edge of enterprise planning and decision-making.
Who should join?
Any professional in supply chain, procurement, revenue growth management, IT, finance, sustainability, or adjacent areas is encouraged to request to join.
Who is going to be there?
100+ of your forward-thinking peers, 10+ speakers from world-class organizations, and numerous industry experts.
When is it happening?
The event is taking place on Tuesday, September 19th.
Request to join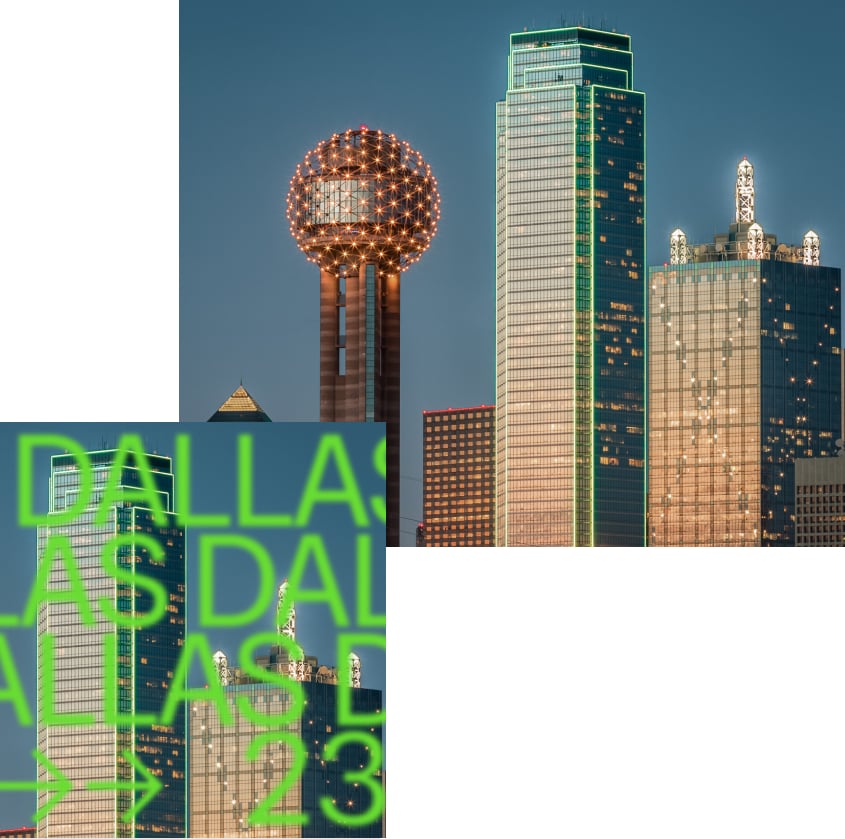 WHAT TO EXPECT AT
AIM10X LIVE DALLAS
OPENING DINNER
SEPTEMBER 18
Join the vanguard of enterprise planning and decision-making transformation with keynote presentations by world-class speakers from global enterprises.
Gain actionable insights from panel discussions with executives from multinational organizations.
Explore one of these pressing topics with your peers during engaging roundtable discussions.
→ Best Practices for Accelerating Digital Transformation
→ Attracting and Retaining Top Talent
→ Achieving Data Readiness
Do deep dives into next-generation planning and decision-making capabilities with our industry experts.
→ Breaking Down Silos with Integrated Business Planning
→ Leveraging a Control Tower for Better Decision-Making
→ Driving Supply Chain Planning Success
→ ML/AI: The Future of Demand Planning
FUN ACTIVITY
OF CHOICE

Because it's important to work hard and play hard.
Request to join
THE VENUE
TOWER CLUB DALLAS
In the heart of the Central Business District, located on the 48th floor of the prestigious Santander Tower, Tower Club Dallas is an elegant venue offering city skyline views, luxury event spaces and exceptional service.
Explore location
Timezone: Dallas Standard Time (GMT-6)
Day 1 – Monday – September 18
Day 2 – Tuesday – September 19
Registration & Welcome coffee
Welcome to aim10x live Dallas!
How Generative AI will Transform Planning and Decision-Making
While generative AI promises to disrupt every industry, its potential to transform how companies plan and make decisions is still largely untapped. Join o9 Solutions' CEO and Co-Founder Chakri Gottemukkala as he shares the exciting new innovations on the company's product roadmap, including its forward-thinking approach to leveraging generative AI to transform difficult-to-systematize knowledge into better, faster decisions that increase profitability, capture market share and reduce environmental impact.
An Executive Perspective on Generative AI
The advent of generative AI signals a potentially tectonic shift in the global economy. Massive adoption at an unprecedented rate has left business leaders eager to leverage the technology — but also with more questions than answers. Rhonda Vetere, author and board member at Laureus, leads a panel of executives with their fingers on the pulse of this sweeping technological change. Discover what's top of mind for them regarding generative AI, how they see it disrupting their respective industries and what the risks are in rushing to develop the new technology without commensurate regulation.
Unlocking Digital Connectivity Across Toyota's Supply Chain
The global automotive OEM Toyota has a complex network of suppliers spanning multiple geographies, each with its own information systems, data-sharing policies and cultural nuances. How can the organization create digital connectivity across its supply chain from suppliers to end customers and leverage that connectivity for better, faster plans and decisions that build shared resilience? Join this keynote session as Andy Woehler, Group Manager, Supply Chain Digital Transformation at Toyota, explores this topic and more.
Mastering the Art of Large Scale Digital Transformation
Join us for an insightful journey into Hewlett Packard Enterprise's (HPE) digital transformation initiatives that have redefined their planning and decision-making processes. In this session, HPE leaders will share the impact and value they've derived from strategic digital innovations, highlighting how they've improved operational efficiency and customer service. Learn from the challenges and solutions they encountered and get a glimpse into the future of HPE's digital transformation roadmap, as they discuss upcoming strategies and technologies.
How AB InBev Optimizes the Flow of Beverages
Join Federico Rosso of AB InBev as he details the scale, scope and learnings from the world's largest brewer's logistics transformation. By algorithmically optimizing the forward and reverse flow of goods, from inventory control and transportation to warehousing and returnable packaging, learn how the brewer has benefited — and hopes to benefit in the future — from a truly end-to-end supply chain transformation. Finally, learn what's next on AB InBev's transformation agenda.
The Mindset of a Modern Digital Transformation
Digital transformation is an opportunity to reinvent ourselves, pull from best practices, and lift our talent to new heights. But while change is exciting, it requires stepping out of our comfort zone. We must continually open our minds, challenge the status quo, and ask: could there be a better way? We also need a clear game plan with achievable goals, the right people, and strong backing from our top leaders. To guide our way, we'll share several key takeaways from our recent demand planning implementation and delve into the mindset needed for today's digital transformation journey together.
Driving Supply Chain Planning Success at Weyerhaeuser
Disconnected databases, ongoing IT maintenance issues, and unreliable production scheduling tools were impacting Weyerhaeuser's ability to promise products for delivery based on current inventory and production schedules (ATP) and by extension, their sales. Join this keynote session to learn how the leading timber, land, and forest products company implemented a next-generation supply chain planning platform to achieve more accurate production scheduling, better interdepartmental sharing of information, and a more dependable Available-to-Promise.
The Planning and Decision-Making Revolution
Volatility and complexity are every global enterprise's primary challenges. The solution? Transforming data and knowledge into better, faster decisions at scale. Join this keynote by Stephan de Barse, Chief Revenue Officer at o9 Solutions, Inc., as he explores how AI-powered platforms horizontally and vertically integrate global enterprises' planning and decision-making activities for better financial performance and a better planet.
Unlocking Next-Gen Supplier Relationship Management (SRM) with Samsung SDS
Recognizing the need for digital connectivity and collaboration between global enterprises and their suppliers, Samsung SDS has been partnering with Emro, the leading supplier relationship management vendor in South Korea, to bring its next-generation procurement workflow to the o9 platform. In this keynote session, you will learn how this partnership will digitize the purchasing process between companies and their suppliers, thereby improving the accuracy and efficiency of procurement operations overall.
How Wilbur-Ellis Reduced Inventory by $150M
Unpack how Wilbur-Ellis, a global giant with interests in agribusiness, specialty chemicals, ingredients and feed, remarkably reduced its inventory by $150 million. Matthew Meikle, the company's National Director of Supply Chain, will highlight the strategic shifts, data-driven decisions and innovative technology adoption that paved the way for unprecedented inventory cost savings and operational efficiency.
The Benefits of Integrating Retail Planning End-to-End
A lack of alignment between core planning functions can cause millions of dollars in value leakage for even the most advanced retail organizations. In this panel, learn from executives who are actively driving technology-enabled planning transformations at their organizations across areas such as Merchandising, Finance and Operations; and reaping the benefits. Gain best practices for preparing for a transformation, managing the change, tracking value and establishing a North Star vision to keep the organization on track and on schedule.
Split into workshops & grab a bite
Event takeaways
Revisit the most important takeaways from the event in a digestible format to leverage them to transform planning and decision-making at your organization.
Choose from three Networking Activities
Closing Dinner
Come as you are and enjoy a new attitude about wine culture. Focus on food first, with cuisine inspired by wine country and an open kitchen that delights every sense, and experience a better way to enjoy wine: on tap and perfectly selected to complement each dish.
Take advantage of a unique opportunity to co-create the future of enterprise planning and decision-making with a group of 100+ leaders in supply chain, procurement, revenue management, IT, and sustainability.
Build your network, expand your knowledge, and experience Dallas as you participate in interactive discussions, co-creation sessions, and hands-on activities.
Join us at aim10x Dallas to gain the insights, inspiration, and connections you need to transform planning and decision-making at your organization.