Published: October 12, 2023
Reading time: 3 min

o9 Solutions
The Digital Brain Platform
Data-Driven Decision-Making
Global Supply Chain Visibility
Sustainability Integration
Published: October 12, 2023
In Part 1 of this blog, we discussed the multitude of supply chain challenges that impact its efficiency, sustainability, and profitability of the paper & packaging industry.
Now let's discuss how next-generation supply chain planning software can offer numerous benefits to companies in the paper and packaging industry, ranging from improved supply chain efficiency and cost reduction to enhanced sustainability and innovation opportunities.
Integrated Business Planning (IBP) and Integrated Tactical Planning (ITP) Integration: By incorporating next-gen IBP and ITP software into their operations, companies in the paper and packaging industry can further optimize their supply chains, enhance collaboration between departments, and respond more effectively to market changes and customer demands. These software solutions bring agility and efficiency to supply chain planning, ultimately contributing to the organization's competitiveness in the marketplace.
Data-Driven Decision-Making: Advanced software leverages data analytics and AI to provide real-time insights into supply chain operations. This enables better demand forecasting, helping companies anticipate and respond to fluctuations in raw material prices and demand.
Inventory Optimization: These systems offer sophisticated inventory management tools that optimize stock levels based on demand patterns, preventing overstocking and reducing storage costs.
Supplier Collaboration: Next-gen software promotes collaboration with suppliers, facilitating a transparent and resilient supply chain. Companies can diversify their supplier base and better manage supplier relationships to mitigate risks.
Global Supply Chain Visibility: With features like real-time tracking and traceability, these solutions enhance visibility into global supply chains. This is vital for addressing transportation and logistics challenges, especially during disruptions.
Compliance Management: Regulatory compliance is simplified with software that can adapt to changing regulations across regions, ensuring that products meet the necessary standards.
E-commerce Readiness: These solutions are designed to handle the complexities of e-commerce, enabling companies to efficiently manage packaging requirements for online sales.
Sustainability Integration: Many next-gen software solutions are equipped with sustainability modules that allow companies to track and optimize their environmental impact. This helps in adhering to stringent regulations and meeting consumer demand for eco-friendly products.
Scenario Planning: Next-gen planning software allows for scenario modeling, helping companies prepare for various supply chain disruptions, from natural disasters to economic downturns.
Cost Reduction: Automation and optimization capabilities in the software can lead to cost reductions across the supply chain, improving overall profitability.
Innovation Acceleration: By streamlining operations and freeing up resources, these solutions give companies the flexibility to invest in technological advancements and stay ahead in the market.
Conclusion
The paper and packaging industry is an extremely complex, interconnected supply chain. From raw material sourcing to sustainability initiatives and competition, the challenges faced by this industry are diverse and complex. However, with the integration of next-gen supply chain planning software, these companies can find ways to navigate these challenges successfully. 
From data-driven decision-making to sustainability integration, these software solutions offer a holistic approach to managing the complexities of the industry. As the industry continues to evolve to meet consumer demands and regulatory requirements, next-gen planning software will play a pivotal role in ensuring efficiency, sustainability, and competitiveness in the paper and packaging supply chain.
Learn how the o9 E2E Planning & Decision-Making Platform can revolutionize your paper & packaging supply chain by requesting a demo.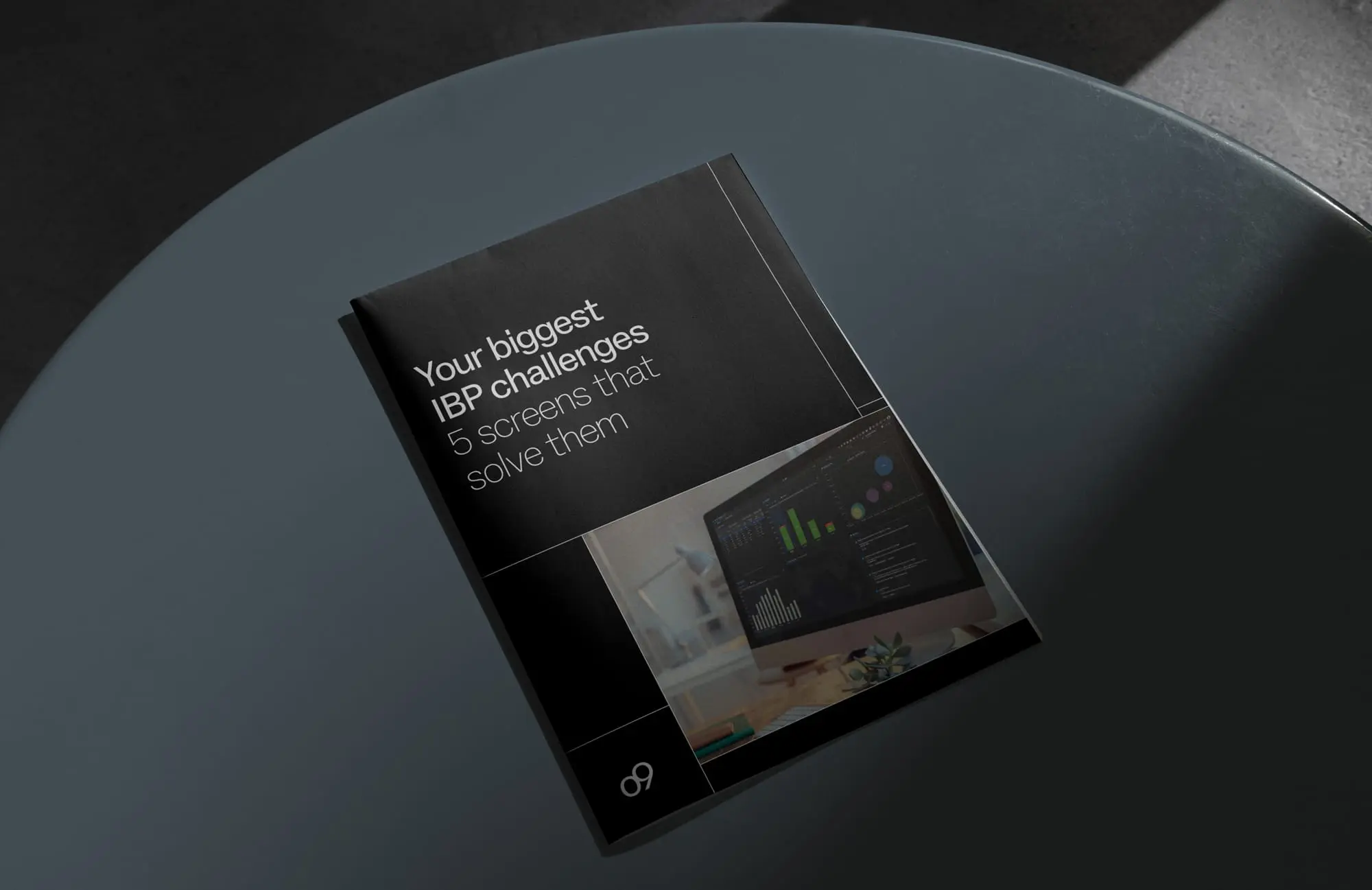 Your blueprint to Sales and Operations Planning (S&OP) excellence
Transform your supply chain operations and navigate complex challenges with ease. Download the informative E-book.
About the author

o9 Solutions
The Digital Brain Platform
o9 offers a leading AI-powered Planning, Analytics & Data platform called the Digital Brain that helps companies across industry verticals transform traditionally slow and siloed planning into smart, integrated and intelligent planning and decision making across the core supply chain, commercial and P&L functions. With o9's Digital Brain platform, companies are able to achieve game-changing improvements in quality of data, ability to detect demand and supply risks and opportunities earlier, forecast demand more accurately, evaluate what-if scenarios in real time, match demand and supply intelligently and drive alignment and collaboration across customers, internal stakeholders and suppliers around the integrated supply chain and commercial plans and decisions. Supported by a global ecosystem of partners, o9's innovative delivery methodology helps companies achieve quick impact in customer service, inventory levels, resource utilization, as well as ESG and financial KPIs—while enabling a long-term, sustainable transformation of their end-to-end planning and decision-making capabilities.