Read our whitepaper on how to streamline trade promotion planning and settlement – an integrated solution for CPG companies.
Download whitepaper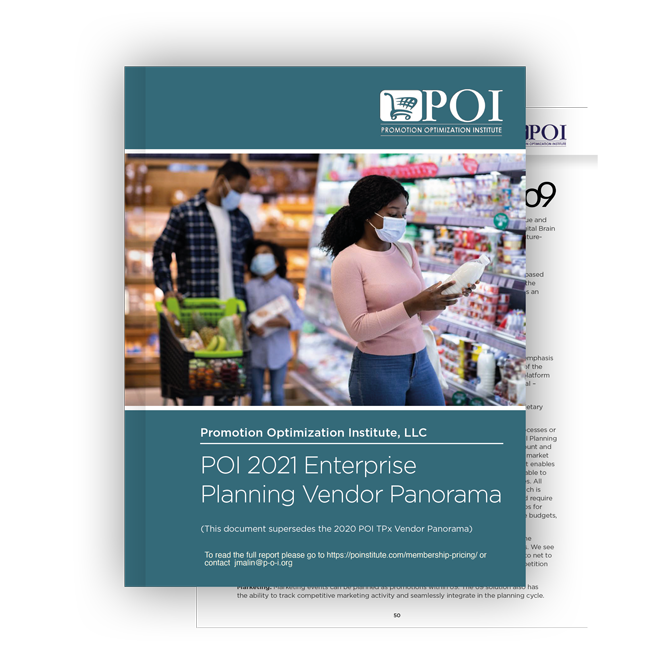 o9 Solutions is positioned as 'Best-in-Class' in Collaboration Internal and IBP/S&OP categories by the POI Institute in the 2021 Enterprise Planning Vendor Panorama report
View the report
Define your headroom map. Track your competitive advantage. Design integrated commercial plans to strengthen your portfolio. Measure and optimize your execution. Drive value. Sustainably.
In a world where shopping behaviours and channels are getting re-shaped, business models increasingly powered by digital technologies and AI, and there is a growing focus on environmental and societal impact, :o9's RGM software will identify wasteful commercial spend and profitably reinvest it back into business to drive sustainable portfolio growth.
Create a consistent, better-than-peer sustainable growth
By reshaping your portfolio with attractive demand spaces, deploying next-gen technologies, and turning data into a scale advantage.
AI is fast becoming a key asset across industry ecosystems for augmenting RGM processes and decisions. COVID further accelerated this need for change. RGM must evolve with predictive AI/ML and Test & Learn capabilities in the face of rapidly changing shape of demand and ever transforming retail landscape.
Handle omni-channel, multi-region, large product portfolio complexity.
Democratize data with common currency. Align organizations behind common ways to visualize and calculate KPIs. Measure & track with transparency.
Unlock incremental value by connecting commercial initiatives with marketing effectiveness.
Take away the guesswork. :o9's AI/ML framework learns from multiple historical drivers to come up with a better forecast considering all the planned initiatives and events in the future.
Scenario plan and optimize with unlimited number of drivers and constraints. Compare executability and financial impact to find best returns on investment.
Explainable AI. Benefit from state of the art analytics leveraging short and long term demand signals. Visualize core factors, understand impact, forecast and plan better.
:o9's RGM software brings together market intelligence, portfolio strategy, and tactical levers – Promo, Pricing, Pack-price architecture, Assortments, and Marketing – to optimize for sustainable growth
Understand and evaluate market intelligence & plan for portfolio growth
Design channel & pack-price architecture
Build prescriptive promo calendar recommendations
Store layout optimization and eCommerce partnership architecture
Marketing effectiveness with marginal incremental ROI measurement
Innovation planning and new product introductions
Marketing & commercial cross-initiative optimization
Plan better. Reduce waste. Reinvest back into business for growth for a sustainable future.
:o9's next-generation RGM software will provide planning and tracking capabilities to users in commercial and marketing functions:
Target-based automated budget setting for long-term performance prediction.
P&L simulations that can be (dis)aggregated at any level
Post-game analysis for teams to learn from history and improve decision-making for the future
The integrated planning efficiencies delivered by :o9 is helping corporations do more, be more and mean more, internally and to the world at large.
AI-powered RGM software: The smarter approach for driving consistent, profitable growth
:o9's cloud-native AI/ML-driven RGM software's capabilities solve some of the most complex challenges companies face in today's dynamic and volatile markets. :o9 links commercial levers with drivers of demand to create a composite forecast across planning time horizons. From strategic portfolio planning to tactical gap-closure initiatives, :o9 RGM connects past to future, driving sustainable growth.
See the future. Leverage :o9's digital brain in your business.