Published: October 12, 2023
Reading time: 4 min

o9 Solutions
The Digital Brain Platform
Demand & Supply Balancing
Sustainability and Environmental Regulations
Transportation and Logistics
Technological Advancements
Published: October 12, 2023
Introduction
The paper and packaging industry plays an integral role in our daily lives, providing us with the materials we need for everything from writing notes to protecting the products we purchase. However, behind the scenes, this industry faces a multitude of supply chain challenges that impact its efficiency, sustainability, and profitability.
In this blog post, we will explore some of the key challenges faced by the paper and packaging sector and discuss how companies are working to overcome them.
Demand & Supply Balancing: In the tactical horizon, the ability to manage demand and supply balancing across the network to determine optimal allocation of volume to mills, transportation assets and sourcing externally is critical as demand volatility continues to increase in several sub industries. Furthermore, the ability to translate the rough cut capacity planning down to daily scheduling and synchronization with trim loss optimization is critical to maintain operational efficiencies at the mills. 
Price Volatility: The paper and packaging industry are no strangers to price volatility. Fluctuations in commodity prices, including those of raw materials like pulp, chemicals, and energy, can significantly impact production costs and, consequently, the pricing of paper and packaging products. Companies in the industry must constantly monitor these price changes and adapt their strategies accordingly to protect margins and remain competitive in the marketplace.
Sustainability and Environmental Regulations: In recent years, there has been a growing emphasis on sustainability in the paper and packaging sector. Increasing environmental regulations require companies to meet stringent standards regarding emissions, waste disposal, and sustainable sourcing. While these regulations are necessary for protecting our planet, they also add complexity to the supply chain and can lead to additional compliance costs. However, there's also a significant opportunity for the industry to grow market share by replacing plastics that will improve the downstream companies environmental footprint.
Consumers are increasingly demanding eco-friendly packaging options. This shift in consumer preferences has pushed companies in the industry to explore sustainable alternatives to traditional materials. From biodegradable packaging to incorporating recycled fibers, the industry is evolving to meet these sustainability goals.
Transportation and Logistics: The paper and packaging industry operates on a global scale, with products often manufactured in one location and distributed worldwide. This global supply chain needs to constantly be optimizing the logistics network as this becomes one of the most significant cost elements for the paper and packaging industry.
Inventory Management: Effective inventory management is crucial in the paper and packaging industry due to the perishable nature of some products. Improper storage conditions or lengthy warehousing can lead to product damage or deterioration, resulting in financial losses for companies.
Demand Variability: The industry is no stranger to the ebbs and flows of demand. Seasonal variations and economic cycles can lead to unpredictable shifts in product demand. Companies must strike a balance between overstocking and understocking to meet consumer needs while avoiding excessive inventory costs.
Technological Advancements: To stay competitive, the paper and packaging industry must embrace technological advancements. From adopting modern production techniques to implementing state-of-the-art supply chain management systems, technology plays a pivotal role in streamlining operations and ensuring competitiveness in the market.
Supplier Relationships: Many companies in the industry rely on a handful of key suppliers for critical raw materials. This dependency can be risky, as disruptions in the supply chain of these suppliers can have a cascading effect on production. Diversifying sources and building resilient supplier relationships is vital for mitigating these risks.
Regulatory Compliance: Different regions have varying packaging regulations, ranging from size and labeling requirements to sustainability mandates. Companies must navigate these regulations and adapt their products and processes to remain compliant in multiple markets.
E-commerce Growth: The rise of e-commerce has presented both opportunities and challenges for the paper and packaging industry. The demand for packaging materials has surged as more products are shipped directly to consumers. This shift in consumer behavior has necessitated adjustments in supply chain processes to meet the evolving needs of e-commerce companies.
Competition: The paper and packaging industry is fiercely competitive. Companies must continually innovate and optimize their supply chains to maintain market share and profitability. Staying ahead in this competitive landscape requires a relentless focus on efficiency and cost-effectiveness.
Part 2: How Next-Gen Supply Chain Planning Software Can Help
The paper and packaging industry is an extremely complex, interconnected supply chain. From raw material sourcing to sustainability initiatives and competition, the challenges faced by this industry are diverse and complex. However, with the integration of next-gen supply chain planning software, these companies can find ways to navigate these challenges successfully. 
Read the Part 2 of this blog to learn how next-gen supply chain planning software can help overcome these challenges.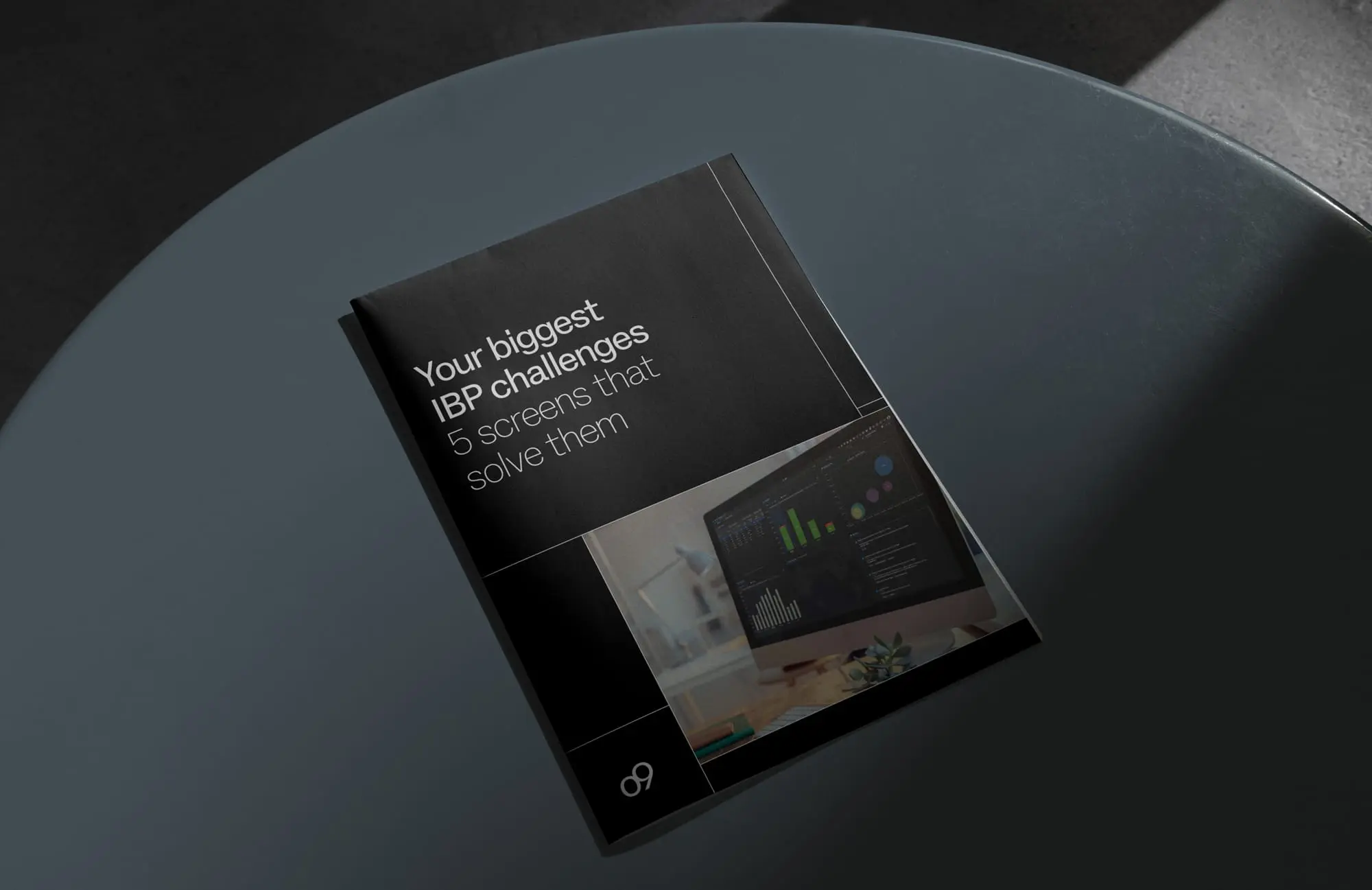 Your blueprint to Sales and Operations Planning (S&OP) excellence
Transform your supply chain operations and navigate complex challenges with ease. Download the informative E-book.
About the author

o9 Solutions
The Digital Brain Platform
o9 offers a leading AI-powered Planning, Analytics & Data platform called the Digital Brain that helps companies across industry verticals transform traditionally slow and siloed planning into smart, integrated and intelligent planning and decision making across the core supply chain, commercial and P&L functions. With o9's Digital Brain platform, companies are able to achieve game-changing improvements in quality of data, ability to detect demand and supply risks and opportunities earlier, forecast demand more accurately, evaluate what-if scenarios in real time, match demand and supply intelligently and drive alignment and collaboration across customers, internal stakeholders and suppliers around the integrated supply chain and commercial plans and decisions. Supported by a global ecosystem of partners, o9's innovative delivery methodology helps companies achieve quick impact in customer service, inventory levels, resource utilization, as well as ESG and financial KPIs—while enabling a long-term, sustainable transformation of their end-to-end planning and decision-making capabilities.