Published: September 17, 2021
Reading time: 4 min

o9 Solutions
The Digital Brain Platform
Published: September 17, 2021
SAP APO is sunsetting in 2025. In our previous blog, we outlined the reality that APO users are missing out on significant strategic and competitive advantages because of their continuing reliance on outdated, on-premise technologies to do supply chain planning. If the cold hard truth of the disadvantages didn't convince some readers that now is the time to migrate to a new platform, maybe those "glass half full" readers will be motivated by imagining the art of the possible and the power, flexibility, transparency, and resiliency a cloud-native solution delivers.
A good starting point is understanding that the window for achieving a competitive advantage by migrating to the cloud is still possible. In fact, according to a recent Accenture report, Supply Chain Transformation on the Cloud, many supply chains and related functions, such as engineering, planning, manufacturing, fulfillment, and service management, are rated as either low or medium in their current cloud adoption levels. However, the window is closing, so let's focus on what outcomes a migration will deliver.
There are three benefits supply chain leadership can count on by investing in a cloud-based planning system.
Cost Savings
One of the clear benefits of a cloud solution is a reduction in overhead related to managing infrastructure.  Leveraging a cloud solution means your IT organization doesn't need to purchase, manage, fix, replace, or upgrade hardware in a data center. It also means you don't need staff for this function, meaning lower direct and indirect costs.
Additionally, since most cloud computing fees are based on a subscription model, organizations have clear visibility of the cost and will only be charged for what the subscription includes.
Finally, guaranteed service levels mean that the risk of having your data center go offline due to a catastrophic event like a fire or cyber attack is much, much lower. The inherent backup and recovery functionality with a cloud-based platform means cloud computing is a safer option for your data due to layers of protection. This reduces the probability of an entire organization becoming paralyzed and suffering from the financial implications of that blackout or data loss.
Larger compute power at a faster speed with more control
An even greater benefit of a cloud solution is the holy grail of supply chain planning—end-to-end visibility and real-time understanding of your entire global supply chain, with as much detail as required. Consider the business benefits of knowing how products perform at an SKU level in emerging markets. Having instantaneous knowledge that an underperforming product in Malaysia is taking up 30% of manufacturing capacity but the ROI is negative, running a scenario that recommends shifting production to a product that is stocking out in Japan but can improve your margins by 4%.
The benefits become even more apparent when highly disruptive events like pandemics, geopolitical uncertainty, or transportation disasters occur.  And you need the ability to ingest ever-increasing amounts of data efficiently to get these recommendations and pivot quickly to address the challenge. Cloud, with its highly scalable storage and processing capabilities, is the answer.
Innovation
Peter Drucker said, "Innovation is the specific instrument of entrepreneurship. The act that endows resources with a new capacity to create wealth."  He also said, "Innovate or die."  Either way, you approach the premise, it's clear: Companies must keep innovating.
Investing in a cloud supply chain planning solution will support the ability to experiment, whether live in an ongoing process with real-time feedback of performance or a simulated digital twin, to find new solutions to old problems, profitable paths around disruptions, and opportunities hiding in plain sight.  A cloud-enabled open platform allows for greater application development, easier integration of new data sources, and evolving algorithms to analyze the data. Furthermore, being in the cloud allows for seamless collaboration between all nodes in your supply chain network, regardless of where they are located in the world. In short, it exponentially expands the number of options to test while improving business performance.
Now that the point/counterpoint evaluation of delaying versus migrating has been discussed, in our next blog, we'll take a hard look at your options and next steps. Namely how leaders should evaluate and rank the functionality that a high-performing supply chain requires and why SAP IBP isn't the natural, or best, progression from APO.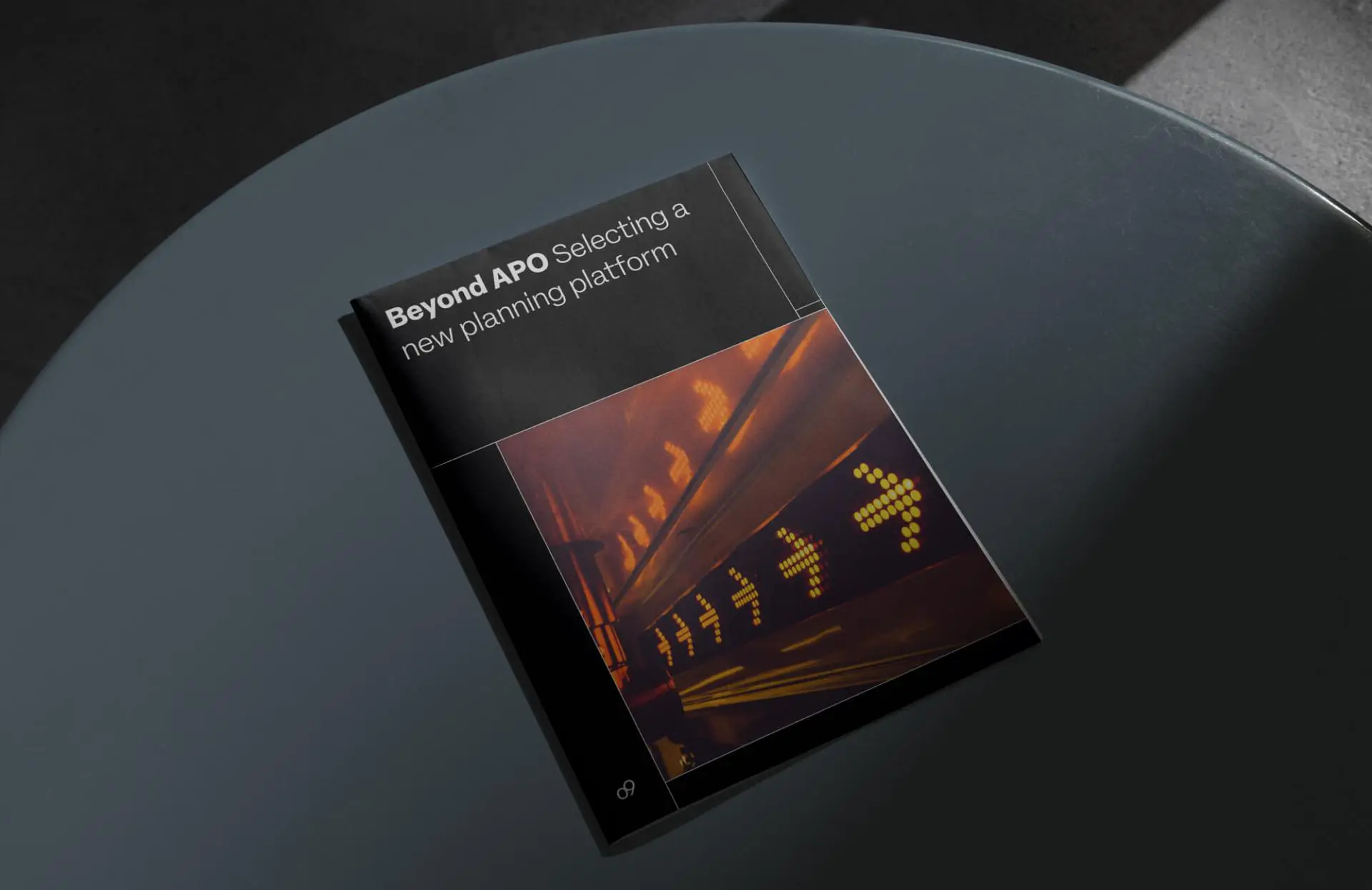 Read our whitepaper to learn what next-generation capabilities FT1000 companies are enjoying when they replace APO with an AI/ML-powered platform.
About the author

o9 Solutions
The Digital Brain Platform
o9 offers a leading AI-powered Planning, Analytics & Data platform called the Digital Brain that helps companies across industry verticals transform traditionally slow and siloed planning into smart, integrated and intelligent planning and decision making across the core supply chain, commercial and P&L functions. With o9's Digital Brain platform, companies are able to achieve game-changing improvements in quality of data, ability to detect demand and supply risks and opportunities earlier, forecast demand more accurately, evaluate what-if scenarios in real time, match demand and supply intelligently and drive alignment and collaboration across customers, internal stakeholders and suppliers around the integrated supply chain and commercial plans and decisions. Supported by a global ecosystem of partners, o9's innovative delivery methodology helps companies achieve quick impact in customer service, inventory levels, resource utilization, as well as ESG and financial KPIs—while enabling a long-term, sustainable transformation of their end-to-end planning and decision-making capabilities.