Published: July 25, 2023
Reading time: 8 min
Isabel Tinsley
Sustainability Senior Analyst
Challenges of ESG data management
Data governance and storage
Digitalization, automation and streamlining 
Environmental, social, and corporate governance (ESG) data has never been more relevant than it is today. The foundations of a strong supply chain sustainability program are built on data. However, collecting, managing, and following up on large volumes of ESG data can be difficult and time-consuming, and global, multi-tier supply chains are complex. This blog outlines the challenges of ESG data management and how digitalization can help streamline the process.
Challenges of ESG data management
Increasingly, companies are realizing that there are operational and financial gains associated with building more sustainable supply chains. Still, they face challenges related to ESG data that may be skewing results, misleading stakeholders, wasting resources, and leading to poor decisions. These challenges vary depending on a company's geography, materiality priorities, the complexity of their supply chains, product portfolio, or the industries in which they operate. However, the challenge that companies in every industry share is the collection and processing of accurate and verifiable data. This is largely because sustainability data disclosures have not been a requirement in the past from either a regulatory, investment, or consumer perspective.
More recently, climate disclosure regulations are moving towards becoming mandatory, standards are improving, and research is showing increased customer demand for more sustainable products. With this rapid increase in demand for data, companies need to overcome challenges with data governance, storage, and lack of trust in data sharing. Let's further explore these challenges and look at how digitalization can help streamline the process of ESG data management.
Data governance and storage
Many companies struggle with silos that inevitably occur either functionally or when looking at how data is stored, accessed, analyzed, and managed. Within an organization, sustainability data is found in environmental, procurement, financial, product lifecycle, regulatory compliance, human resource management, ERP, and logistics systems (e.g., WMS and TMS). In large global corporations, there may be multiple instances of these systems located across the many geographic regions in which the organization operates. This data must be extracted, consolidated, validated, cleansed, and harmonized to create a single coherent picture for the entire enterprise.
For many companies, this process takes half a year to complete and is often managed manually using labor-intensive spreadsheets. But the management of an enterprise's own sustainability data is only part of the picture. The more extensive a company's supply chain, the more global the organization, the more complex as far as the jurisdictions in which a company operates and the number of consumers that are touched.
In order to understand a company's full impact, sustainability data about the value chain that lies beyond the organization's boundaries has to be acquired as well. For example, supplier sustainability performance is an important criterion in sustainable sourcing decisions. In addition, many new regulations require higher fidelity data about the materials and processes suppliers use to produce their products and services. For example, recently in October 2022, the newly formed International Sustainability Standards Board (ISSB) voted unanimously to require company disclosures on Scope 1, Scope 2, and Scope 3 greenhouse gas (GHG) emissions, applying the current version of the GHG Protocol Corporate Standard (note: Scope 1 covers direct emissions from a company; Scope 2 covers indirect emissions from electricity purchased and used; and Scope 3 covers all other indirect emissions from the value chain.)
Further critical product sustainability data from suppliers include process and material information relative to energy, water, waste, chemical compounds, recycled content, and more. All of this data needs to be efficiently acquired and assimilated. Digital platforms that retain and store data as a single source of truth—both financial and non-financial data—can improve process streamlining and aid internal collaboration both within and externally.
Data sharing
Data does not move freely within the supply chain ecosystem. Stakeholders are often unwilling to share ESG data to mitigate the risk that others may obtain a competitive advantage. And as a result, the ecosystem as a whole cannot optimally benefit from available information. Privacy laws, for example the General Data Protection Regulation (GDPR), further complicate sharing as some suppliers may view their information as proprietary information (Deloitte, 2022). This lack of trust is often seen in cases where suppliers may not want to share information because they are unsure whether it could potentially be used against them or that they may be subjected to an audit. However, mandatory disclosure regulations can be a key driver of change to overcome the issue of a lack of transparency.
What is not measured cannot be managed, and data disclosure enables action. The momentum for increased mandatory disclosure requirements is illustrated through national bodies such as the SEC proposing climate change disclosure in the USA and the European Commission adopting a proposal for a Corporate Sustainability Reporting Directive (CSRD). Many new reporting and disclosure regulations are building on existing frameworks, such as the Sustainability Accounting Standards Board (SASB) and the Task Force on Climate-Related Financial Disclosures (TCFD), as foundations for development. This indicates a move towards more standardized frameworks that aid the measurement, consistency, and assimilation of ESG data.
Furthermore, research has shown companies are increasingly committing to voluntary disclosure;  a CDP report revealed a record number of voluntary environmental disclosures were received in 2021. The increased awareness and accountability, demonstrated through more granular quantitative data and verification, is linked to companies facing growing pressure for more environmental transparency from their customers and other stakeholders and will lay the foundation for meaningful change. The ESG data landscape will continue to be influenced by dynamic reporting requirements, regulations, investor sentiment, and public perceptions. It is clear that companies need to embrace digital technologies and start collecting, managing, and disclosing their ESG data according to the existing converging frameworks and standards.
Digitalization, automation and streamlining 
Integrating sustainability data is essential as companies embark upon a wave of digitization of their supply chains. It is crucial to emphasize accurate data collection, management, storage, and governance. Rather than building a new platform for ESG data only, it is better to include data in existing platforms wherever possible to make the information more available across all departments within a company. With digital platforms, real-time ESG data can be integrated into decision-making on a continuous, ongoing basis instead of the alternative – reporting less regularly (either annually or biannually), which is more challenging and more susceptible to error and risk.
More automated ESG data management processes can provide a higher level of assurance (Deloitte, 2022). Consolidating ESG data manually can be extremely resource-intensive due to the sheer amount of information and data to process. Digitalization, automation, and streamlining through an integrated platform can save resources and time, require less overhead and result in more action. Digital supplier collaboration mechanisms can enable data sharing and, alongside more stringent disclosure regulation, can help improve end-to-end transparency. 
Summary
Companies are setting ambitious sustainability targets and planning various pathways to achieve net-zero carbon emissions. Investor, customer, and regulatory expectations are becoming more focused on sustainability. International governments are working towards improving the standards, which will likely significantly impact more regulated disclosures to ultimately push supply chain sustainability forward. ESG data management processes and digitalization can speed up environmental action needed to develop sustainable supply chains and deliver on targets such as those from the 2015 Paris Agreement.
Companies that integrate ESG data into their corporate strategy, with a relationship between day-to-day business and longer-term sustainability targets, will build resilience and remain competitive. Collaboration, both internally to bring sustainability to the top of the agenda and externally throughout the supply chain, is needed. Companies that embrace integrated approaches to sustainability data for logical business reasons, not just compliance reasons, and embrace digitalization will be positioned to successfully achieve sustainable supply chain transformation. 
How can we help?
o9 Solutions is a leading AI-powered enterprise-level integrated business planning and decision-making platform. o9 Sustainability Solutions capabilities extend o9's existing supply chain data integration architecture to incorporate the full spectrum of sustainability data needs and automate and streamline the process of sustainability data acquisition, validation, cleansing, and harmonization in line with global standards. The platform seamlessly embeds ESG metrics and KPIs into best-in-class supply chain planning. 
o9 Solutions brings together technology innovations, including graph-based enterprise modeling, big data analytics, and advanced AI/ML algorithms that allow companies to build a live digital model of their entire supply chain. 
Through o9's innovative platform, companies can gain end-to-end visibility of relevant sustainability dimensions to uncover ESG-related risks and find opportunities to improve ESG-driven planning and decision-making.
At o9, we believe that not all first steps are small. Let's walk this journey together and redefine how your organization makes decisions for a more sustainable supply chain and the planet.
To learn more, visit: o9solutions.com/sustainability
References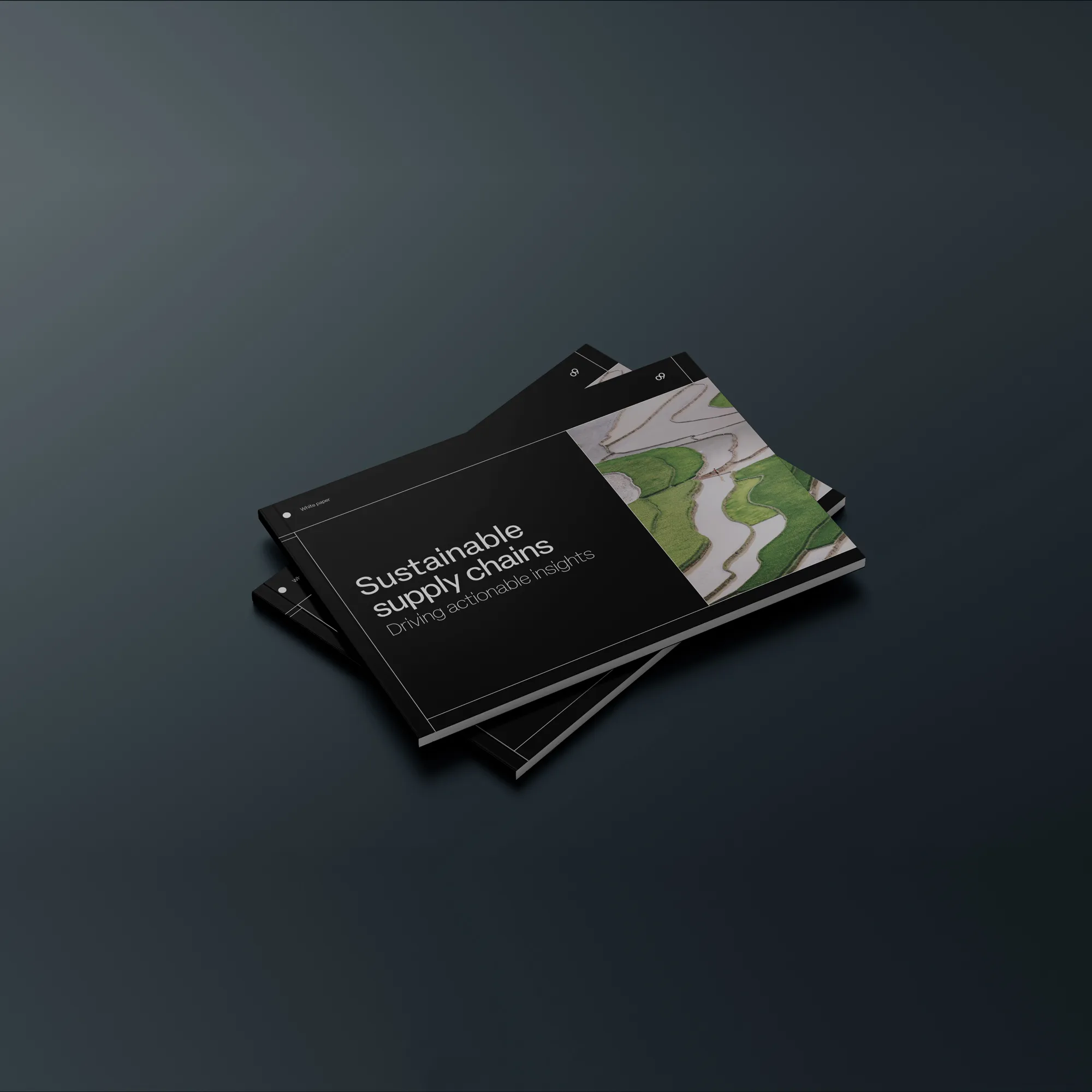 Sustainable Supply Chains: Driving Actionable Insights
Accelerate your sustainability journey with the APA Framework
About the author
Isabel Tinsley
Sustainability Senior Analyst
Isabel Tinsley is a Senior Sustainability Analyst at o9. She recently completed her Masters of Science degree in Sustainability Management at Columbia University in the City of New York and is passionate about sustainable supply chain transformation.