Published: September 15, 2023
Reading time: 7 min
Isabel Tinsley
Sustainability Senior Analyst
What is the digital product passport (DPP)?
An enabler of the circular economy
o9 Sustainability Solutions
Published: September 15, 2023
There is a big push from industry experts, regulators, consumers, and companies to move towards supply chain models based on circularity. These models aim to minimize resource use, waste, and carbon emissions and maximize reuse and recycling in the supply chain. This blog explores how policy developments such as the digital product passport (DPP) alongside supply chain software can play a role as enablers.
What is the digital product passport (DPP)?
The DPP is a proposed policy solution to support more sustainable production, circular business models, enable consumers in making more informed purchasing decisions and to allow authorities to verify compliance with legal obligations.
In 2019, the European Commission presented the Green Deal as a plan to help the European economy transform linear supply chains into more circular models. The DPP policy is built on the concept that 'closing the loop' for the flow of goods can only be achieved alongside available, granular data associated with different stages of a product's lifecycle in the supply chain. For example, detailed information about the materials that make up a product is required to achieve efficient recycling. 
The DPP aims to collect data about a product and its entire supply chain and make this information available so that a range of stakeholders, including consumers, can better understand the products they use and their impact.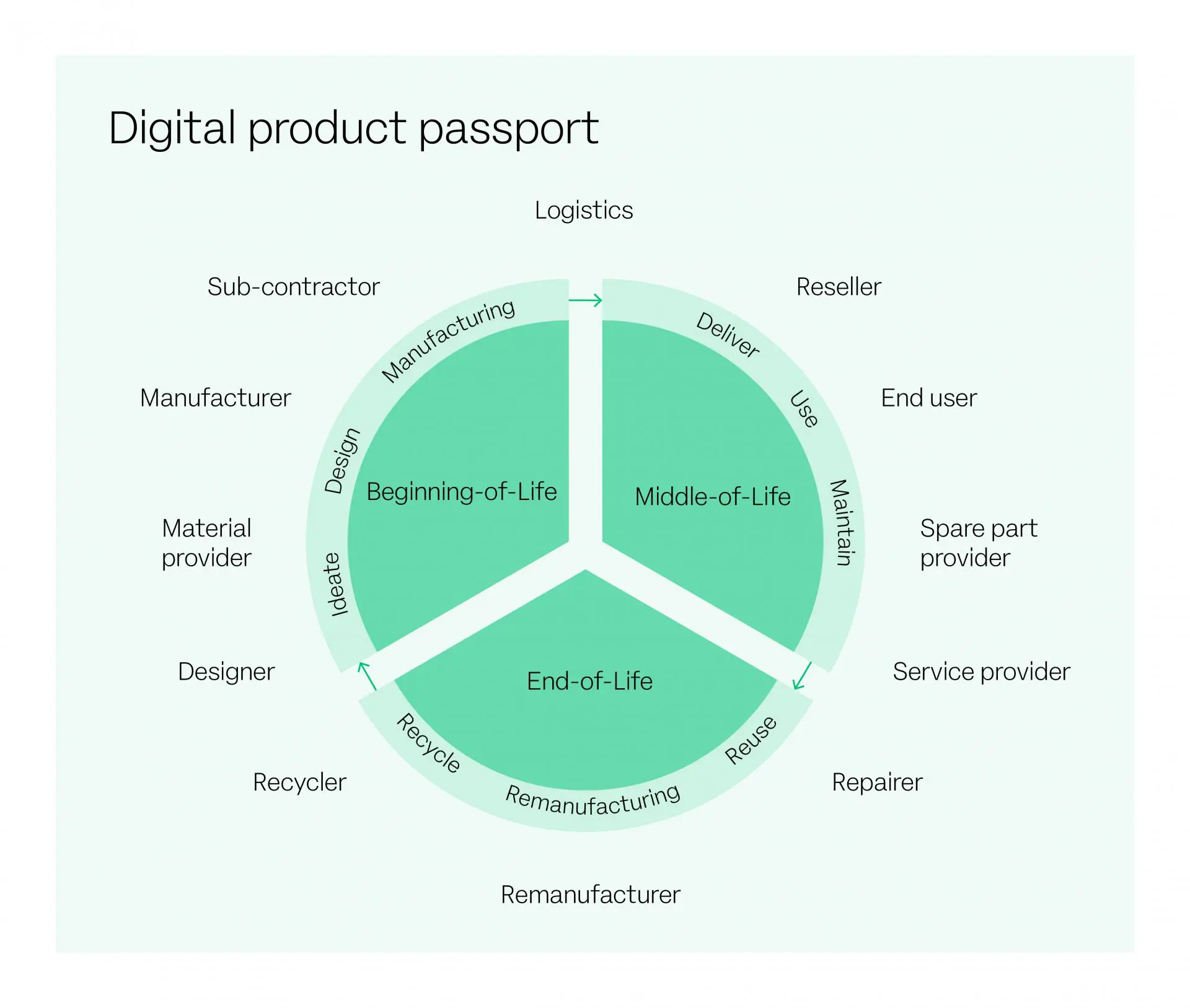 Data requirements
The development of a DPP for 30 product groups with the most significant environmental impact has been outlined as part of the proposed Ecodesign for Sustainable Products Regulation (European Commission, 2022). A proposal list of required metrics for producers to report includes:
Name of the product and producer,

Location of the factory, the origin of the materials used,

Proportion of chemical and recycled materials,

Instructions for use, recycling, and/or disassembly.
The proposal suggests three 'delegated acts' (agreements about what data to include for each product group) will be created per year over ten years (European Commission, 2019).
An industry example
The battery sector has been the first to develop a DPP to boost the reuse and recycling of batteries. The need for this is clear. The production of a rechargeable battery, from mining to an electric vehicle, has significant social and environmental impacts and associated risks. These range from mineral extraction (e.g., child labor, unsafe working conditions) to production processes (e.g., CO2 footprint, water use) (Global Battery Alliance, 2022; European Commission, 2019).
In October 2022, the Global Battery Alliance announced that from 2026, all industrial and electric vehicle batteries on the EU market would require a unique DPP retrievable using a tag as a unique product identifier. The required information links to production information and targets for recycled content in batteries. 
More specifically, data must be provided for the following:
Percentages of recycled materials used 
The DPP is a promising policy instrument, but there are still open questions regarding the DPP's final design and implementation. A significant challenge is data governance, where questions remain around who can access data under what conditions and who should operate the data infrastructure. Who guarantees the quality of the data? How can interoperability be implemented? Critics have continued to suggest that further incentives or mandatory legislation must be increased for manufacturers to measure and deliver the required data. Policymakers need to work out the infrastructure of how this data can be made available to stakeholders (Adisorn et al., 2021).
As the EU Commission works on addressing these questions, further research and industry debate is encouraged. Although there is skepticism about the scalability potential, companies should start considering how to follow these rules and start collecting these data points as feasibility and expansion are fully demonstrated through industry cases such as batteries. 
An enabler of the circular economy
Circularity is essential to a broader industry transformation towards addressing climate change and remaining competitive in the longer term. Moving towards circular-oriented innovation strategies with frameworks such as the DPP as templates creates an opportunity for companies to generate new value. 
The DPP policy proposal is a catalyst toward new circular product standards and has the potential to deliver material savings throughout value chains and production processes. Information on better product usage and repair may result in innovative new circular business models extending the lifetime of products and creating new efficiency and job opportunities. Despite digital infrastructure still being built, researchers and experts (Adisorn et al., 2021; Walden et al., 2021) predict that the DPP will be a future product requirement for several industries in the EU with a significant negative environmental impact.
Furthermore, as Walden et al. (2021) suggest, with the strong international influence of the EU market on global manufacturing, the DPP may also function as a kickstarter to transform production systems globally towards more sustainable supply chains.
Why does this matter?
"The increasing number of digital identity systems for companies and objects contribute to transparency and predictability of and trust in supply chains" (World Economic Forum & World Trade Organization, 2022)
A company's sustainable transformation requires the more intelligent management of product-related data across the entire product life cycle. The majority of this information exists but is not readily available or accessible for stakeholders to use. Digital technologies provide the ability to acquire, understand and share product-related data along value chains down to the level of individual components and materials.
The EU concept of the DPP will lead to an increase in requirements for supply chain data. The information associated with products to effectively track and manage sustainability will vary greatly depending on the product. The battery sector is a testing case, but the requirements will expand as more supply chain disclosure and traceability regulations come into action, incorporating more industries and product categories. 
Software solutions to acquire more primary product data during all stages of its life cycle are critical to roll out sustainability policies such as the DPP. 
o9 Sustainability Solutions
o9 Sustainability Solutions enables companies to acquire and measure sustainability KPIs on a product level. o9 Solutions brings together technology innovations, including graph-based enterprise modeling, big data analytics, and advanced AI/ML algorithms, allowing companies to build a live digital model of their entire supply chain. Through o9's innovative platform, companies can gain end-to-end visibility of relevant sustainability dimensions to uncover ESG-related risks and find opportunities to improve ESG-driven planning and decision-making.
At o9, we believe that not all first steps are small. Let us walk this journey together and redefine how your organization makes decisions for a more sustainable supply chain and planet.
To learn more, visit: o9solutions.com/sustainability
Read more about supply chain sustainability policy and regulatory trends in the following white paper: Policy and regulatory trends
___
References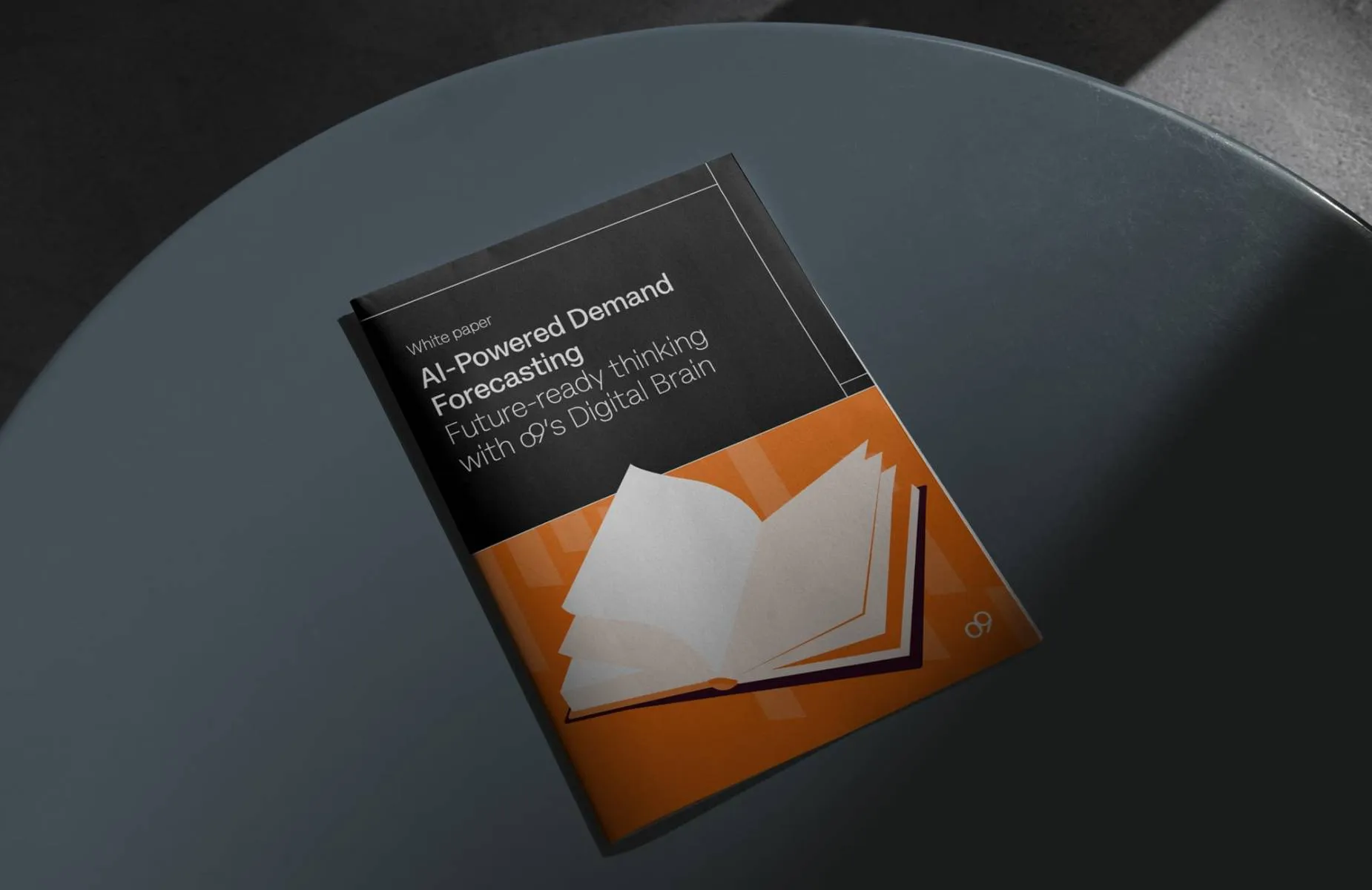 Can AI/ML forecasting help improve your forecast accuracy rapidly?
Learn how to efficiently manage internal and external data with an end-to-end digital platform.
About the author
Isabel Tinsley
Sustainability Senior Analyst
Isabel Tinsley is a Senior Sustainability Analyst at o9. She recently completed her Masters of Science degree in Sustainability Management at Columbia University in the City of New York and is passionate about sustainable supply chain transformation.