Aligning bottoms up revenue plans
and top down growth targets and strategies by category, region and channel.
Deploy the "Digital Market Knowledge" model from :o9. Bring together rich Market Data, Advanced Analytics and Integrated Planning capabilities. Transform unmanageable and uncertain revenue planning & budgeting processes. Drive growth based on facts and data.
Top reasons organizations are upgrading
their revenue planning capabilities
Manage increasing complexity
Plan multi-dimensional growth without spreadsheets across categories, markets, channels, customers and competitors.
Develop plans on current market insights.
Make fact based decisions with real-time data in one place to create effective growth plans.
Apply growth drivers towards optimal spend allocation.
Gain insights into incremental sales from essential growth drivers based on data and analytics.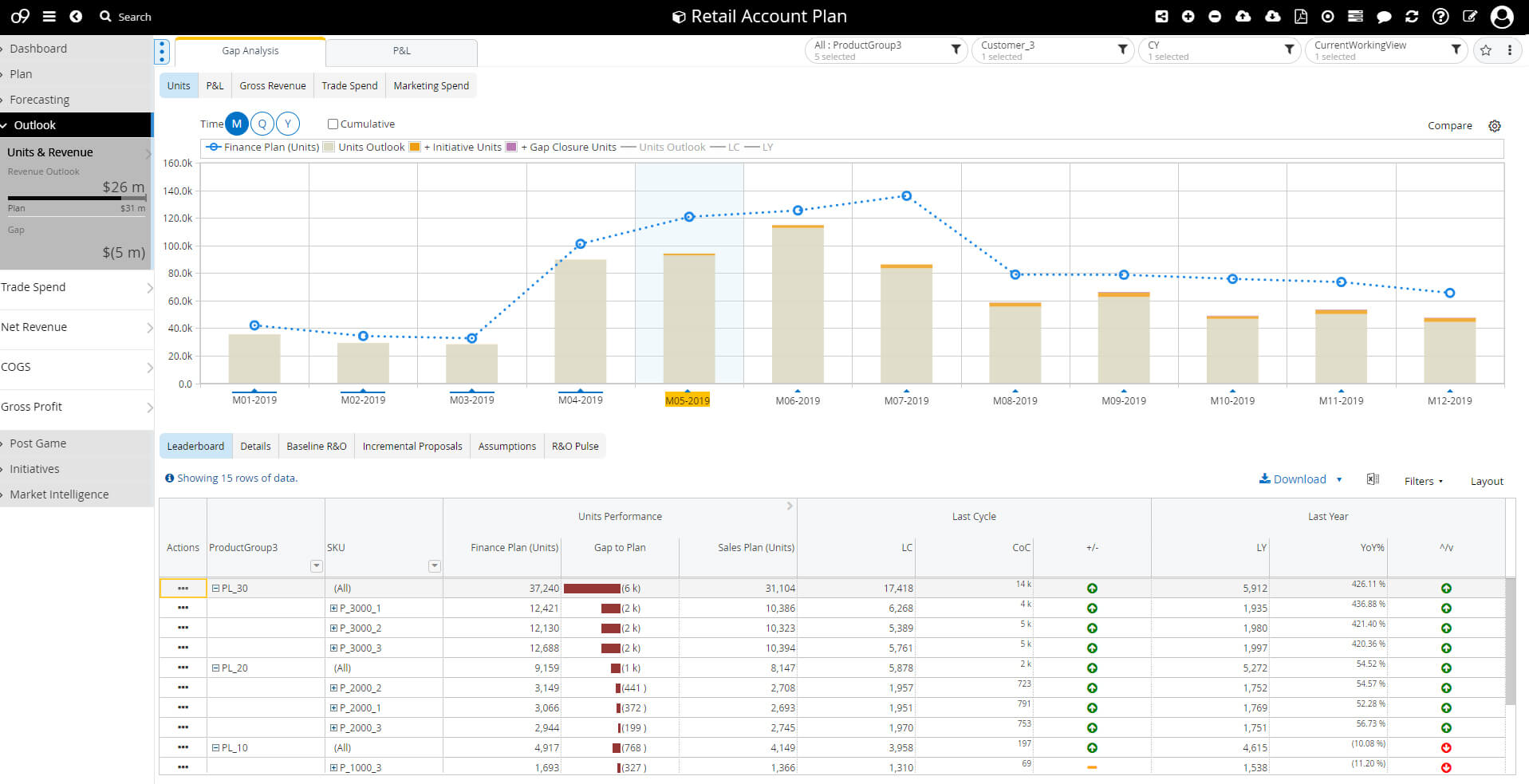 Use cases favored by our clients
Rich Market Intelligence: Integrated Market. Share insights based on Category, Customer, Competitor and Channel Intelligence (4C).
Driver based baseline forecasting – Use leading indicators and demand drivers to drive more accurate revenue and volume forecasts.
Growth driver building blocks planning – Drive growth plans with Analytics backed planning of New Product Innovation, Marketing, Pricing, Distribution, Promotions, Customer and Sales Incentives.
Optimized Budget & Resource Allocation – Use advanced analytics to estimate incremental revenue vs. spend to drive optimal resource allocation by CategoryXRegionXChannel.
Consensus revenue plan creation – Align Top Down Targets & Bottom Up Plans with aligned budgets, resources and assumptions
Revenue Outlook vs. Plan Tracking – Cycle over Cycle changes to outlook Assumptions Tracking & Collaboration
NPI, Sales & Marketing Initiatives Visibility – Fingertip visibility to underlying initiatives to support growth strategies and plans.
Product & Customer P&Ls
Looking for an insight driven budgeting solution that can
optimize revenue

?