Published: December 14, 2022
Reading time: 5 min

Christina Andreou
Sustainability Transformation Leader
Published: December 14, 2022
What makes a best-in-class sustainable company?
Ten years ago, the term sustainability was new, and companies often had to develop a business case for why they should devote time and resources to it. When I started my master's degree in sustainability in 2012, it was a whole new world of interconnected elements unfolding in front of me. Nowadays, sustainability is a mainstream but continuously evolving topic. The bar has been raised as the private sector has come to understand its responsibility. At this point, ninety percent of global GDP has set net-zero targets. But is this enough?
What we have seen in the aftermath of COP27, and from our own internal sustainable transformation at o9, is that while promises and pledges are a prerequisite, they are not enough on their own. Meaningful action is needed to follow through, and companies can no longer afford the perception of engaging in greenwashing. The important question is, what stage of maturity does a company need in order to achieve consistency in promise and action? 
Let's think of companies that go beyond the fundamental actions of measuring their environmental footprint and understanding what is expected by their stakeholders, but also strive to leave a positive legacy—or "handprint"—for the people and planet. Paul Polman and Andrew Winston recently introduced the concept of a "net positive" company. The net-positive company is one that improves the lives of everyone it touches, from customers and suppliers to employees and communities, greatly increasing long-term shareholder returns in the process. They are companies with a public purpose statement, including the impact they want to have on the planet. They take ownership of all the social and environmental impacts their business model generates. They create and take part in multi-stakeholder transformational partnerships with suppliers, clients, communities, governments, civil society, and even with competitors in order to drive change that no single group or enterprise can deliver alone. They lead and, at the same time, are an integral part of an ecosystem. Their partnerships thrive because they are nurtured by integrity, shared purpose, trustworthiness, and efficacy, which enhances organizational stability and encourages innovation. Another known term or form of a net positive company is "regenerative," namely, a company that views profit as a resource to support its purpose, invest in research, participate in networks, develop new products, enhance its processes, build reserves to increase its resilience, invest in its people, and support employee and community well-being. (SSIR). Lastly, it's no coincidence that net-positive companies also obtain B Corp certifications, as it is the most rigorous type of assessment a company can go through that proves the utmost consistency of promise and action. 
At o9, our purpose is to drive sustainable impact at scale by servicing the companies with the largest supply chains on the planet. We began our internal sustainability journey in 2021. We established a global team and joined impact networks such as the Science Based Targets initiative, the WEF New Champions community, Climate KIC, and Pledge 1%. Most recently, we joined the United Nations Global Compact and the Climate Pledge. 
We want to walk the talk of sustainability and learn from the experiences of other companies in our ecosystem. We recently asked one of our partners—Microsoft, a company with massive impact—to talk to us about the experience of a company that has already committed to the net positive path. We talked about the importance of a purpose statement as well as the example of leadership in sustainability. One important element we discussed was innovation. This discussion was less than a week away from COP27. We also spent significant time discussing the importance of responsibility in the supply chain. Scope 3 is now considered the most critical element to tackle in the challenge of decarbonization. Microsoft has one of the most aggressive decarbonization targets that includes wiping out not only its future emissions but its historical emissions as well. The focus now must be on how to transform pledges into action. 
In March 2023, o9 will launch its sustainability solutions suite of application services in the Digital Brain platform. o9 will be the first client of these new product capabilities, as we are using the Digital Brain as our carbon management tool. 
Though we are still in the early stages of our sustainability journey, we are more convinced than ever that real transformation will only happen through the collective efforts of an ecosystem. We are shaping our supplier engagement process with this guiding principle in mind. As a software company, we don't have a supply chain with a heavy carbon footprint, but we need to dig deeper to understand the pain points of our suppliers. We are also renewing our materiality assessment which is a documented understanding of the impact categories of greatest importance to our stakeholders. Materiality is derived by actively engaging and building relationships with our investors, our partners, our clients, and our employees. 
It's clear that it all comes down to open and transparent communication. 
Now is the time to strengthen relationships—after all, it's about human-to-human interaction. Remembering that African proverb, "If you want to go quickly, go alone. If you want to go far, go together". There are great examples of business leaders who are charismatic relationship builders, like Salesforce's Marc Benioff; it is no accident that Salesforce is now the most impactful tech company in the world. The World Economic Forum is another example of multi-stakeholder relationships that move the needle in terms of impact, precisely because their way of action is based on building those close-knit relationships between high-impact stakeholders. In conclusion, honest and successful sustainability transformation is a combination of digital transformation and embracing the right tools to accelerate the path to a more sustainable world, but it's also about going back to the basics and embracing human-to-human relationships.
To learn more about our social impact initiatives, visit: Social Impact | o9 Solutions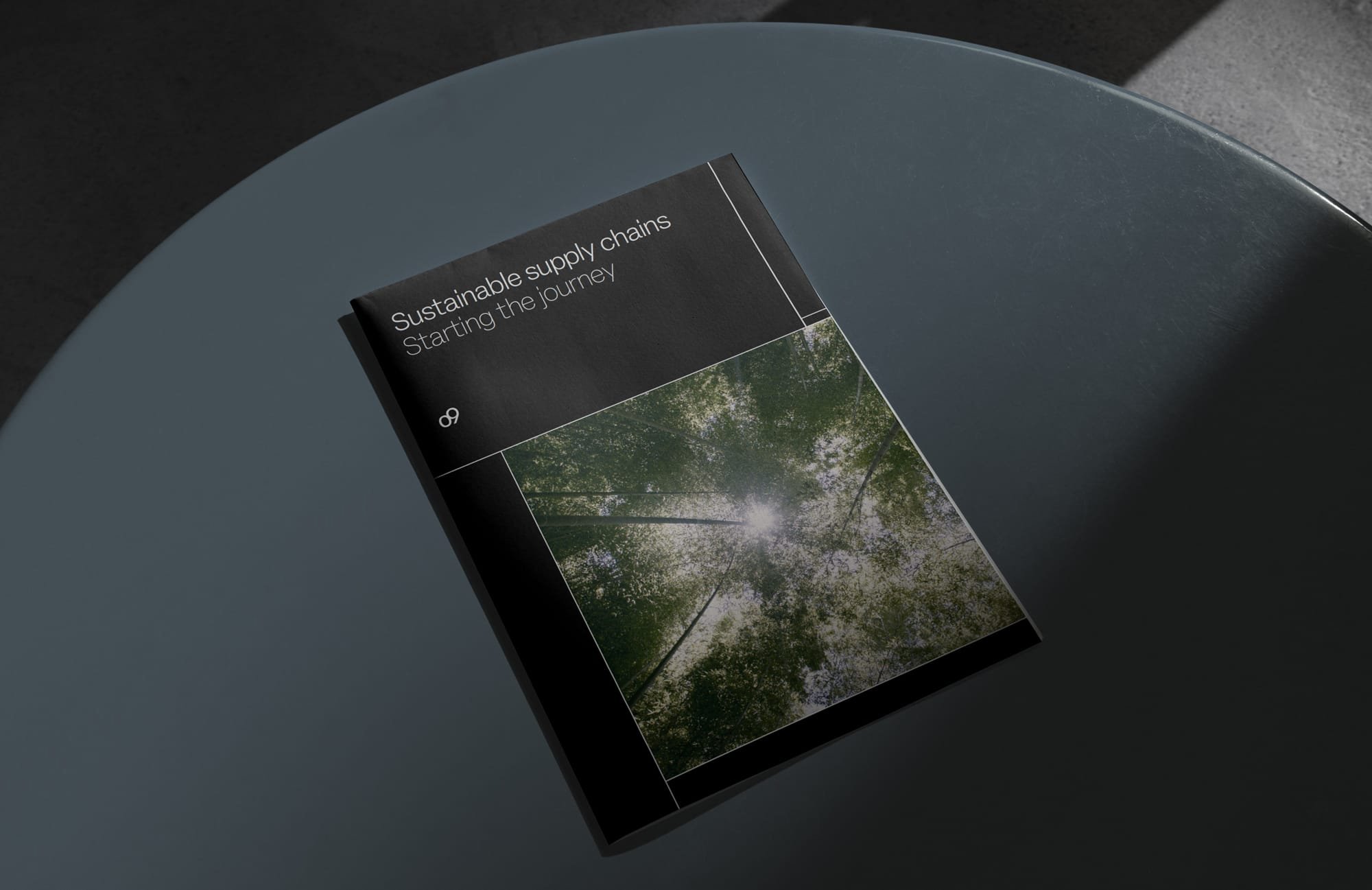 Getting companies into the net-zero mindset to decrease the carbon footprint of the global supply chain
Read our white paper as we guide companies through the first steps towards a more sustainable supply chain
About the author

Christina Andreou
Sustainability Transformation Leader
Christina Andreou is leading the internal sustainability transformation of o9. She has a background in sustainability, business, and technology.