DALLAS, TX – March 15, 2021 – o9 Solutions, the leading AI-powered integrated business planning platform, announced the addition of two new leaders at the forefront of digital transformation.
o9 Solutions' AIM10x Executive Council added two members to its roster. Rupert Deger and Steve Cakebread are bringing their expertise and experience to the AIM10x community. o9 Solutions has brought together a network of visionary leaders to share valuable learnings, best practices, and knowledge through the AIM10x community to help executives navigate and accelerate their digital business transformation. The main topics discussed are leadership, strategy, change management, digital transformation journeys, and how to leverage new technologies like artificial intelligence and machine learning to reach business goals.
"The AIM10x Executive Council gains two more motivating leaders. Rupert Deger and Steve Cakebread have with their impressive operating experiences," said Chakri Gottemukkala, CEO at o9 Solutions and active member of the AIM10x Executive Council. "Each leader brings a unique perspective to the AIM10x Executive Council's thought leadership in navigating digital transformation journeys. Rupert, from the industrial manufacturing world and Steve from the finance operations standpoint have each experienced the power of digital technologies in dramatically improving productivity and efficiency of enterprise operations and it is a pleasure to welcome them into the team".
"The AIM10x Executive Council gains two more motivating leaders. Rupert Deger and Steve Cakebread with their impressive operating experiences," – Chakri Gottemukkala
Rupert Deger
Rupert Deger studied at Augsburg University where he received a MA in Business Administration and became a Doctor of Philosophy (Ph.D) in Business Administration and Management. His career has seen him work on industrial competitiveness and process innovation for over 30 years and has seen manufacturers thrive or fade – depending on their grip on lean and agile digital processes, and a progressive approach to managing digital capabilities. His knowledge of the supply chain has been built up since his early days as a consultant at McKinsey and a Global Account Manager at i2 Technologies. His career continued with Savi Technology, PTC and e.GO.
Rupert is a strong leader in digital transformation. In today's fast planning cycles, Rupert preaches the need to tap into the various sources of demand and supply information across value chains, and leverage understanding of opportunities and constraints across departmental silos to provide fresh and hard facts for informed decision making in turbulent times. Rupert's areas of expertise include Discrete Manufacturing Industries, E-Mobility and Digital Transformation. His work has allowed him to develop skills in agility-enabling Enterprise IT Architecture including Internet of Things, Artificial Intelligence, creating agile design and supply chains.
Rupert is thrilled to be joining the thriving network that is AIM10x Executive Council: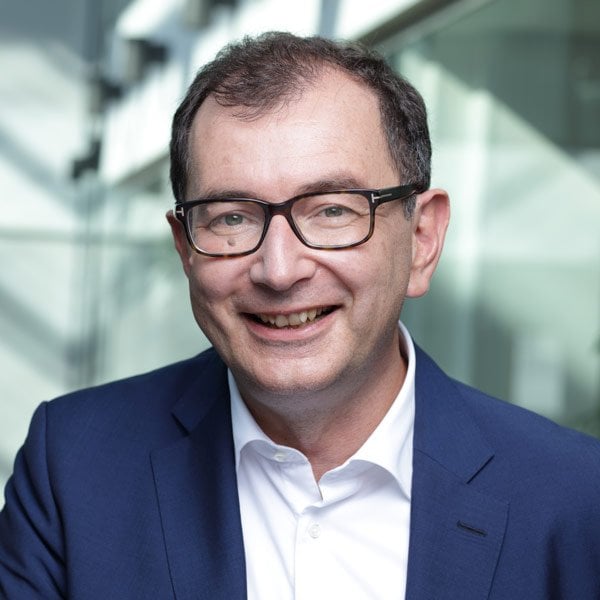 "Passionate about bringing new productivity levers to industry, I am impressed by how o9 is delivering value to complex supply chains in increasingly turbulent environments, based on real-time capabilities and cloud convenience. I am excited to join the AIM10x Executive Council to share and learn." – Rupert Deger
Steve Cakebread
Since October 2014, Steve Cakebread has been the Chief Financial Officer of Yext, Inc. Prior to joining Yext, Steve served in various senior executive roles, including as Chief Financial Officer and Chief Accounting Officer of D-Wave Systems, a quantum computing company and as Chief Financial Officer of Pandora Media Inc., a provider of personalized internet radio and music discovery service. Steve has also worked with consulting company J. Stevens & Co. LLC, as SVP, CAO and CFO of Xactly Corporation, a provider of on-demand sales performance management software. Steve also served as President, CFO, CSO of Salesforce, a customer relationship management service provider.
Steve currently serves on the board of directors of Bill.com and Tunein.com. He previously served as a member of the board of directors of Service Source, Solar Winds, Care.com, and eHealth.com. Steve holds a B.S. in Business from the University of California, Berkeley, and an M.B.A. from Indiana University.
"I am excited to become an o9 advisor with its leading integrated solutions in an innovative SaaS environment. The AIM10x Executive Council is a bustling hub of revolutionary ideas, opinions and learnings, I am delighted that I have the chance to bring something new to the table." – Steve Cakebread
About the AIM10x Executive Council
The AIM10x Executive Council is a network of visionary leaders who have built significant operating experience at some of the world's largest companies. Together they will set the vision for all aspects of an integrated enterprise—from supply chain to finance, sales, and product development, which will lead to global enterprises that are more efficient, sustainable, and profitable.
It is part of the broader 'AIM10x' initiative sponsored by o9 Solutions, which aims to empower a global community of professionals who are dedicated to digitally transforming planning and decision-making capabilities. The AIM10x Executive Council members are sharing their insights about leadership, strategy, change management, and Digital Transformation journeys through the AIM10x Webinars, AIM10x Podcasts, and AIM10x Innovators Network.