What is S&OP? (Sales and Operations Planning)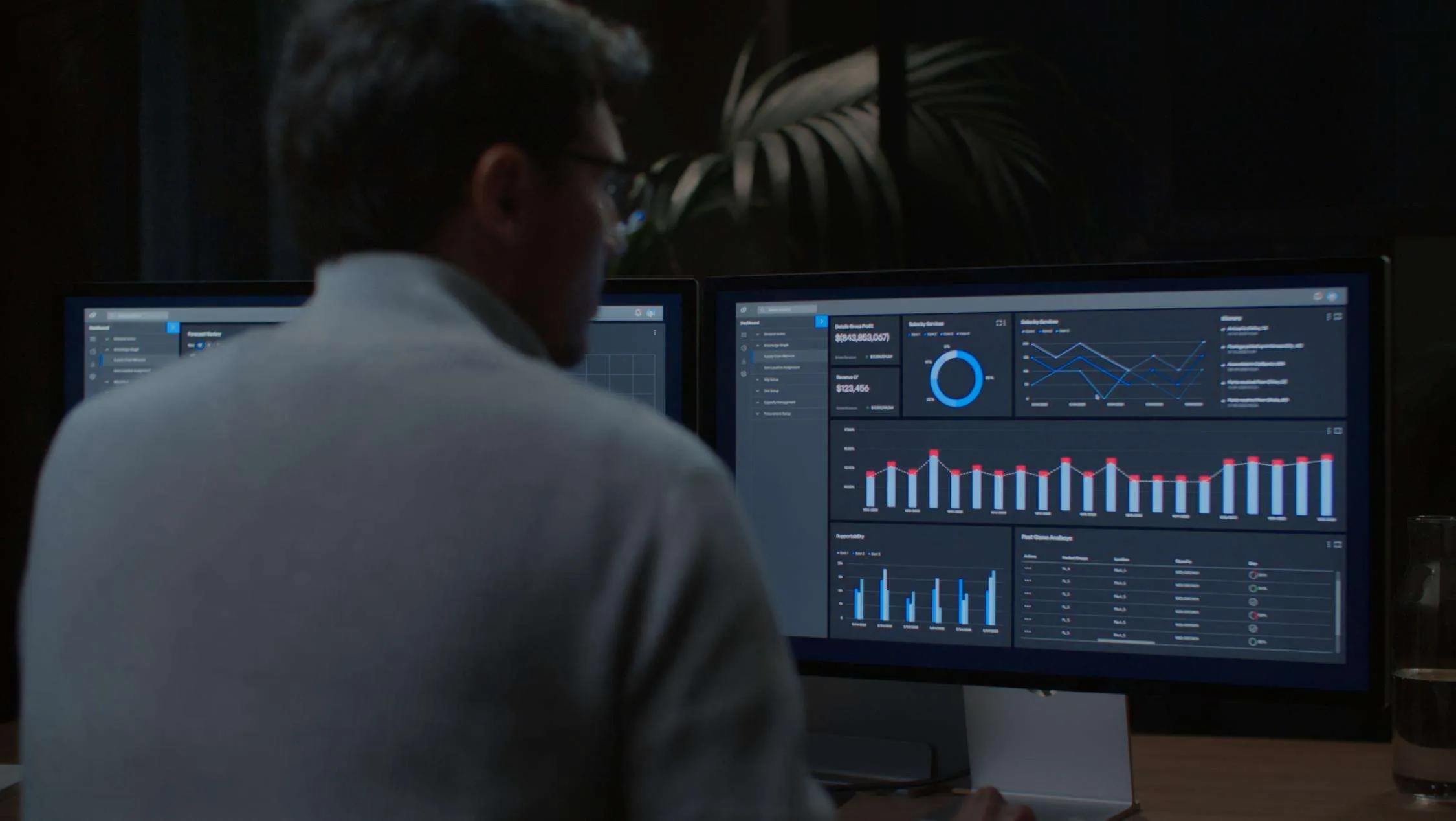 Published: May 1, 2023
Reading time: 12 min

o9 Solutions
The Digital Brain Platform
Sales and Operations Planning is a best practice process that aligns commercial, financial and supply chain activities. This way these activities are performed as coordinated supply planning decisions, with the intent to deliver increased revenue, improved service levels, reduced supply chain costs, greater productivity, better cash flow and higher profits.
Why is S&OP important?
When an organization consists of different functional & technical silos, it can result in flawed decision-making. Separate, isolated teams communicate different things with different outcomes. Because most of the time management has to take thousands of decisions and thousands of business processes to align with each other, it is important that these processes run as smoothly as possible. In return, this smooth process results in a final business strategy that everyone, across different teams, can work with. 
The challenges for business and why proper Sales and Operations Planning can benefit them
Making the right decisions about business strategy and business processes is not easy and many decisions counteract each other, which may lead to poor business outcomes. Let's look at some of the fundamental challenges that businesses face.
1. Decisions and plannings are made on separate islands
Because different silos and teams - such as planning, supply, and operations - within one organization have different decisions and plans to make, they can be created to counteract one another. In these cases, a separate planning department comes in handy. 
2. Planning cycles don't match across the whole organization
When one team finalizes plans by day and another plan monthly, it is difficult to connect the teams' activities to each other, which can result in flawed execution and chaos. Time needed to follow the company's strategy is also needed to resolve problems and chaos surrounding planning cycles. Thus, you lose money.
This is where a Sales and Operations Planning process comes in handy: it connects the planning teams, their processes and their schedules.
3. Different techniques & platforms for different technologies
The third major challenge to successful Sales and Operations Planning (S&OP) is the decision-making technology stacks. Each company uses their own preferred technology platforms, applications and other stacks. There are different technology stacks for keeping up with data, planning and reporting. You can either use these planning stacks for importing data or use them for analyses and development in the long run. 
These different platforms can make the lives of Sales and Operations Planning (S&OP) managers easy, but unfortunately, they can also wreak havoc in the carefully curated existing workflows: different platforms with different techniques and data sets need to be aligned with each other as much as possible.
Sales and Operations Planning
Functional silos, disconnected cycles and separated technology stacks mean that commercial, financial and supply chain decisions are not easily synchronized.
As a result, enterprises will typically suffer from service level issues, inventory issues, excess costs and lower returns on investment from marketing and sales spend. What this translates to is a significant amount of value leakage. Sales & Operations Planning is the strategy and methodology of bringing all these planning processes together and connecting them to respond effectively to market risks and opportunities.
S&OP can help with your business performance – for example, supply planning and chain optimization – and help to develop an effective business planning process, enabling the right decisions to be made to reach your company's business goals.
Benefits of S&OP
Increased cooperation and alignment between departments
With increased cooperation between departments, S&OP ensures that stock levels are aligned and business strategies are followed. This is possible, because the whole business is on the same page regarding products, production, sales and management.
S&OP ensures that each department knows what the current status of things are and are therefore able to make informed decisions. Information will be more up to date and results more accurate and transparent.
About decision-making: more informed across the board 
Having accurate knowledge about demand planning and sales prevents misalignment across different departments and teams. Furthermore, the estimation of consumer, production and sales demand is more accurate, which results in up to date plans and the possibility to adjust them instantly, when needed. This saves money and time (which is money) because the company doesn't have to deal with obsolete products. 
In short: a clear view of what is happening across the entire demand and supply chain puts you in control. 
More accurate forecasting on sales and budgeting
Thriving businesses usually have the right business tools that allow them to adapt quickly to new markets and ever-changing consumer demand. Without S&OP, you are less flexible and thus are risking competitors getting ahead of you. 
It is crucial for your business to be able to do accurate forecasting, to stay on top of your sales, demand planning and budgeting. S&OP can help you with that.
S&OP gives insights into planning cycles across the company, with which you can make more informed decisions, create accurate data sets on product performance and better forecasting data.
Streamlined processes and smooth plannings for better customer experience
Not only your company, but suppliers and customers will benefit too from a more aligned and flexible operation planning. When deadlines are met and production and sales are up to speed: customers will be satisfied, leaving positive reviews. 
Implementing S&OP helps you with a (digital) transformation of your business. It connects supply chain planning with sales, and removes inefficiencies across different silos. This enables them to act quickly when needed and by that customer experiences improve massively.
Sales & Operations Planning Process
Sales & Operations Plan (S&OP) is a multi-step journey: it requires you to have a roadmap of prioritized actions with quick but sustainable wins and benefits. To create that roadmap, you firstly need to understand the different elements of an S&OP process.
1. Product review and data collection
Firstly, the current products are reviewed as a means to collect data and create sales forecasting. This review involves correcting and adding data, updating KPI dashboards and more. The data is gathered from all departments, with sales, marketing, operations & logistics, supply and finance as a priority. By using demand planning software for S&OP processes, many of these tasks can be performed automatically. 
It is important to build up as much knowledge as possible through trend watching and gathering new methods and techniques for forecasting. 
2. Demand planning
Secondly, demand planning is taken into account. A forecast demand plan that takes a complete picture of demand, marketing, introduction of new products, consumer trends, product hierarchy and other things into consideration, is most important in this second step. 
As part of this picture, the complete demand planning will cover past and future performance, revenue gaps and comparisons with finance evaluation. 
Cross-functional collaboration for the Sales and Operations Planning process is essential. The different forecasts and planning cycles are analyzed, through which adjustments can be made in terms of inventory and customer service. 
3. Supply planning
Supply chain planning is a follow up step to a demand planning. A proper supply plan involves inventory targets, preferred stock levels and different methods and strategies for demand chase, among other things. Supply chain planning also includes assessments of the demand targets in terms of available (storing)capacity, inventory and scheduling different parts of operations.
During supply chain planning, representatives from finance, operations, and materials are able to determine whether there are any problems in terms of stock, products or people. This way, the company is assured to have a supply plan that is free from any capacity constraints.
Management is responsible for the creation of the supply plan. Team leads from departments like manufacturing, operations, logistics, and finance are consulted for input and verification.
4. Reviewing and fine-tuning plans and strategies
The fourth step occurs during the monthly pre-S&OP meeting. Is the company facing supply issues? Is the company still able to meet sales and backlog objectives or other KPI's? Reviewing previous month's plans and presenting forecasting plans help with this. These plans are presented via shared dashboards and metrics like revenue, profit and inventory are analyzed on both higher and lower levels down the product line. The adjustments that are needed for the supply plan will be decided during this meeting.
5. Implementation of sales and operations plan
Once the demand and supply plans are reconciled and finalized, the result is presented to the executive team during the monthly Executive S&OP meeting. After a 'Go' from these executives, it is time to actively run the S&OP plan! The Sales and Operation Plans need a regular evaluation as described above to be successful and to avoid gaps in planning.
The S&OP manager is the person that is responsible for implementing the plan.
S&OP best practices by o9 Solutions
o9 Solutions came up with a single integrated plan for all planning processes across the horizon. o9's Graph Cube Data Model allows for aggregation and disaggregation to the right level of detail for each planning horizon to support end-to-end synchronization. o9 Solutions offers S&OP software that can be used throughout the entire organization and will solve the future demand of business-wide business planning. Here are a few reasons why this software works:
Complete P&L and KPI visibility
The software summarizes scenarios with connected financial KPIs and strategic plans. It understands financial metrics - such as margins, revenues, and working capital - and molds this into operational data. With the help of the Graph Cube Data Model, most companies can use financial performance, financial reasoning and reconciliation within the integrated planning process of your business.
Cross-functional and interactive plan review & publication o9's Sales & Operations Planning uses Natural Language Processing (NLP) based search & discovery. With this S&OP process platform, you can create interactive views instead of static dashboards and turn cross-functional processes, review and alignment into a fluid process.
Live on platform meeting capability
Your management or business leaders can create live presentations step by step with live data for S&OP meetings, removing hundreds of hours of manual work. The business planning process will take up less time, and the complex supply chains and their ways of working will be easier to understand.
Big data enabled
With the help of the S&OP software, you can leverage real-time structured and unstructured data from the market, customers, and operations to drive insights into trends and potential disruptions and thus set up a strategic plan for the future.
IBP vs S&OP: what is the difference?
Many organizations are still struggling to understand and implement basic Sales and Operations Planning processes to cope with different disruptions. Thanks to constant industry innovation, Integrated Business Planning (IBP) is now also becoming a common topic of conversation. Unfortunately, the definitions of S&OP and IBP are often confusing as they seem to be both distinct and overlapping processes. Are they truly separate processes and how should organizations factor them into their strategy?
The key difference between S&OP and IBP is that IBP starts at the executive level. Each month or planning cycle, the IBP process culminates in a Management Business Review in which the executive team reviews the latest projections, potential gaps in achieving business and strategic objectives, gap closing options as well as resource projections to execute the plan.
With strong leadership by the executive team, over time, the business begins to think in terms of the overall health and welfare of the company, rather than optimizing a function at the expense of the overall company benefits. These are the key differences between the S&OP and the IBP. Companies that achieve the greatest benefits from IBP use the process as a collaborative, cross-functional management process led by the executive team for running the business – which is the essence of IBP.
Measure financial implication and business performance from a bottom line perspective (therefore it needs to integrate that continuous financial assessment with an appreciation of profitability and not only costs);

Alignment to company strategy (not only on the 3 to 18 months horizon but the strategic full long term, albeit not at the same granularity);

Inclusion of portfolio management and revenue management (with Sales, Marketing and related functions).
S&OP software by o9 Solutions
o9 helps organizations move from executive dash-boarding to a collaborative, analytic insights driven platform for alignment of cross-functional plans and initiatives. Enable your digital transformation of S&OP by integrating commercial planning and finance into an existing S&OP with on system meetings.
Summary: S&OP software by o9 Solutions
o9 Solutions Sales & Operations Planning provides an intelligent, automated planning solution that bridges all the functional silos across the planning cycles in a unified technology stack that can drive up user adoption and enable better decision-making. O9's Sales & Operations Planning solution uses automation to bring together finance, marketing, sales, and supply to address risk and opportunities in an online live platform.
It provides full visibility and complete transparency on the gap vs. the annual strategic plan in revenues, cost, margin and volumes, and therefore enables management to quickly come up with a strategic plan and informed decisions. This results in predictive analytics, profitable growth that balances strategic, financial and operational objectives and many more benefits for your business.
About the author

o9 Solutions
The Digital Brain Platform
o9 offers a leading AI-powered Planning, Analytics & Data platform called the Digital Brain that helps companies across industry verticals transform traditionally slow and siloed planning into smart, integrated and intelligent planning and decision making across the core supply chain, commercial and P&L functions. With o9's Digital Brain platform, companies are able to achieve game-changing improvements in quality of data, ability to detect demand and supply risks and opportunities earlier, forecast demand more accurately, evaluate what-if scenarios in real time, match demand and supply intelligently and drive alignment and collaboration across customers, internal stakeholders and suppliers around the integrated supply chain and commercial plans and decisions. Supported by a global ecosystem of partners, o9's innovative delivery methodology helps companies achieve quick impact in customer service, inventory levels, resource utilization, as well as ESG and financial KPIs—while enabling a long-term, sustainable transformation of their end-to-end planning and decision-making capabilities.