Published: October 23, 2023
Reading time: 4 min
Victor Farnese
Director for Revenue Growth Management
Published: October 23, 2023
TPM, TPE, and TPO: these acronym-based trade promotion solutions were designed to help retail and CPG companies plan, execute, and ultimately optimize trade promotions. However, these solutions are often stuck in silos. This prevents companies from accessing full end-to-end transparency of their promotion process, only unlocking partial value on trade promotion initiatives. 
Trade Promotion Management (TPM) software, for example, is typically used as the system of record for all trade promotion initiatives, tracking calendar events and budgets by customers or products. However, when evaluating promotion performance, Trade Promotion Effectiveness (TPE) solutions are often used to measure the promotion impact. The results can often be diluted if the trade promotions data is not accurate.
Finally, when building out the next sales cycle plan, a third solution, Trade Promotion Optimization (TPO), sets out new promotion ideas and schedules. Using these solutions separately makes it harder to truly understand and improve the performance of future promotion programs.
Utilizing the proper framework to strategize across all trade promotional tools becomes even more vital to achieving optimal trade promotional profitability. More industry leaders are now opting to implement technology that can integrate all solutions for end-to-end planning, tracking, and decision-making.
What are trade promotions?
Trade promotions aim to increase the products sold to achieve higher revenue, profit, or market share. Companies can achieve this by generating demand for the products. Demand is created through different trade promotion initiatives, including markdown pricing, physical display presentations, leaflets/ads, coupons, and other purchase incentives in B2C relations or with advertising allowances in B2B relations. However, to launch a promotion, it is crucial to identify which initiatives will deliver optimal ROI.
Confusing and siloed point solutions and improper utilization of analytics contribute to the low ROI of promotion investments. The lack of integration between the solutions inhibits full end-to-end visibility of the true cost of goods sold (COGS), logistics, procurement insight, and overall profit and loss analyses, causing companies to: 
Expend additional resources across the trade promotion process and continue to not break even on investments

Encounter difficulties when scaling their business as their processes are stuck to the limitations of each trade promotion solution

Analyze promotions based on standard costs, which hide the negative financial impact late promotion shifts have on production capacity. 
Few companies can adjust their trade promotion plans to withstand varying market disruptions
More companies find the need to be more agile to keep up with several disruptions, including: 
Constantly fluctuating customer behaviors and changing sentiments

Online shopping and the resulting new customer digital habits 

Evolving digital-native competitors dominating the online market space
These disruptions create market share loss potentials. To maintain or even grow market share under these conditions, brand owners are turning towards a range of tactics by changing the:
Discount or markdown levels

 

Number of promotions launched
Unfortunately, without clear insight, these promotion tactics are less likely to be effective. More events will not guarantee an equal ROI. Simpler performance estimates of promotions rely on basic lifts and ROI assessments. These measurements don't factor in secondary consumer behavior effects such as stockpiling or halo purchases of complementary products. 
Data gaps can jeopardize the ability to predict and react to the dynamic market. Thus, trade promotion initiatives could unintentionally decrease the value of a product or category, resulting in expensive and unprofitable trade promotion investments.
Integrating data, tools, and capabilities of all past, current, and future solutions is necessary to generate true ROI. This integration allows for a centralized planning hub for all trade promotions, giving full visibility to track performance and adjust plans to meet commercial targets. Furthermore, this new way of working will ensure that all investments are utilized effectively. Achieving this is possible with the right technology. Finding and implementing the right one is essential for solid trade promotions management. 
Do you recognize these challenges and want to learn about a more agile and end-to-end way to plan and manage your trade promotion initiatives?
Download our whitepaper today to find out how to alleviate the challenges from siloed trade promotion solutions. 
Identify essential factors when choosing the right technology to enable holistic decision-making and tracking platform. Access direct insights from our very own industry leaders from global-scale CPG and retail companies. 
Our whitepaper includes detailed guidelines on enhancing your trade promotions planning, increasing your investment ROI, and overall commercial targets for your business.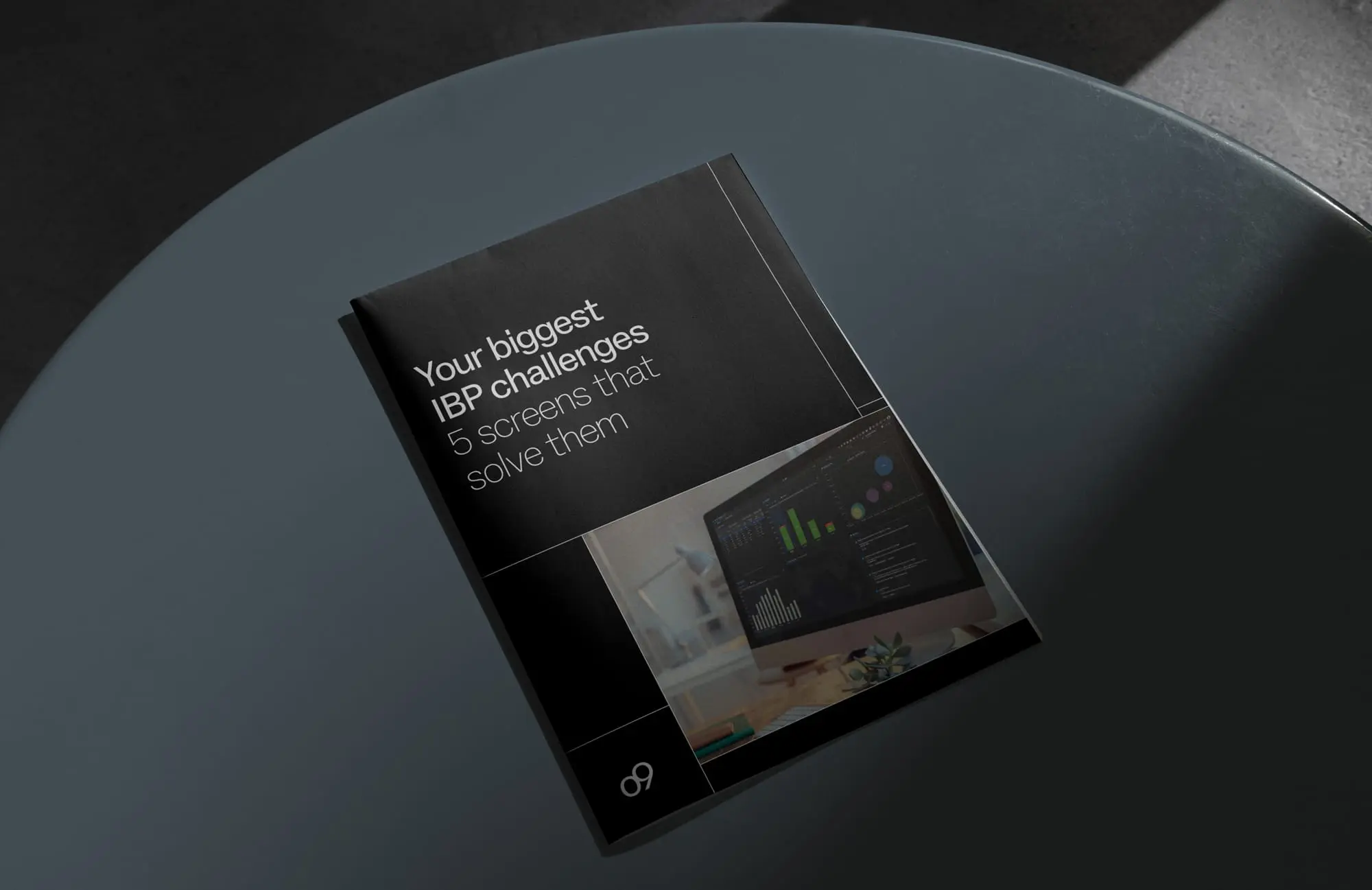 Your blueprint to Sales and Operations Planning (S&OP) excellence
Transform your supply chain operations and navigate complex challenges with ease. Download the informative E-book.
About the author
Victor Farnese
Director for Revenue Growth Management
Victor Farnese is a Director for Revenue Growth Management (RGM) at o9 Solutions. As a former Director at Kraft Heinz for five years, he honed his skills in driving and managing revenue through various digital transformation journeys. With his proven record of advancing revenue capabilities and processes with technology, he is one of the key leaders in the design and development of o9's RGM platform.