Blame games galore
About a year ago, my team and I had the opportunity to sit in on a Quarterly Business Review (QBR) meeting of Brand Managers and Key Account Managers chaired by the US divisional CFO of a multi-billion dollar Consumer Packaged Goods (CPG) Company. As the meeting began, the room was undoubtedly tense. A few of the brands had missed their sales plans the prior quarter. The agenda was set up to discuss what happened and look at the outlook and plans for the upcoming quarters. Our role in the meeting was to observe, to improve the overall planning process.

It didn't take long for the blame games to begin.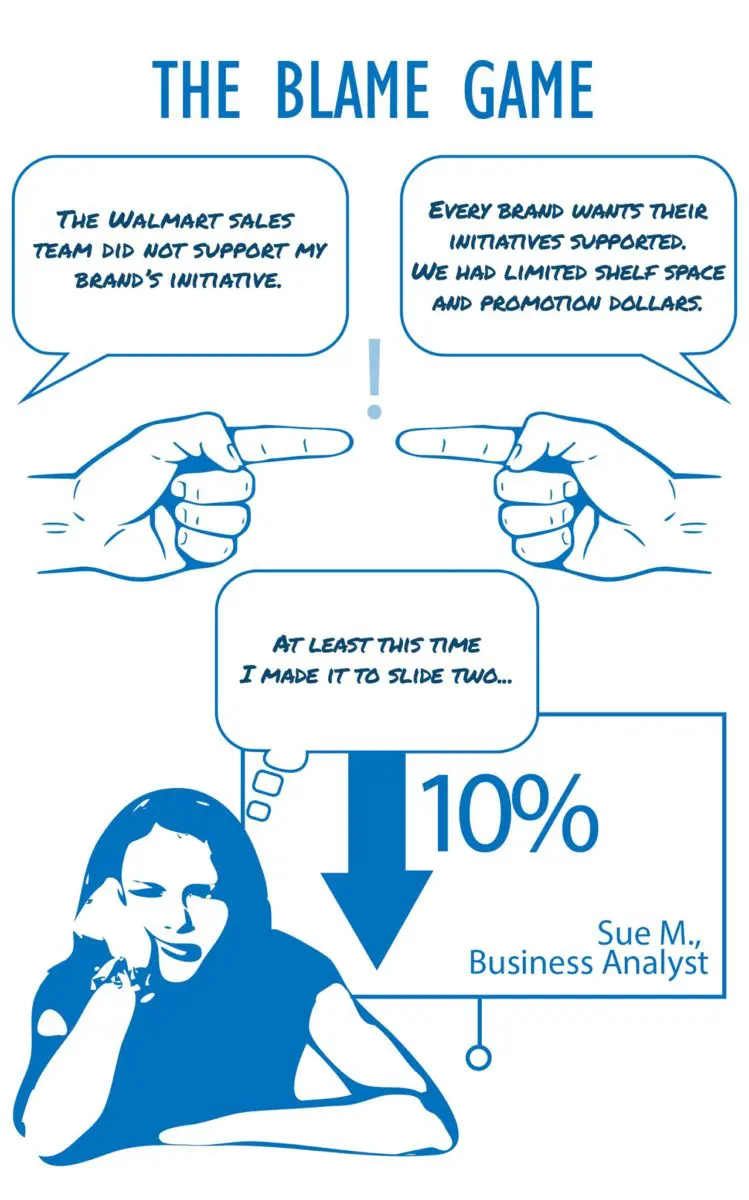 "We missed our sales plan because the Walmart and Kroger account teams did not adequately support two key initiatives we were banking on," said the manager of a multi-billion dollar snack food brand. He went through a few slides to explain how a critical new product initiative and a holiday season in-store promotion underperformed because the two accounts did not provide adequate shelf space and promotion support. "We put a lot of money into R&D and national media marketing campaigns but did not get the sales lift because of lack of in-store support."
The Walmart account manager responded, "All of your brand managers want all your initiatives supported to the full at Walmart. However, we have limited trade spend budgets, limited shelf space allocated by Walmart to us as a company, and a limited number of field resources to visit the stores and execute. We do what we think is best across all brands to achieve our overall sales plan at Walmart, and that means some brands don't get full support for their initiatives." The Kroger account executive supported him: "Same situation with us."
The meeting continued in that tense vein before time ran out, with several agenda items pushed to a subsequent business plan review meeting.
The core idea emerges
After the meeting, we huddled as a team to review our notes and brainstorm on how we would improve the process. One of our senior consultants chimed in with a single phrase—"Theory of Constraints." I was intrigued by this reference to the concept instrumental in revolutionizing how supply chains were optimized.
She continued, "Looks like the brand and account teams are dealing with the classic problem that has been solved in the supply chain domain very well."
"We all know that supply chain planning processes take demand for multiple product lines across multiple geographies and accounts and run it through a supply chain network planning model that helps planners immediately understand raw material, production, and distribution capacity constraints to meet the demand. The systems allow planners to optimally allocate those constraints to maximize the throughput of the supply chain in support of the organization's financial goals. For example, if the company goal is maximizing gross margin, then planners allocate constrained resources to higher margin demand. All parties then review the constrained plan in a Sales & Operations Planning (S&OP) meeting, where the reasons for the allocation are explained, especially to the teams that do not get a full allocation, and a consensus plan is agreed upon by all parties. Each sales team knows what it needs to sell, knowing what the supply chain will produce in support."
I was beginning to see where this was going. She continued.
"Here, the sales teams have constrained resources—trade promotion budgets, shelf space, field sales resources to visit stores and support in-store execution activities, etc. Each brand is proposing various initiatives to support the sales targets the CFO has handed them down. Each industry demands specific resources owned by the account teams. And each enterprise has a different business case in terms of how much incremental volume, revenue, and the margin it will contribute to the plan.
"As account sales resources are constrained, they clearly cannot support all of the initiatives proposed by all of the brands. They have to allocate. But it does not seem like there is a clear guideline for allocating those resources and selecting the right set of initiatives to fund. The sales teams do what they think is right to achieve their plans, but is that in line with the company goals for the various brands?
"Another challenge is ensuring a closed loop for a consensus plan. The brand managers do not get visibility into the account team's decisions on what initiatives they will support. Often the brand plans are infeasible, to begin with, but they do not even know until it is too late. And that leads to blame games when performance does not meet the plan."
This was a great insight, and I felt it was spot on.
So we continued to build on this idea to design improvements to the process. Clearly, making the required changes would not be easy, given we were dealing with powerful brand and account managers operating billion-dollar turfs. But the value creation potential was huge and, therefore well worth the attempt.
The solution takes shape
We took our idea to the CFO, who was a pretty innovative thinker and was well versed in the theory of constraints thinking. He immediately saw the power of the idea and its value-creation potential when applied to sales & marketing decisions. The CFO called a meeting of a couple of the brand managers, an up-and-coming account manager for one of the large national accounts, and the IT lead for Sales systems, and he pitched the idea to them in his own words. To our pleasant surprise, all parties agreed with the problem assessment and were open to the idea. They were frustrated with the constant blame games and the political battles it was creating in the company and wanted it solved.
They wanted to make sure that the process and system were simple to use and adopt. And IT had its concerns about getting the data to support the system and process, but they were willing to make it happen.
We had our marching orders. In the months following this meeting, we designed the process and the supporting system through a series of interactive sessions with the key stakeholders. It had 4 key elements.
Initiative Planning—Each brand team would create initiative proposals to meet the sales plans for upcoming quarters with specific details on resources needed in terms of shelf space, field sales support, and promotion dollars by each sales account and market region. Each initiative would have a business case with expected incremental volume, sales, and margin quantified.
Constraint Optimized Initiative Selection — A set of planners in the sales finance function took all of the initiatives and rolled them up into a model that we developed. The model helped them understand what specific resources would be constrained given all of the initiative proposals across all brands. The models further prescribed which of the initiatives should be funded based on their relative business cases and overall company goals and strategies. The analysts then worked with account and brand teams to collaborate on the funding proposals to develop a constrained optimized plan proposal.
Consensus Sales Business Plan Review (BPR) Meeting—Once the planning team developed the constraint optimized plan, the CEO, CFO, and all key brand and account managers came together in a meeting. The resource allocations and initiative funding proposals suggested by the planning team were discussed, and the consensus sales plans for brand and account teams were finalized based on the funded initiatives. Of course that was no guarantee that the performance would match the plans as market factors and execution issues could still cause gaps. But at least, going into the execution quarter, all stakeholders were on the same page on what was going to be executed, and there was clear accountability.
Post-Game Analysis—Once the quarter was completed, an analytics team pulled together data from all of the initiatives, presenting a clear scorecard on which initiatives were executed as planned and which were not. And in some cases, even though the initiatives were executed as planned, the sales performance did not materialize as planned because of extraneous market and competitive factors. That drove healthy debate on how early they detected those issues and how they could improve the process to respond faster next time.
The early results of this process and solution are promising, and there is increasing support building now to roll it out across all brands and regions. The "Theory of Constraints" worked wonders in optimizing supply chain performance, and now we are excited to see its potential in optimizing sales & marketing performance.
Author's Note: The case study is an amalgamation of observations of real issues observed across many consumer product companies. We took some creative liberties with the narrative to make it interesting reading.
Think 10x.
Take Action:
Intelligent platforms like o9's can help drive 10x improvements in speed, productivity and effectiveness of your sales & marketing and supply chain organizations in making smart decisions. Take the first step in changing your performance trajectory. Ask for a preview.