Published: February 8, 2022
Reading time: 6 min

o9 Solutions
The Digital Brain Platform
Published: February 8, 2022
Supply chain leaders and practitioners have a common question: What is a Control Tower and what benefits will it provide to my organization? We tackled part one of this question in our earlier blog "What is a Control Tower and Why Do You Need One?", which defines what they do and broadly touches on high-level outcomes. Now let's dig into the next, and realistically more important, question.  
What specific outcomes will a Supply Chain Control Tower deliver for your organization?
Fundamentally, the overarching benefit of a Control Tower is the ability to assess, address, and execute on events in your supply chain in a holistic, connected manner.  Control Towers align people, processes, data, and objectives to answer the following questions, as defined by Gartner:
Are customers (either internal or external) getting what they want when they want it?

Is the organization able to deliver that service within its budget and at the appropriate inventory levels?

Is the organization meeting its goals while maintaining quality levels?
These are critical questions that supply chain management needs to have a close eye on. AI/ML-enabled Control Towers answer these questions by delivering the following six improvements:
1. Broader Visibility: Control Towers ingest internal and external data in unstructured and structured formats that follow a product from order to delivery. This enhanced visibility eliminates three concerns, in particular: the chase to get information to understand what's happening, the scramble to fix a problem when an issue is identified, and the anxiousness that arises when a decision is made without understanding all the ramifications and hoping the right one was made. 
2. Common Set of Performance Indicators: Clearly, when an organization is communicating well, productivity improves, a common vision emerges, and the whole team moves in unison towards an end goal. However, if these common goals aren't identified and communicated, the result is internal conflict and confusion. A Control Tower aligns all users on a set of priorities such as OTIF, Order Cycle Time, total value of inventory, and other high-priority KPIs.
3. Root Cause Analysis and Corrective Action: Similar to the adage "Give a man a fish, and he eats for a day," the ability to do root cause analysis and determine the corrective action is a strategic differentiator. An AI/ML-powered Control Tower learns what complex relationships (often undetectable in the massive amounts of data) cause negative impacts, preemptively addressing them before they escalate to a crisis level. In effect, the Control Tower can now "eat for a lifetime." This automation gives planners both a greater sense of assurance and ease, as well as the ability to focus on higher-value tasks throughout the course of their work.
4. Near Real-Time Visibility and Collaboration: There is inherent value in any level of organizational visibility and communication. Historical data is beneficial when doing a post-game analysis of what went wrong. Just ask any football coach how important it is to review and discuss game footage to learn from mistakes. However, these reviews will only take a team so far. There is far greater value in real-time information in the height of competition and the ability to "call an audible from the line of scrimmage" to modify a play. Control Towers deliver the ability to see what is happening in real-time, brainstorm among a relevant team, and change tactics to win.
5. Better Data Connectivity: As awful as cliches are, data is the new oil. It's not the raw data that creates value, but the insights derived from the nuanced connections hidden within oceans of data. Sadly, the human brain isn't capable of focusing on more than two things at once. So it is impossible for a supply chain leader to make sense of the hundreds, thousands, and even millions of data points that can empower them to make a truly informed decision. Leveraging a built-for-purpose platform that pulls all this data together and gives one or two results to focus on makes the lives of supply chain leaders more manageable and delivers better results.
6. More Accurate Predictions: Each improvement in this list is a critical component to success using a Control Tower. However, the list purposefully concludes with the end state benefit of more accurate predictions, based on the five items mentioned above. With all of these things working in lockstep (broad visibility, real-time collaboration, root cause analysis, common KPIs, and data connectivity), the recommendations generated from an AI/ML-powered Control Tower create a strategic advantage and drive the business to higher levels of performance.
Turn tactics into strategic supply chain benefits 
The aforementioned six tactical benefits enabled by Supply Chain Control Towers converge to deliver three strategic benefits:
7. Aligned decision-making: As simple as this statement is, the complexity and ability to achieve this is quite difficult. Inside large organizations, there are dozens, if not hundreds of people involved. Not to mention the upstream and downstream external teams. To put this in perspective, think about how challenging it can be to get your partner to agree to "What should we have for dinner tonight?" Now think about how monumental of a task it is to get business leaders across multiple geographies with often contradictory objectives to align on a consensus decision. This challenge is nearly eliminated through a Control Tower that synchronizes everyone on the same page. The decision shifts from individual opinion—and its inherent bias—to what is best for the business. 
8. Understanding Subsequent Impacts: We've had a front-row seat to a global butterfly effect for the past 20 months. In layman's terms, this means that the impact of a small action can ripple out and cause significant change throughout the entire network. In supply chain, this small action could be a new virus, governmental regulations in the supplier's country, unexpected shutdowns of manufacturing plants, or the wrong spreadsheet being sent to a production line. Each of these things by itself is minimal, but the 2nd, 3rd, and 4th order of effect is massive. A Control Tower can visualize what the butterfly effect means for a supply chain and if the resulting "chaos" will ultimately drive ROI. 
9. Increased Organizational Speed: Shirley Temple, America's child actress  sweetheart in the 1930's, went on to be a diplomat and the Chief of Protocol for the US as an adult. One of the functions of this office is to manage the logistics for diplomatic and national functions, making her an early supply chain expert. So her assertion that "Time is money. Wasted time means wasted money means trouble" could not be more fitting for the importance of a Control Tower. Control Towers prevent companies from wasting precious time due to disconnected processes, poor collaboration, and delays while waiting for information. In a competitive environment where a delay of mere hours can spell disaster, the existence of a clear visualization of what's happened, what could happen next, and what should be done in response is the most valuable tool in a corporation's toolkit. Whether it's real-time decision-support or real-time autonomous decision-making, the end results are faster decisions that mean less trouble.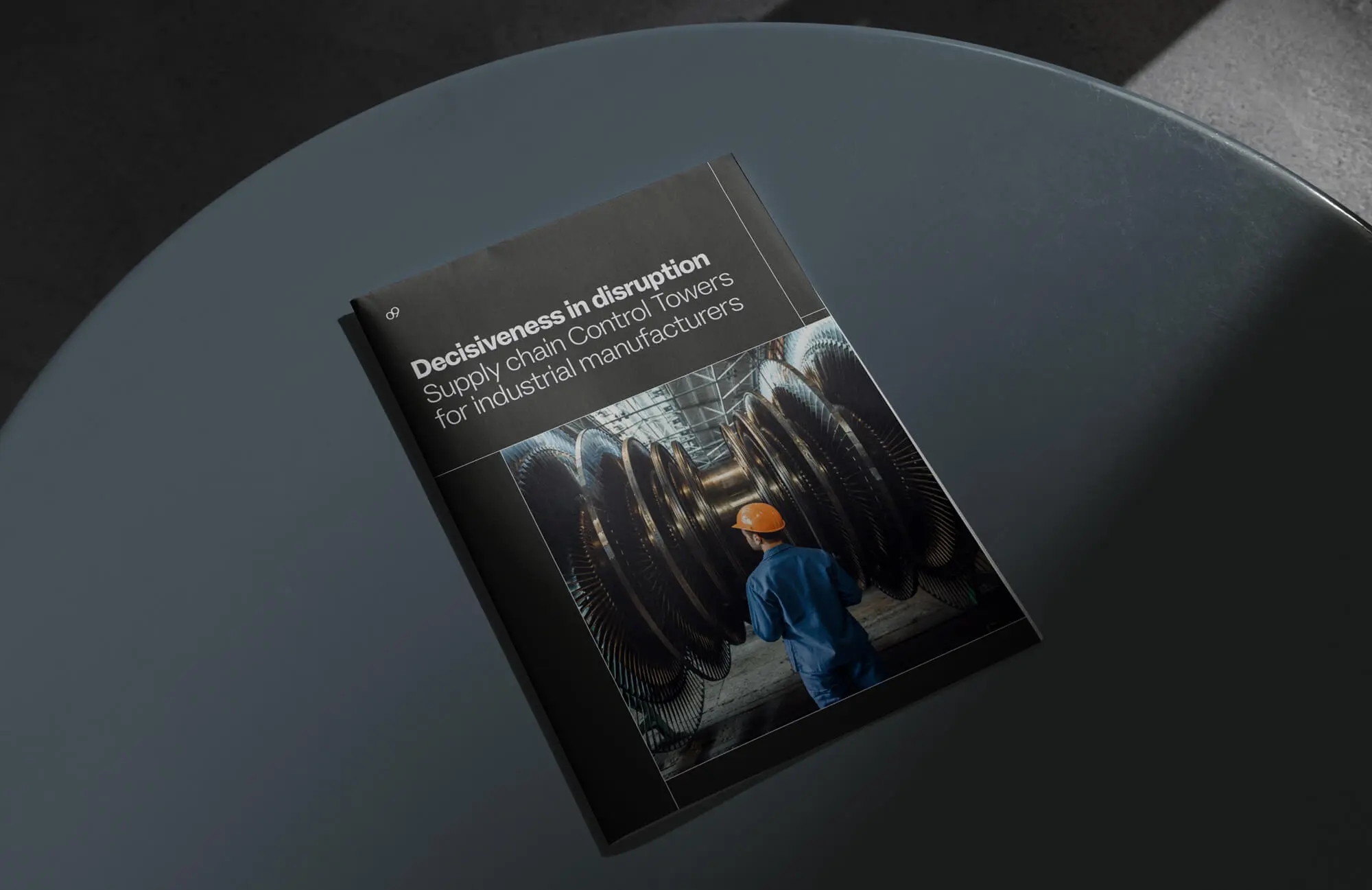 For more information on how these benefits can accelerate performance in your organization
Download our white paper or request a demo today to get a personalized view of the art of the possible using Supply Chain Control Towers.
About the author

o9 Solutions
The Digital Brain Platform
o9 offers a leading AI-powered Planning, Analytics & Data platform called the Digital Brain that helps companies across industry verticals transform traditionally slow and siloed planning into smart, integrated and intelligent planning and decision making across the core supply chain, commercial and P&L functions. With o9's Digital Brain platform, companies are able to achieve game-changing improvements in quality of data, ability to detect demand and supply risks and opportunities earlier, forecast demand more accurately, evaluate what-if scenarios in real time, match demand and supply intelligently and drive alignment and collaboration across customers, internal stakeholders and suppliers around the integrated supply chain and commercial plans and decisions. Supported by a global ecosystem of partners, o9's innovative delivery methodology helps companies achieve quick impact in customer service, inventory levels, resource utilization, as well as ESG and financial KPIs—while enabling a long-term, sustainable transformation of their end-to-end planning and decision-making capabilities.