Published: August 1, 2022
Reading time: 5 min

o9 Solutions
The Digital Brain Platform
Published: August 1, 2022
Congratulations, Demand Planners, S&OP or Inventory Managers, Supply Chain Directors, Data Analysts, and dedicated team members working hard to predict demand in the next normal and battling to keep inventory flowing onto shelves despite non-stop disruptions. Congratulations on your resiliency, your dedication, and your great work. Even if you don't realize it, things could be worse. The good news is that companies are finally ready to invest in solutions that will help them make better, faster decisions and ensure that the supply chain receives the attention it deserves—without making the headlines. 
Throughout the lockdowns and partial re-openings, consumers spent more time on DIY projects, children to entertain 24/7, and home renovations. Both in-store and online demand was so high that retailers struggled to keep shelves full. Long lead times and disruptions like port closures or labor issues led hardline retailers to order large volumes of products to mitigate supply constraints and keep up with (what appeared to be) steadily growing demand.
As the next normal settled in, demand dropped. Inflation skyrocketed, mortgage rates increased, workers returned to the office, and homeowners cut back on renovations. But suppliers, manufacturers, and distributors were too far upstream in the supply chain to sense the signal. The original order from retailers amplified at each stage of the supply chain, and inventory levels began to climb. Hardline retailers now face an inventory glut, many resorting to discounting their overstocks directly to liquidators before products even hit the shelves.
The bullwhip effect was—and will continue to be for hardline retailers with traditional demand planning capabilities—in full force.
The bullwhip effect: why does it still happen if we know it is coming?
The bullwhip effect is a well-known phenomenon in the supply chain. It explains the amplification of variability as you move up the supply chain from customers to retailers to distributors to manufacturers to suppliers. 'Bullwhip' refers to the movements of a whip, which, once initiated, are amplified from the origin to the endpoint. The tiniest shift in consumer demand can cause a retailer to increase its order with its distributor. The distributor then places a larger order with its manufacturer. The manufacturer then places a larger order with the supplier. Not unlike a game of telephone, the original demand signal is distorted the farther away it gets from its origin. Apart from a host of inefficiencies, one of the consequences is overstock for retailers.
We live in a 'VUCA' world, where volatility, uncertainty, complexity, and ambiguity are the norm instead of the exception. Consumer demand shifts rapidly; the only variable that matches their speed is their intensity. Consider appliances going from a seven-month shortage to an overstock in less than three months. Hardline retailers increasingly realize the need to invest in advanced supply chain capabilities to combat this volatility and mitigate the impact of the bullwhip effect and other disruptions impacting the supply of goods.
The first step in mitigating the impact of the bullwhip effect is to improve the demand planning process. Better demand planning allows retailers to establish a proper demand-driven supply chain and optimize replenishment, capacity, and flow planning based on a more accurate demand forecast. 
The need for next-generation platforms to mitigate increasing volatility and complexity
Traditional demand planning processes are mostly based on legacy software coupled with spreadsheets, requiring considerable manual effort. Collaboration between teams is limited since each edit to the plan must be communicated via email. Worse yet, existing demand planning processes cannot consider all available data; data that, if ingested, would significantly increase forecast accuracy.
Next-generation platforms address these challenges by ingesting both internal and external data and transforming it into knowledge. Predicting demand is no longer about looking solely at historical data; it's about understanding the main drivers of demand to predict consumer behavior and detect early consumer shifts accurately. Understanding the market by ingesting all available external data is critical to predicting demand better. In the digital world, data is everywhere; thus, today's problem is not about accessing data but centralizing it and, most importantly, making sense of it. 
Next-generation platforms connect to any data lake or source system and ingest external data from weather to holidays and internal data from sales to lead times. Once harmonized and validated, the data is displayed on a user-friendly screen, making it easy for the planners to access, search, and analyze it.
Powered by machine learning algorithms, next-generation platforms analyze the data and segment it before applying feature engineering to analyze the relative impact of each variable on the demand while identifying the most impactful demand drivers. As they include this information in their existing models, the platform's algorithms learn and generate predictions based on historical and future information and market constraints.
The demand forecasts generated by these platforms rely on market knowledge to establish predictions that consider historical data but, more importantly, upcoming events and trends to drive accuracy.
The first step in mitigating the impact of the bullwhip effect is to invest in a demand forecasting capability that generates driver-based ML forecasts that take all available data into account. The demand forecast should also be void of personal bias. After all, who hasn't been asked to purchase twice the product after a shortage just because leadership said so?
As the scope of the transformation expands beyond demand forecasting, the next building block should be enabling an end-to-end business planning capability that gets all departments from Sales to Supply Chain on one aligned plan. With these digital capabilities, hardline retailers can understand consumer preferences, predict demand, allocate inventory and resources, automate forecast and replenishment, identify bottlenecks, and proactively work on resolutions instead of discounting overstock. 
Request a customized demo to learn more about next-generation platforms and how they can help you better manage your inventory.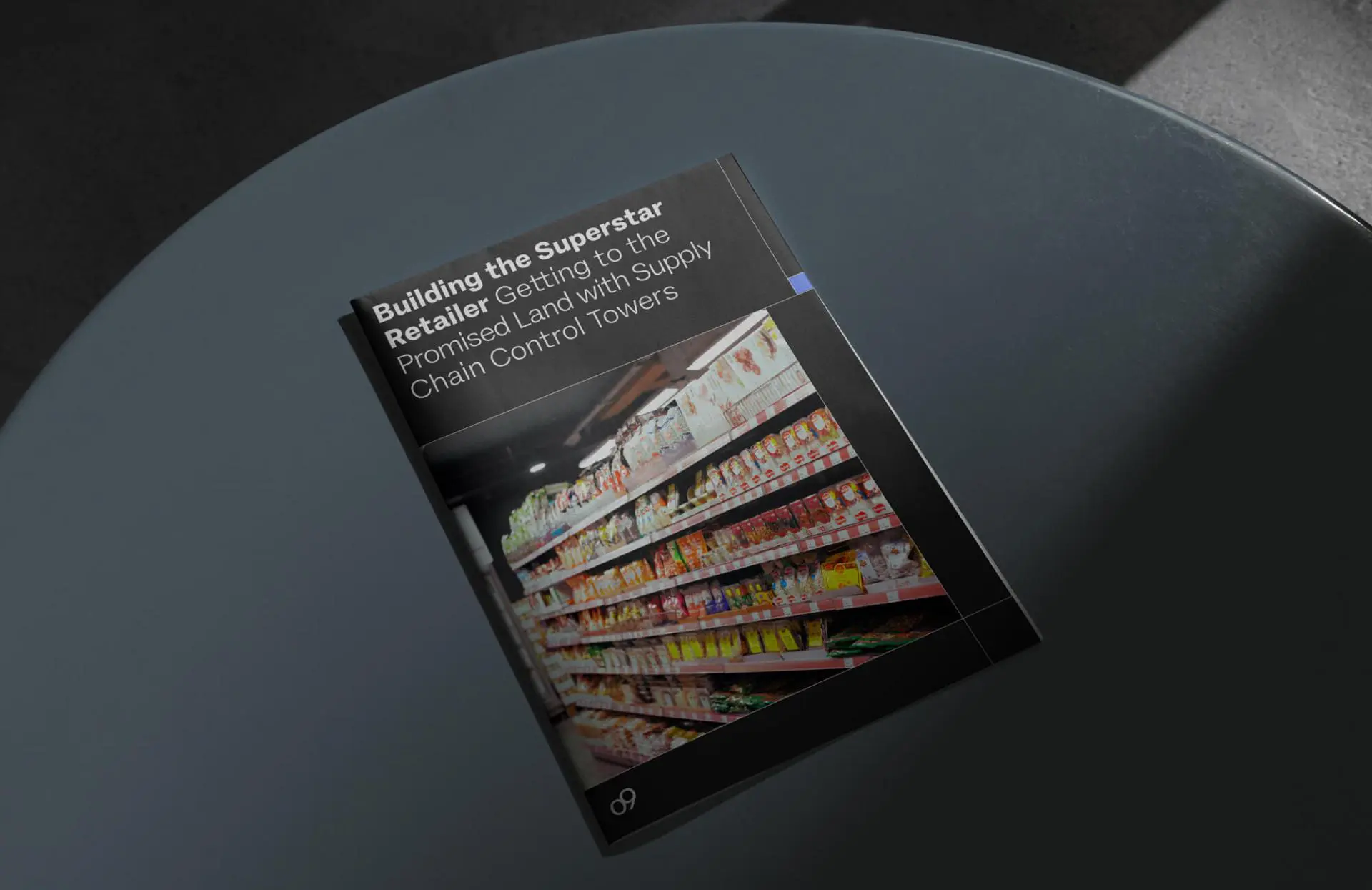 Supply chain Control Towers are best practice for retail companies
Download this white paper to understand how retailers can layer AI-powered analytics on top to enhance their existing planning platforms.
About the author

o9 Solutions
The Digital Brain Platform
o9 offers a leading AI-powered Planning, Analytics & Data platform called the Digital Brain that helps companies across industry verticals transform traditionally slow and siloed planning into smart, integrated and intelligent planning and decision making across the core supply chain, commercial and P&L functions. With o9's Digital Brain platform, companies are able to achieve game-changing improvements in quality of data, ability to detect demand and supply risks and opportunities earlier, forecast demand more accurately, evaluate what-if scenarios in real time, match demand and supply intelligently and drive alignment and collaboration across customers, internal stakeholders and suppliers around the integrated supply chain and commercial plans and decisions. Supported by a global ecosystem of partners, o9's innovative delivery methodology helps companies achieve quick impact in customer service, inventory levels, resource utilization, as well as ESG and financial KPIs—while enabling a long-term, sustainable transformation of their end-to-end planning and decision-making capabilities.