Published: September 5, 2023
Reading time: 3 min

o9 Solutions
The Digital Brain Platform
Published: September 5, 2023
In this blog, we'll explore some of the new ways in which our platform is enabling business-critical processes inside o9. We hope this spurs fresh ideas for what's possible and helps to foster innovation in your own organizations. If you find these use cases insightful or intriguing, don't hesitate to reach out to us. We'd love to hear from you!
Sustainability
o9 Sustainability Use Case
Since February 2023, we have implemented our Scope 1, Scope 2, and Scope 3 tracking and visibility using our platform. One of the benefits gained is a significant acceleration of completion of our audited annual ESG report, since we didn't have to manage a lot of disparate Excel spreadsheets. 
Using this solution, we can now easily visualize all components of our CO2e emissions globally according to each location and business unit on a monthly basis.
Our sustainability team is able to track our progress on Science Based Targets towards accomplishing our Net Zero commitments. 
Our solution allows us to simulate what-if scenarios to understand how different initiatives will impact our overall emissions footprint (e.g., changing how we travel/commute, changing energy sources in our facilities, etc.).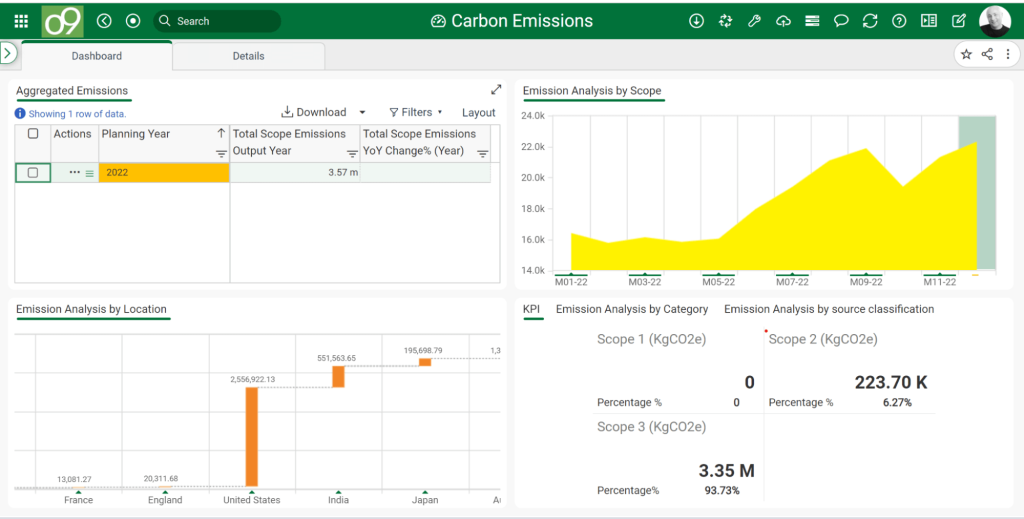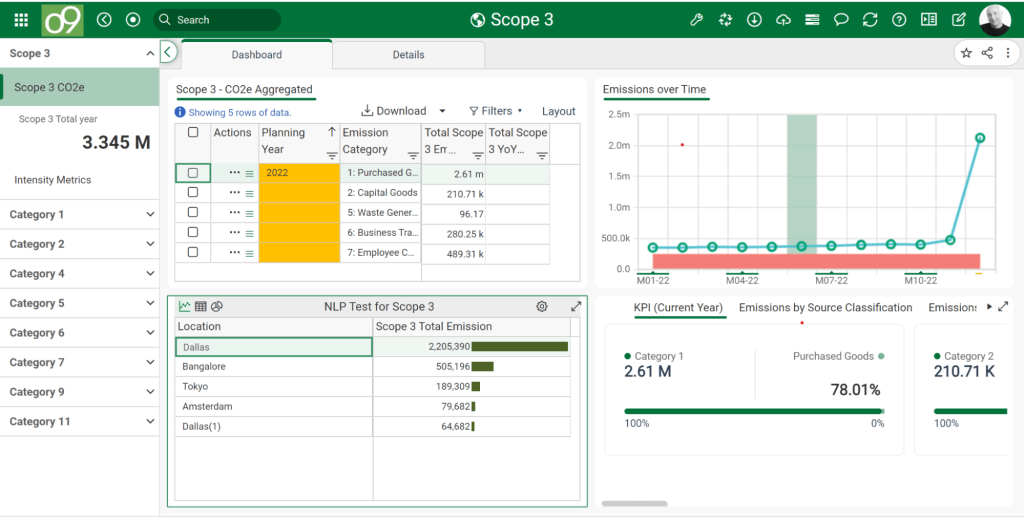 o9 Coalescence
o9 Coalescence is the internal name for a set of integrated business planning workflows that support our client delivery, client success, resource management, and finance teams. The solution was configured over the last 18 months and allows us to do many things in a structured way using our market-leading platform.
Our services operations teams can understand the status of each client project, which resources are assigned or which project positions are open, what upcoming projects will need to be staffed, and how to plan for future headcount capacity. Our finance team can track all key financial aspects of our projects, from billability to expected gross margins. Our client success team can track projects in flight and when those projects will be turned over from delivery teams to support teams. In effect, this is our internal ERP system for all of o9's field organization.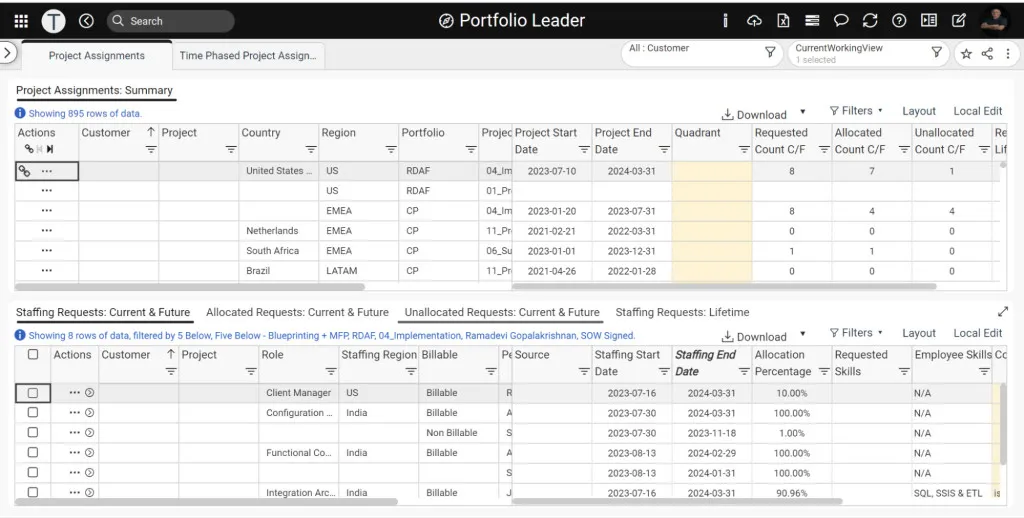 o9 Knowledge Assistant
Our internal "ChatGPT".
Over the past 6 months, we have been training o9's version of a large language model on "all things o9". We have used our product manuals, our implementation methodology materials, and our training & certification modules. Then, we exposed it to all o9ers through a chat interface. 
Now, every o9er can have fingertip access to relevant knowledge about our platform, how to configure certain features of our building blocks or anything else for that matter. The Knowledge Assistant will return links to reference materials to ensure answers are accurate and current.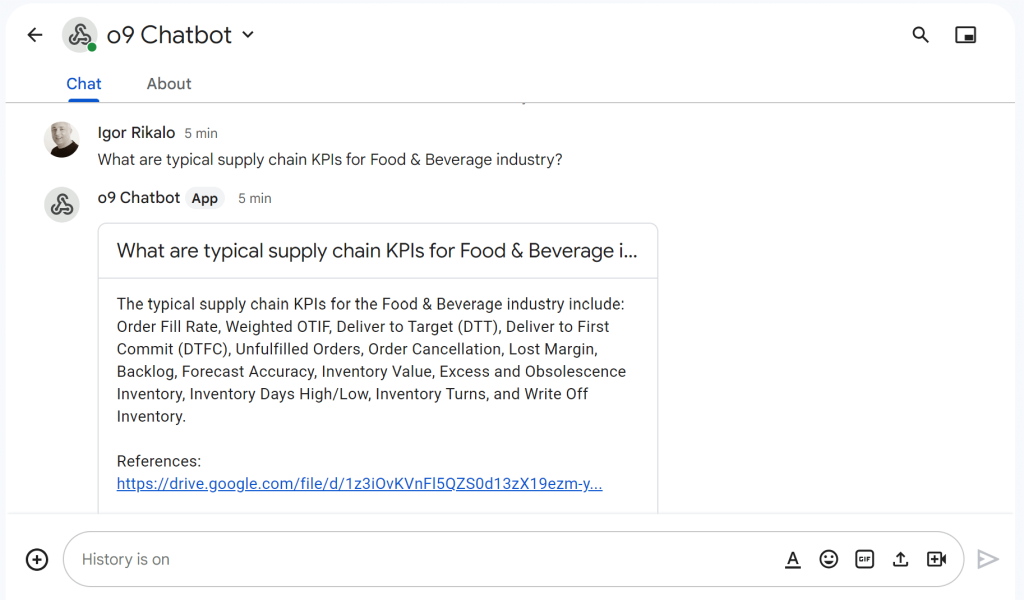 About the author

o9 Solutions
The Digital Brain Platform
o9 offers a leading AI-powered Planning, Analytics & Data platform called the Digital Brain that helps companies across industry verticals transform traditionally slow and siloed planning into smart, integrated and intelligent planning and decision making across the core supply chain, commercial and P&L functions. With o9's Digital Brain platform, companies are able to achieve game-changing improvements in quality of data, ability to detect demand and supply risks and opportunities earlier, forecast demand more accurately, evaluate what-if scenarios in real time, match demand and supply intelligently and drive alignment and collaboration across customers, internal stakeholders and suppliers around the integrated supply chain and commercial plans and decisions. Supported by a global ecosystem of partners, o9's innovative delivery methodology helps companies achieve quick impact in customer service, inventory levels, resource utilization, as well as ESG and financial KPIs—while enabling a long-term, sustainable transformation of their end-to-end planning and decision-making capabilities.