Published: June 13, 2022
Reading time: 6 min

o9 Solutions
The Digital Brain Platform
Create a clear vision and map your supply chain
Invest in an integrated platform
Over the past few years, sustainability–especially sustainable supply chains–has become a strategic priority for many companies across industries. A recent EY study has shown that in 2022 82% of CEOs see ESG as a critical value driver, which is a significant increase compared to 2019 (42%). 
One of the motivating factors for this shift is that in addition to doing good for the planet, a strong sustainability and ESG presence can strategically open up greater access to capital and investment opportunities, drive competitive market dynamics, and proactively address the potential risks that climate change could have on a business. 
Sustainable supply chains are especially pertinent in APAC, as the region is home to many upstream suppliers that provide raw materials and components across global supply chains. Additionally, there is a significant opportunity for manufacturers within the APAC region to shift towards more sustainable and technologically advanced production and logistics processes. 
"We have an opportunity in APAC to leapfrog from traditional methods to really very advanced methods, as we've done in the past in so many other technologies," says Kuntha. "I think there is an opportunity in APAC and it is the right place to start with that leapfrogging." 
o9's Global Director of Sustainability & ESG Solutions Mahesh S. Multani spoke with Steve Bradley, former CIO for Woolworths Group and advisor to Walmart, Kuntha Chelvanathan, APAC Supply Chain and Procurement Transformations Leader at IBM, Gerhard Grimm, Head of Supply Chain & Procurement CoE at OpalANZ, and Stanton Thomas, Senior VP of Sustainability & ESG Solutions at o9 about the best practices that organizations should consider when building a more sustainable supply chain. 
Here are three takeaways from the conversation. 
Create a clear vision and map your supply chain
One of the key components of building a sustainable supply chain is developing a clear plan of how an organization can achieve its sustainability objectives and creating a solid execution plan. An organization should leverage its data to build out a comprehensive map of its supply chain to understand where there is waste or leakage, identify solutions and gain quick wins that build momentum. From an execution standpoint, organizations should focus on dynamic planning and change management to make sure processes align with sustainability goals and vision. It's also vital to incorporate this transformation across all aspects of the organization. "It doesn't help if you have only once a month meetings to talk about sustainability," says Gerhard. "It honestly has to be part of your daily operations." 
Invest in an integrated platform
Over the past few years, as organizations have begun addressing sustainability and ESG initiatives, global supply chain disruptions have become another ongoing challenge across many industries. As a result, many organizations are looking to make their supply chains more resilient to disruption and more efficient to improve their overall carbon footprint. An integrated supply chain planning platform can help organizations mitigate disruptions and achieve ESG KPIs by providing the data points that lead to visibility into the end-to-end supply chain. Transparency allows teams to work together from the same data set to solve current supply chain constraints, plan multiple scenarios to make supply chains more efficient (i.e., reducing carbon emissions, etc.), and work towards future ESG goals. "Systems last for quite a long time, many years," says Steve. "I would view it as one of the investments that you need to make in preparation for this changing world so that you have the information and flexibility to be able to adapt to this world as you go forward." 
Build end-to-end visibility to identify supply chain risks and opportunities
One of the biggest challenges of building a more sustainable supply chain is having true visibility across all supplier tiers. Companies focused on transparency and traceability are often focused on specific areas of their supply chain. However, they need to expand their approach and build transparency across the supply chain to uncover opportunities to create more sustainable practices, and this requires access to lots of data. While businesses may have volumes of relevant data, planners may need to assemble the information in a way that allows them to connect the dots to make meaningful decisions about carbon emissions and other ESG-related data points. "Then you also need some level of automated action because the number of things that occur coming out of this is going to be so great, you can't manually work through this and decide on the adjustments to be made," Steve says. "So this is an absolutely fundamental building block for me, and companies need to commit to getting this in place to be ready for the transition." 
In summary, for organizations in APAC and across the world who are ready to make their supply chains more sustainable, creating a solid vision, investing in the right technology platforms, and gaining end-to-end visibility are critical factors in building a resilient supply chain that can weather disruption and help an organization achieve its sustainability and ESG goals. In addition, organizations should make sure they are always finding ways to anticipate changes and pivot as needed or risk being left behind. "Large established businesses that fail to anticipate significant changes to the market they operate in, over time, will fail. So if you're interested in your business surviving and thriving, you need to be anticipating the changes that are going to occur in the market and you need to be developing strategies so that your business can adjust and thrive within the new market that's going to exist," says Steve. "Now, if you do that in advance of the changes that occur, any one decision you make may look riskier because you're doing it before the trend is broadly established. But I've seen strong evidence over time that companies that are prepared to take significant risks on smaller changes reduce the risk of the overall enterprise failing. So I would urge businesses to be bold, to create a compelling vision for the future, to anticipate how the markets are going to change, and be the ones who lead the change rather than being dragged along behind it."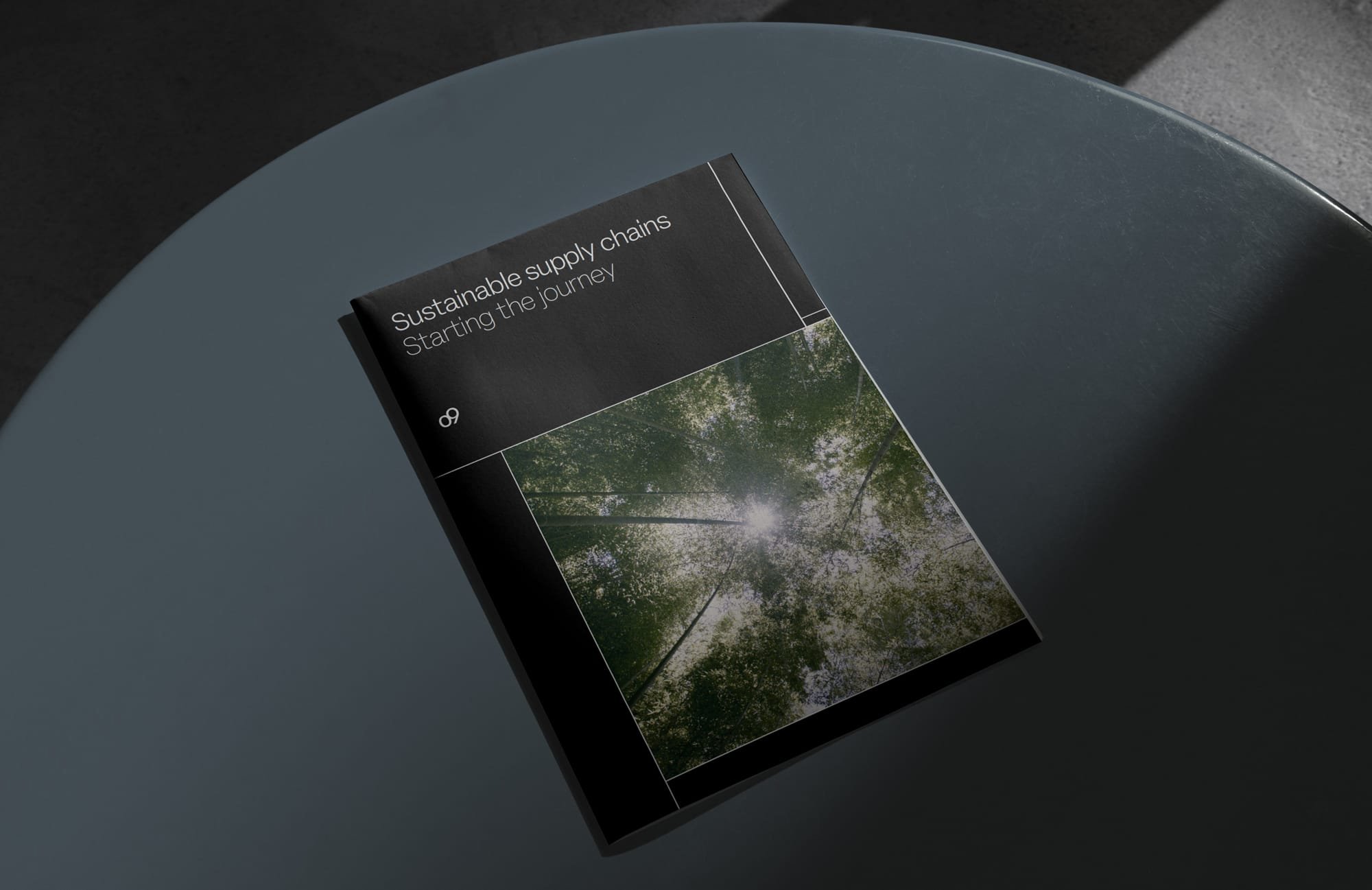 Getting companies into the net-zero mindset to decrease the carbon footprint of the global supply chain
Read our white paper as we guide companies through the first steps towards a more sustainable supply chain
About the author

o9 Solutions
The Digital Brain Platform
o9 offers a leading AI-powered Planning, Analytics & Data platform called the Digital Brain that helps companies across industry verticals transform traditionally slow and siloed planning into smart, integrated and intelligent planning and decision making across the core supply chain, commercial and P&L functions. With o9's Digital Brain platform, companies are able to achieve game-changing improvements in quality of data, ability to detect demand and supply risks and opportunities earlier, forecast demand more accurately, evaluate what-if scenarios in real time, match demand and supply intelligently and drive alignment and collaboration across customers, internal stakeholders and suppliers around the integrated supply chain and commercial plans and decisions. Supported by a global ecosystem of partners, o9's innovative delivery methodology helps companies achieve quick impact in customer service, inventory levels, resource utilization, as well as ESG and financial KPIs—while enabling a long-term, sustainable transformation of their end-to-end planning and decision-making capabilities.