Published: March 8, 2023
Reading time: 7 min
Zarrin Lilani
Supply Chain Expert
According to research by BCG, 70% of digital transformations at large enterprises fail. After being a part of (and often leading) digital transformations at the world's largest food company, I realized that tiny actions could impact the health of digital transformations in a big way. I began to realize that some of the tools I had used in my personal life to build positive change through habits could be applied to the large transformation projects I was managing.
In this blog post, I aim to share how I've applied theories from the book 'Atomic Habits: An Easy & Proven Way to Build Good Habits & Break Bad Ones' by James Clear to build good habit cycles for employees that enabled successful CPG digital transformations. Those who have read this New York Times Bestselling book will be familiar with the concept of getting 1% better every day.
So often in digital transformations (similar to habit formation), we seek a breakthrough moment where we know we have "won" or completed our goal. Once I realized that I needed to focus on the smaller, more frequent improvements vs. seeking one breakthrough moment, I could guide employees more successfully through large digital transformations.
Why tiny changes make a big difference
Good habits in our everyday lives, build upon each other and compound. We are all familiar with how a well-planned workday that fits in good habits like eating well and exercising positively affects how well the rest of the work week goes. Building good work habits for employees as part of a digital transformation also has compounding effects.
This Positive compounding effect can occur very early on during digital transformations. If the time wasted in meetings is reduced as a result of your digital transformation initiatives, this immediately boosts morale. This morale boost then drives impact in other areas of the digital transformation and/or in the next stage of the technology implementation.
Tiny changes also compound negatively for example the frustration generated by unproductive meetings builds up and compounds over time. Keep an eye out for even the smallest of negative changes associated with a digital transformation. These negative impacts may seem small, but they are worth mitigating or tracking to ensure they don't continue to compound.
Create systems, not goals
The biggest "aha" moment for me was when I realized that achieving a goal is only a momentary change and that systems, not goals, create long-term progress. My favorite quote from 'Atomic Habits' is, "You do not rise to the level of your goals. You fall to the level of your systems".
Creating systems and processes for long-term data-driven decision-making and socializing this as the company's mission is much more likely to drive long-term success than socializing a goal to implement a new forecasting system. Not only is creating systems like this more motivating for employees, but it also creates a machine that can sustain success over a longer time period.
This gives you enough context as to why the same rules for building great habits apply to building great digital transformations. Now let's dive into three steps of building great habits that you can apply to your CPG digital transformation
Make it obvious to employees what they need to do. Employee motivation is important, but the environment created can often matter more
Employees' motivation toward a digital transformation can sometimes be overrated when touted as the be-all and end-all to executing a good digital transformation initiative. What often matters more is creating an environment that makes it extremely obvious what employees need to do. For building good habits, the guideline is to write down what exact behavior you will implement and at which exact time and location you will implement it.
When I started working on digital transformations, I was overwhelmed by the excitement of communicating all that we were doing and convincing people of the merits of the change. This meant that the training I executed was very detailed and accounted for nearly every possible question that could arise.
A more seasoned change management specialist pulled me aside and said, "You need to convey the changes employees need to make in more simple and obvious terms. The slides in your training should have a maximum of ten words per slide". Following that ten worlds per slide rule and seeking maximum clarity in what we wanted each employee group to do as part of the digital transformation was challenging but worth it.
Over time I found this simplification process and following the "make it obvious" rule paid off as I watched the digital transformation programs I was leading take off in terms of employee adoption metrics.
Making digital transformations attractive for your employees
Making digital transformations attractive for your employees is the most obvious step here. Still, there is a need to make these transformations attractive for them as employees and individuals. This means communicating the benefits of the digital transformation to employees not only in terms of their growth within the company but also by clarifying how it will improve their personal growth and earning potential outside of the company.
A successful example I saw at Nestlé was demonstrating that technologies we were implementing at Nestlé were also being used at other successful companies. Employees were also offered a chance to get certifications in specific technologies to show that they had mastered them in a way that would gain them external kudos.
Entire reward systems and structures must be built around CPG digital transformations to ensure employees stay motivated. The anticipation of a reward motivates all habits, and a digital transformation is no different. The rewards don't need to be big; there just needs to be some incentive to drive positive action as part of the digital transformation.
Where possible, create motivation rituals to motivate employees through the most complex points of digital transformations, i.e., online or team events or an extra day off after achieving a significant milestone.
Make it easy through consistency and reducing friction
The most effective form of learning is through practice and repetition. New behaviors will become progressively more automatic through repetition. Interestingly the amount of time an individual has been performing a habit is less important than the number of times they have performed it.
Design elements of your digital transformation to ensure that individuals consistently repeat the tasks they need to learn and embed them into their daily habits. Focus on these elements of repetition instead of intense, focused workshops. A better alternative to a workshop is asking employees to block the same time in their calendar each day or week and utilize the new technology being implemented. Another strategy is <strong>providing open hours</strong> for employees to work on the same things at the same time and share their experiences.
Human behavior follows the law of least effort. We naturally gravitate toward the option that requires the least amount of work. Reducing the friction associated with adopting new behaviors and technology is key. UX design plays a vital part in this. Still, you can always do more to reduce friction from ensuring SSO signs on to new tools so employees don't have yet another password to remember to extended hyper-care support so employees can get immediate answers to their questions, for example.
Conclusion
Hopefully, this post has given you some ideas for creating systems for success for your CPG digital transformation. Applying simple changes that have helped the world's highest-achieving professionals build great habits also applies to employees when trying to execute a successful digital transformation.
Create simple frameworks for your employees to guide them through the necessary changes, make participating in the digital transformation attractive for your employees' careers, and make it easy by reducing unnecessary friction. I hope you can reap the benefits of this approach; please share your experience and learnings with the aim10x community.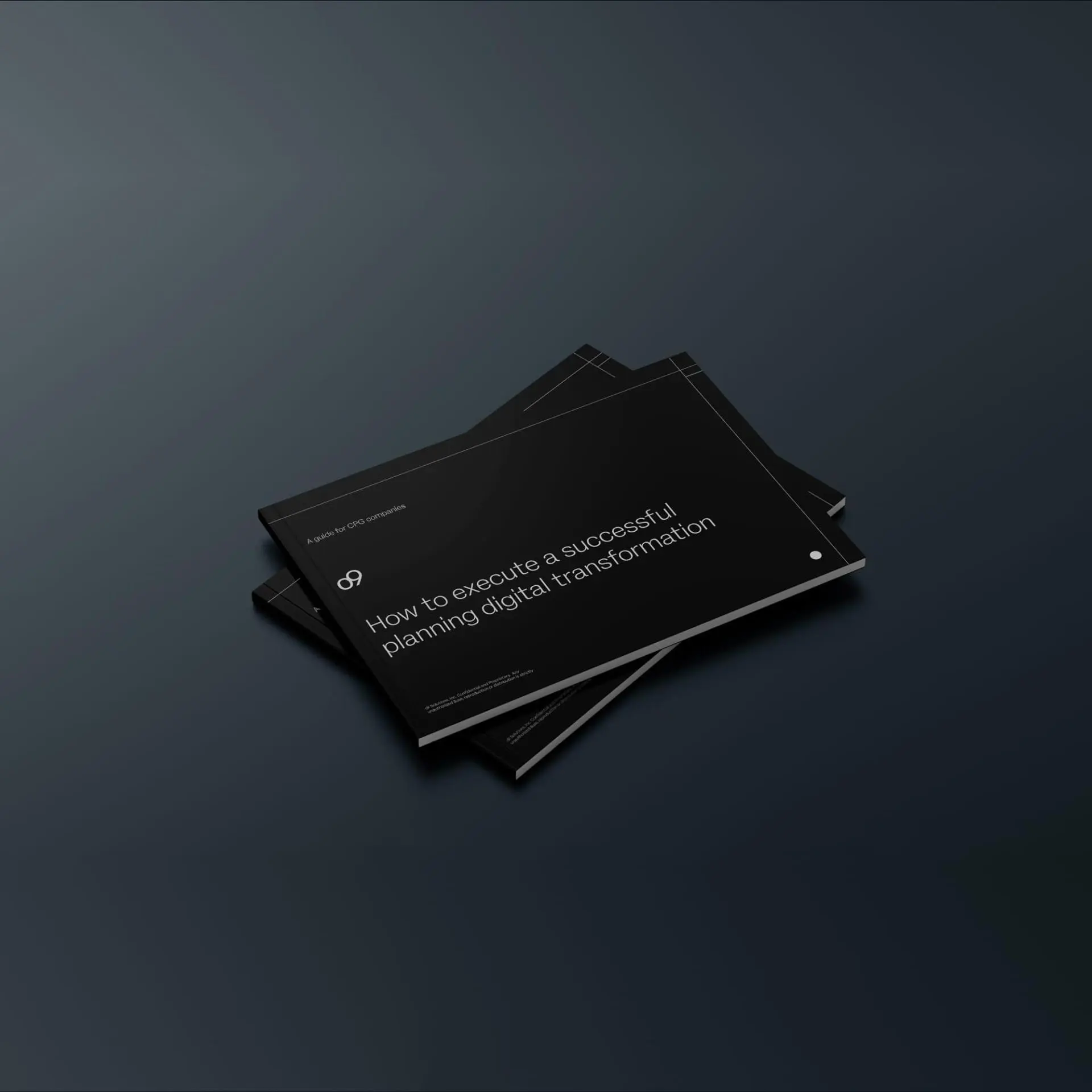 How to execute a successful CPG planning digital transformation
Download this guide to learn more about executing a successful digital transformation of your CPG planning and decision-making.
About the author
Zarrin Lilani
Supply Chain Expert
Zarrin is a Supply Chain Leader and technology strategist who has built out Supply Chains and their supporting tech systems at organizations both large and small. Zarrin is passionate about building resilient and carbon-neutral Supply chains with a particular focus on sustainable food systems.