Published: September 12, 2023
Reading time: 3 min

Vijay Mohan
Global Life Sciences Leader
Published: September 12, 2023
The pandemic exposed vulnerabilities in the Medtech supply chain. As we navigate this post-COVID era, the increasing frequency of disruptions presents challenges. The culprit? The inherent complexity of the Medtech supply chain. Here are five critical levers to address this complexity:
End-to-End Visibility: The Medtech supply chain is an intricate web, with both downstream (hospitals, care facilities) and upstream (manufacturers, suppliers) components. A lack of visibility hampers demand forecasting, inventory management, and service efficiency.

Inventory Management: Managing inventory, especially for field-service products, is challenging. Without clear demand signals from end-users like hospitals, balancing supply becomes a herculean task, leading to unnecessary stockpiles.

Product Portfolio Complexity: With a vast array of products (sometimes in millions), Medtech companies grapple with demand forecasting. A nuanced approach, beyond traditional methods, is needed.

Demand Planning: Without a robust demand planning mechanism, disruptions can have severe consequences, from financial losses to endangering patient lives. The absence of accurate demand signals and collaboration tools exacerbates this issue.

Legacy IT Systems: Outdated IT systems hamper efficient decision-making and collaboration, leading to increased costs and risks.
The Way Forward: Five Core Capabilities
To navigate this complexity, Medtech companies should focus on:
Digital Twin: Creating a digital replica of the entire supply chain can aid in real-time decision-making, scenario planning, and risk management.

Enhanced Collaboration & Visibility: Improving transparency across the supply chain, especially with tier-1 suppliers and customers (distributors, providers, hospitals), is vital. This not only enhances efficiency and decision making capabilities,  but also allows better prediction and management of disruptions.

Advanced Demand-Supply Balancing: Moving beyond historical data, Medtech companies should employ advanced analytics for better demand-supply matching, considering various constraints.

Smart Forecasting with AI: Employing AI-driven tools, like the o9 digital brain, can significantly improve demand forecasting. By considering external factors and employing machine learning, these tools offer insights that manual or traditional methods can't match.

Next-Gen AI-Powered Digital Models: Modern platforms, like the o9 Digital Brain, can transform the planning and decision-making process, providing real-time insights and fostering integrated decision-making.
Realizing the Benefits
Optimizing the Medtech supply chain brings numerous benefits. From improved service levels and demand forecast accuracy to reduced inventory costs and expedited lead times, the advantages are manifold. This not only enhances efficiency but also offers a competitive edge.
To truly leverage these benefits, embracing platforms like the o9 Digital Brain is crucial. It offers end-to-end visibility, seamless integration, and AI-driven insights, replacing manual processes and outdated tools. By connecting all operational aspects on a single platform, it fosters holistic decision-making.
In summary, the Medtech supply chain's complexity demands a modern approach. By focusing on the right levers and embracing next-gen tools, Medtech companies can navigate disruptions efficiently, ensuring that life-saving equipment reaches those in need promptly.
For a comprehensive understanding and a hands-on experience of the o9 Digital Brain, consider requesting a demo. Let's revolutionize the Medtech supply chain together.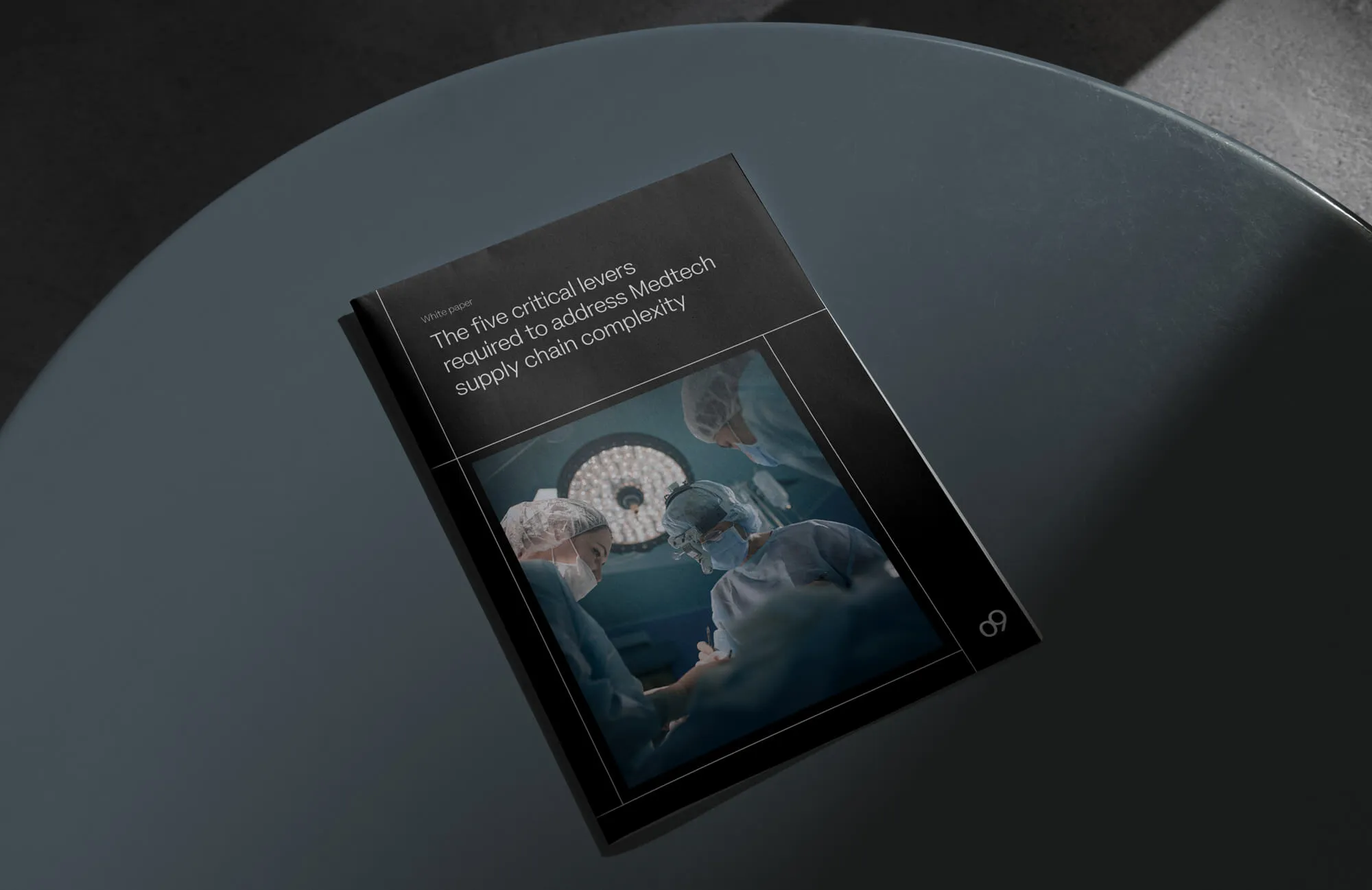 Addressing Medtech supply chain complexity
Navigate and overcome obstacles for a stronger supply chain. Download this white paper to learn more about the five critical levers.
About the author

Vijay Mohan
Global Life Sciences Leader
Vijay Mohan is an accomplished life sciences leader with over 25 years of leadership and hands-on experience in driving technology-enabled business transformations for global life sciences companies, with a focus on the biopharma and medtech industries. At o9 solutions, Vijay is the global leader for life sciences, where he is responsible for driving strategy, go-to-market execution, industry thought leadership, and delivering the most value to global biopharma and medtech companies.