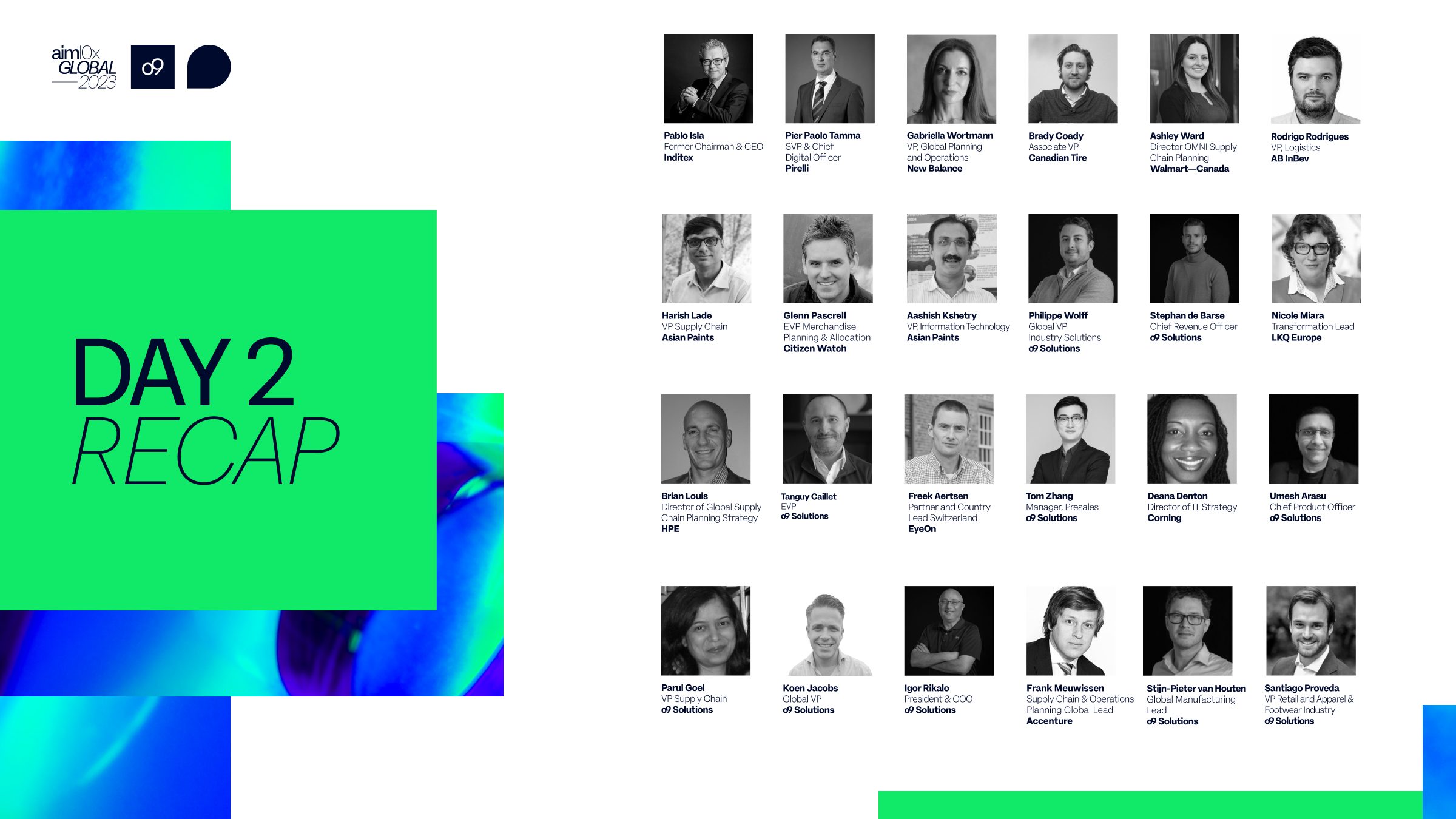 Leaders at multinational organizations highlight the benefits of the digitalization of end-to-end planning on day two of aim10x global 2023, o9 Solutions' two-day online event.

The second day of aim10x global 2023 was packed with insightful presentations from top executives showcasing their companies' impressive transformation journeys. Rodrigo Rodrigues, the Vice President of Logistics at AB InBev, took the stage to share how the company's supply chain transformation journey in China has enabled regional and global growth.

Prior to its transformation journey, the company's supply chain was "unsynchronized," hindering growth in the region. But after embarking on a digital transformation journey, the company is improving its end-to-end synchronization, thanks to o9's planning platform that, so far, has brought over 400 employees from different levels of the company together to collaborate on demand planning activities.
"I did not expect that it would reach such a large number of users, that those users would be so active, and that the level of collaboration among them would be so active," said Rodrigo.
Harish Lade, Vice President of Supply Chain, and Aashish Kshetry, Vice President of Information Technology at Asian Paints, also joined aim10x global 2023 to share highlights from their company's transformation journey.
Harish explained how the o9 platform played a critical role in their vision for digitalization, providing an advanced S&OP engine that feeds market intelligence from 600+ commercial people in the field into the demand planning process.
He also highlighted the partnership with o9 to implement a control tower capability, which the speakers called their "Logistics Workbench," that serves as a real-time nerve center for all critical logistics data, knowledge, and decisions.
"A control tower for the logistics team was one of the key gaps identified. Before, the team was spending a lot of time in finding manually—or referring to the emails to find out—any stock outs happening."

— Harish Lade,
Vice President of Supply Chain at Asian Paints
By leveraging the latter capability, the speakers shared their excitement at achieving a 98.5% same-day order fill rate as of January 2023 (their original target was 95%).
Umesh Arasu, Chief Product Officer of o9 Solutions, Inc., joined the online event next to share his insights on the technical aspects of enabling next-generation planning and decision-making. He highlighted the challenges organizations face in today's complex and volatile business landscape and how o9 Digital Brain's underlying technology, the Enterprise Knowledge Graph (EKG), can help overcome these challenges.
The EKG is a graph-based knowledge model that provides a connected view of an enterprise's data, enabling organizations to make more informed decisions. It integrates data from various sources, such as internal systems, external data sources, and third-party applications, and creates a centralized knowledge model that can be accessed by all stakeholders.
"The framework that we see making the 10x difference is having a digital brain that connects all of these planning processes and enterprises together."

— Umesh Arasu,
Chief Product Officer of o9 Solutions, Inc.
Umesh emphasized the importance of a "digital brain" that connects all planning processes and enterprise systems together to enable more accurate and agile planning and decision-making. The EKG is a critical component of the o9 Digital Brain, providing a comprehensive view of an organization's data and enabling the platform to provide intelligent insights and recommendations.
Pablo Isla, the former CEO and Chairman of Inditex, a fashion retail powerhouse, took to the stage next to share insights on the company's successful move to digital and how it transformed Inditex into a household name in fashion retail. Widely celebrated as one of the most accomplished CEOs in the industry, Pablo spearheaded Inditex's remarkable growth over his 17-year tenure.
"It is the way the company was created with this idea of having the customer at the center of everything and then having a very vertically integrated business model with proximity to suppliers and, at the same time, to all factories that belong to Inditex"

— Pablo Isla,
former CEO and Chairman of Inditex
At the heart of Inditex's success, Pablo revealed, is a customer-centric approach that is supported by a vertically integrated business model. Collaboration across the entire value chain, from suppliers to factories and even partner teams like design, commercial, and supply chain teams, is actively encouraged.
The unique aspect of Inditex, according to Pablo, is that the company does not pre-determine what to offer its customers. Instead, the focus is on understanding customer preferences and delivering what they want. This is made possible by the company's collaboration and vertical integration, which underpins the entire organization.
Retail and Fashion executives joined next to share their insights on how their organizations are tackling some of the most pressing supply chain challenges facing the industry. The speakers offered valuable perspectives on how their companies are leveraging technology, adopting a customer-centric approach, and implementing change management strategies to stay ahead of the competition and drive growth.
Gabriella Wortmann from New Balance shared how the implementation of o9 Solutions has helped automate manual processes, improve forecast accuracy, and provide greater visibility into their supply chain. Canadian Tire's Brady Coady discussed how they are shifting their focus from micro to macro to manage demand volatility better and respond to consumer demand fluctuations. Ashley Ward of Comcast emphasized the importance of keeping the customer at the center of transformation efforts in retail, highlighting the need for companies to understand customer preferences and deliver personalized experiences. Glenn Pascrell of Citizen Watch stressed the need for a structured approach to change management, including understanding user concerns and defining metrics for success.
Pier Paolo Tamma, Pirelli's Senior Vice President and Chief Digital Officer, joined next to share his company's remarkable journey from manual spreadsheet planning to integrated strategic planning. In a virtual event, he discussed how Pirelli is utilizing digital technology to revolutionize its supply chain management and improve revenue while reducing downtime.
Pier Paolo explained that Pirelli's integrated planning approach enables them to accurately predict the demand for tire replacements for the next decade or two by analyzing complex data across multiple product lines, time horizons, and a global network of eighteen plants. To achieve this, Pirelli required a sophisticated digital platform to facilitate cross-functional planning across production, sales, finance, and logistics.
"Having this data for all the time, for all the cars, for ten to twelve years in advance, and being able to manage this data to anticipate decisions or bottlenecks or be sure that we are ready to serve the demands that will arise in the future is the objective of our integrated business planning."

— Pier Paolo Tamma,
Senior Vice President and Chief Digital Officer of Pirelli
By partnering with o9, Pirelli has efficiently managed data, anticipated demand, and optimized operations while making data-driven decisions that maximize EBITA while minimizing emissions and costs. The collaboration has resulted in implementing an integrated business planning platform that enables Pirelli to simulate various scenarios and make informed decisions in advance.
At the virtual event, several leaders from discrete manufacturing companies, including Hewlett Packard Enterprise, Electrical Components International, Accenture, and Nexperia, shared their valuable insights into how their companies leverage AI/ML technology to optimize supply and demand alignment, enhance supply chain visibility, and proactively anticipate potential disruptions.
During the final presentation of aim10x global 2023, Igor Rikalo, COO of o9 Solutions, led an executive panel where participants shared practical learning from Project Zebra—an open-source initiative aims to transform supply chain planning through an "outside-in" approach, enabling organizations to eliminate silos and respond more effectively to market changes. It included Nicole Miara, representing LKQ Europe, and Deana Denton from Corning, who shared valuable insights from their respective Project Zebra pilot programs.
Deana Denton shared valuable lessons learned from Corning's pilot program, emphasizing the importance of identifying appropriate success metrics and understanding new concepts such as coefficient of variations, latencies, and the bullwhip effect. She further stressed that organizations must embrace the dynamic nature of data and educate teams on critical concepts such as demand seasonality.
Nicole Miara provided valuable insights into LKQ Europe's experience with the pilot program, highlighting the challenges of understanding the bullwhip effect and its impact on their supply chain. LKQ Europe experimented with various statistical forecasting models to address this issue, ultimately adopting an outside-in approach that incorporated external market factors, leading to improved planning for the company. Miara also noted that organizations need not have perfect data to embark on a transformation journey.
———————
aim10x global 2023 brought together industry leaders to share their successful transformation journeys and showcased how businesses are leveraging next-generation planning and decision-making technology to stay ahead of the curve and respond to the demands of a complex and volatile business landscape.
The event emphasized the importance of breaking down silos, fostering collaboration, and embracing digital transformation to optimize supply chain management, reduce risk, increase agility and resilience, and maintain competitiveness. From PepsiCo's to Pirelli's integrated business planning approach, businesses are revolutionizing their operations, enabling them to anticipate demand, optimize revenue, and make data-driven decisions.
If you're interested in continuing the conversation, you can set up a call with one of our industry experts to do a deep dive into any topics discussed during the event.