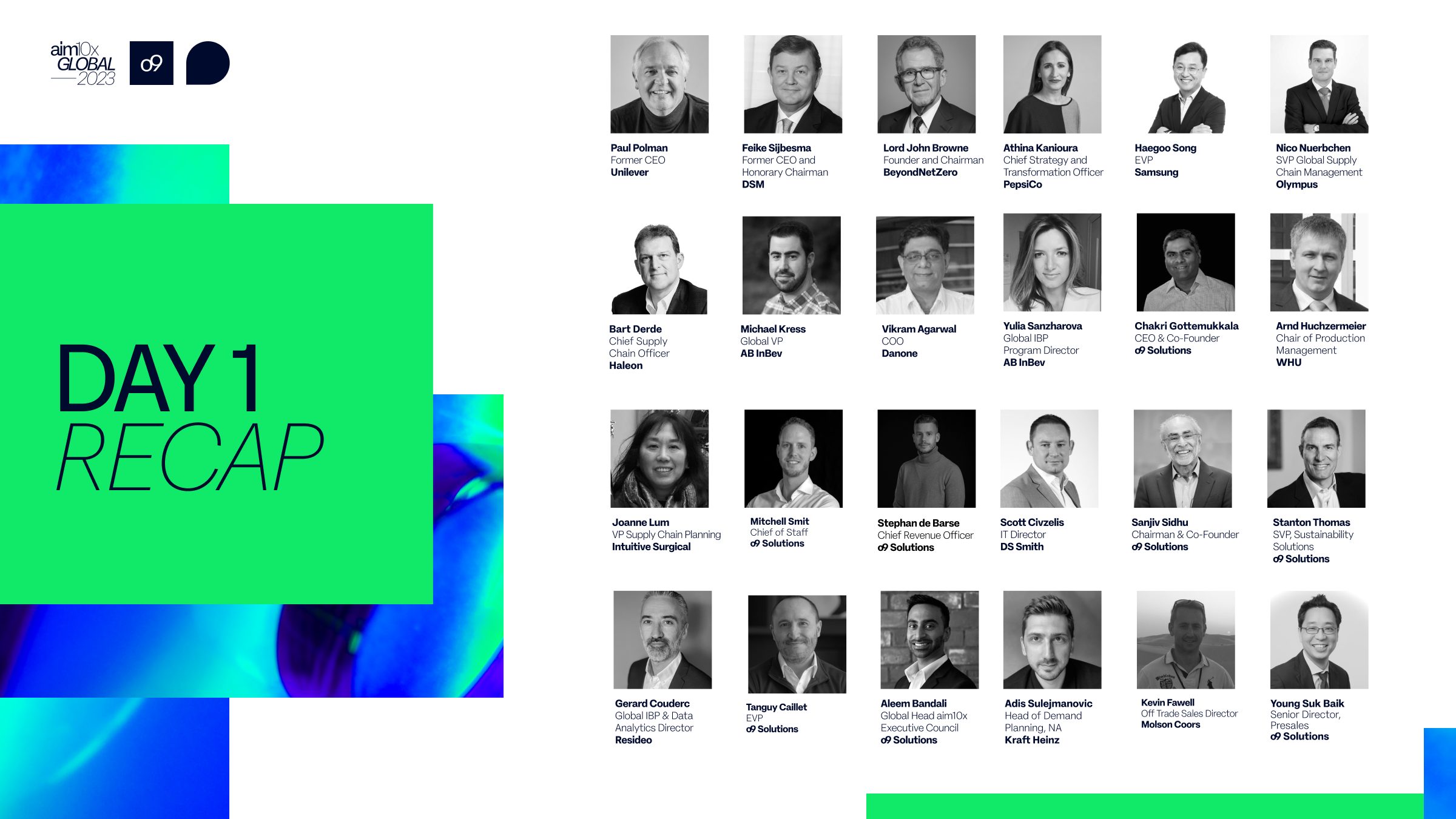 Trailblazing organizations and thought leaders offer a blueprint to making better, faster decisions at scale on day one of aim10x global 2023, o9 Solutions' two-day online event.
The past four years have sparked a profound shift in how we think about supply chains and business. Geopolitical conflicts, trade wars, macroeconomic uncertainty, and extreme demand and supply volatility have forced companies to take a hard look at the vulnerabilities of their operations, driving the discussion on enterprise planning and decision-making all the way to the boardroom.
Leading this movement is a group of forward-thinking companies challenging the status quo of planning and decision-making and embracing advanced technologies to enable more resilient, agile, and sustainable operations. aim10x global 2023—o9 Solutions' flagship virtual event—showcases the innovative spirit of these organizations.
Over two days, leaders at these companies joined the event virtually, from Tokyo to Texas, to offer a blueprint for enterprises seeking a better, faster way to plan and make decisions, not just for better financial performance but for a better planet.
———————
aim10x global 2023 kicked off in Japan, where o9 Solutions' Chief Revenue Officer, Stephan de Barse, met with Olympus' Senior Vice President of Supply Chain Management, Nico Nuerbchen. Since 2019, Olympus has been on a journey to become a truly global organization. Still, the transformation hasn't been without its complexities, requiring the company to fundamentally rethink the role of its supply chain, restructure key functions, and implement a robust change management program.
Nico explained that the shift to becoming a global company required the company to redefine its supply chain as an orchestrator, risk manager, and enabler. Fulfilling these roles required integration, transparency, having the right data and systems, and reacting faster to changes, leading Olympus to embark on a supply chain transformation journey.
The ultimate goal of the transformation, he explained, was to enable the capacity to sense and respond proactively to risks and opportunities in the supply chain—a goal shared by many organizations attempting to adapt to a complex and volatile landscape.
The online event then shifted to South Korea, where Hae-Goo Song, Executive Vice President of Samsung SDS, emphasized the importance of data in digital transformation. Hae-Goo argued that your data's quality determines your digital transformation's quality.
"There's a big difference between data and knowledge. What companies have is a lot of data, but what they lack is the systematic knowledge to make better decisions."

— Chakri Gottemukkala,
Co-Founder and CEO of o9 Solutions, Inc.
Meanwhile, o9 Solutions' Co-Founders Sanjiv Sidhu and Chakri Gottemukkala, speaking from Dallas, Texas, brought a different perspective. They emphasized that data was just the beginning regarding better planning and decision-making. Chakri argued that companies lack the systematic knowledge to make better decisions.
Tribal knowledge, in this context, refers to business-critical information only known to an individual or small group within the enterprise, often as an email, a spreadsheet, or a conversation.
According to Chakri, silos prevent organizations from answering essential questions, such as "what is happening, why is it happening, and what will happen in the future?"
Chakri expressed excitement at how much things have changed and how technology advancements such as artificial intelligence and machine learning make it possible for organizations to systemize knowledge from different departments and generate visibility of what is occurring in the supply chain and why. By answering these questions, companies can perform scenario planning, which allows companies to see the impact of potential decisions on an integrated set of KPIs, such as revenue and growth margin.
He closed the session by emphasizing that planning and decision-making is the most valuable enterprise technology, significantly more valuable than ERP. He firmly stated that the companies that differentiate themselves in this area will be the most valuable companies of the future.
Joining virtually from Amsterdam, Paul Polman, former CEO of Unilever, and Feike Sijbesma, former CEO and current Honorary Chairman of DSM, shared their vision for sustainable enterprises. Their deep-rooted passion for sustainability has earned them numerous accolades and highlighted the global impact of enterprises on the environment and communities.
Paul and Feike challenged companies to move beyond just mitigating their impact on the planet and people and instead aim to make a net-positive impact, a sentiment captured in Paul's book, Net Positive: how courageous companies thrive by giving more than they take.
Feike and Paul emphasized that companies have a responsibility to the planet and its people. The moment companies have an impact on the lives of others, they automatically have a responsibility. They also acknowledged that many companies had taken steps to address their environmental impact. However, Paul insisted that it's not enough, explaining that many companies apply linear solutions to an exponential problem. While companies have made commitments, the gap between their commitments and the impact is still getting bigger.
"There is this fallacy that there is a trade-off between economic growth and sustainability, or between profitability or sustainability. That's not the case anymore."

— Paul Polman,
former CEO of Unilever and Co-Author of Net Positive
One of the obstacles preventing companies from doing more is the idea that profitability and sustainability are mutually exclusive goals. Paul urged companies to embrace sustainability, explaining that more sustainable companies are more likely to be profitable in the long run.
He also called for companies to take full accountability for their impact, not waiting for regulations to act. He explained that companies should not make lowball commitments that they know they've already achieved. Instead, they should focus on doing significantly more than science tells them.
Paul and Feike advocated for using technology to enable companies to reduce their carbon emissions. Technology can enhance supply chain efficiency, giving companies greater visibility into their supply chain's circularity, waste generation, and environmental risks. This increased visibility empowers companies to take proactive steps toward achieving their sustainability goals.
To close their discussion, Paul and Feike challenged companies to take action and make a net-positive impact. They shared that companies must embrace sustainability and leverage technology to reduce carbon emissions. Ultimately, businesses must take full accountability for their impact on the planet and its people.
In London, Lord John Browne, former CEO of British Petroleum and Founder and Chairman of BeyondNetZero, took center stage. With his wealth of experience in the energy industry, Lord Browne detailed his vision for a future powered by clean energy and what it will take to get there.
According to Lord Browne, the shift to clean energy is not just a revolution but a transition that demands replacing existing infrastructure. It's a massive undertaking that requires substantial investment. Lord Browne's calculations indicate that achieving net-zero carbon emissions by 2050 mandates a collective annual investment of three trillion dollars. Presently, only one trillion dollars is invested annually.
Both public and private sectors play critical roles in this transition to clean energy. Lord Browne stressed that the public sector must enact laws and policies that ensure a sustainable future and leverage public funds to mitigate risks the private sector may not be able to manage while building new infrastructure. He notes, "The government is the sole entity that can set policy, defining what should be done. Therefore, what is the long-term purpose and objective of a country? It is to establish a sustainable future."
"It's an essential move that people think about the effectiveness
and efficiency of supply chains, and also about their carbon footprint."

— Lord John Browne,
former CEO of BP and Co-Founder and Chairman of BeyondNetZero
On the other hand, the private sector is responsible for delivering outcomes and fostering innovation by providing venture funding for people to explore new ideas. Lord Browne also discussed the critical role of supply chains, which he likened to "the nervous systems and arteries of the world." Leaders must scrutinize their efficiency, effectiveness, and carbon footprint to decarbonize supply chains while balancing sustainability with security. Despite the just-in-time strategy's popularity in reducing inventory-related expenses, Lord Browne emphasized that additional inventory may be necessary for security reasons.
The focus of the event then shifted to the consumer products industry with an executive panel featuring leaders from some of the biggest consumer product companies in the world. The panel, led by o9 Solutions' Stijn-Pieter van Houten, included executives from Resideo, AB InBev, Kraft Heinz, and Molson Coors.
Gerard Couderc, Global IBP and Data Analytics Director at Resideo, kicked off the discussion by sharing the main challenges his company faces in managing its global supply chain. According to Gerard, the increasing complexity of the supply chain and the need to manage risk predictively are Resideo's biggest concerns. The other participants echoed Gerard's concerns, citing the increasing frequency and intensity of supply chain risk events, from geopolitical conflict to trade wars.
Yulia Sanzharova, Integrated Planning Program Director at AB InBev, shared how her company is responding to the extreme business environment by relying on visibility, resilience, and agility to improve responses to disruptions. Yulia emphasized that enabling these capabilities is only possible through digital transformation and workforce strategies designed for today's world.
Next up was Danone's Chief Operating Officer, Vikram Agarwal, who shared insights into the company's recent recognition for adopting Fourth Industrial Revolution technologies. Vikram explained how the Opole factory in Poland has been instrumental to Danone's Digital Manufacturing Acceleration program, which aims to implement new digital solutions to increase productivity and efficiency across all manufacturing categories.
Vikram emphasized the importance of clearly articulating the value that digital initiatives bring to the business. He cautioned against the risk of implementing digital programs simply for their notoriety or recognition without delivering tangible benefits to the company. The Opole factory has achieved significant reductions in manufacturing costs, efficiency gains, and progress toward sustainability by combining energy and production data to improve energy efficiency and reduce water usage.
In New York City, Dr. Athina Kanioura, Chief Strategy and Transformation Officer at PepsiCo, took the stage to share the company's journey towards integrated business planning (IBP). She addressed the challenges posed by a "tribal" mentality that led each department to assert its version of the truth, resulting in a cumbersome process of reconciling competing perspectives and arriving at a consensus plan.
In response, PepsiCo made a strategic decision to implement o9's integrated business planning capability that would address its siloed planning processes. This move allowed PepsiCo to leverage digital technology to foster truly cross-functional planning and decision-making. As Dr. Kanioura explained, IBP empowered the general manager to run the business as they saw fit, taking power out of the functions.
 "For us, IBP is a growth engine while launching an ability for everyone to collaborate under one single orchestration layer and an umbrella process for the organization."

— Dr. Athina Kanioura,
Chief Strategy and Transformation Officer of PepsiCo

According to Dr. Kanioura, PepsiCo now achieves one single source of truth, with everyone aligning behind one number. The IBP discussion has evolved from a mere supply chain conversation to a comprehensive cross-functional transformation that involves numerous teams and leaders, including the CCO and CFO, under the guidance of PepsiCo's esteemed strategy and transformation department.
Dr. Kanioura emphasized that IBP is a growth engine, launching an ability for everyone to collaborate under one single orchestration layer and an umbrella process for the organization. PepsiCo recognizes the significance of IBP's implementation, poised to revolutionize its operational structure, and marks a major milestone in its digital transformation journey. With IBP, PepsiCo is now better positioned to compete in the consumer products market, and its transformation story serves as an inspiration to other companies looking to streamline their processes and achieve true cross-functional planning and decision-making.
The event shifted to London, where Bart Derde, Chief Supply Chain Officer at Haleon, a fast-moving healthcare consumer goods company, shared his insights on the supply chain implications post-demerger with GSK. Bart emphasized the far-reaching impact of the demerger on supply chain operations and the changes that his new supply chain organization has undergone since its inception. He also detailed the digital transformation program Haleon has implemented as a vital component of its overall strategy.
Haleon's strategic shift towards a more consumer-focused approach has been a pivotal turning point for the organization. However, the legacy systems and processes in place were not optimized for this new paradigm. Haleon recognized the need for a significant overhaul of its supply chain to keep pace with the evolving business model.
With agility and a customer-facing mindset at the forefront, Haleon embarked on a comprehensive digital transformation of its supply chain. This bold move enabled Haleon to embrace an integrated business planning capability while cultivating a more agile and responsive supply chain. According to Bart, "The IBP process is fundamental to how we want to work moving forward." With scenario planning tools, Haleon can anticipate and respond to changes and promotions faster and more precisely, resulting in shorter end-to-end lead times and a truly customer-focused supply chain.
Michael Kress, the Global Vice President of Logistics Planning at AB InBev, tuned in from New York City to speak with o9 Solutions, Inc.'s COO, Igor Rikalo, about the company's end-to-end planning overhaul. Michael provided a comprehensive overview of the initiative, which began in Canada, expanded to China, Brazil and 30 other markets, and is currently being implemented in the United States.

"We're trying to shift the paradigm from putting
out fires to them never starting in the first place."

— Michael Kress,
Global Vice President of Logistics Planning at AB InBev
As Michael highlighted, the company's adoption of technology has required a significant shift in mindset. The company's planners had grown accustomed to putting out fires, taking a reactive approach that failed to align with the company's aspirations for its "air traffic controllers." Instead, the company aimed to promote a calm and proactive planning approach, with Michael stating, "we're trying to shift that paradigm from putting out fires to them never starting in the first place."
Michael went on to detail the financial benefits of the company's transformation program. This included better alignment of supply and demand, which would optimize service and empower commercial teams to grow the business. Additionally, the program would eliminate waste from obsolescence, optimize inventory, and reduce costs.
Moreover, Michael emphasized that the company could produce more beer closer to its consumers by having better plans and anticipating disruptions more effectively. This outcome, he noted, not only resulted in higher quality and better-tasting products but also reduced costs, demonstrating the tangible financial gains that can be achieved through strategic planning and the adoption of cutting-edge technology.
o9's Stanton Thomas took the stage next to unveil o9 Solutions' new sustainability solution. Focusing on measuring and reducing scope-3 carbon emissions—emissions from outside the enterprise from suppliers and logistics providers—Stanton emphasized that companies must go beyond minimum compliance-level ESG reporting to take strategic and operational steps to drive supply chain sustainability. "Companies are going to have to reach beyond their organizational boundaries and begin acquiring primary measurement data from their suppliers and service providers," said Stanton.
As the day drew to a close, o9's Tanguy Caillet took to the virtual stage to lead a panel of executives from the complex manufacturing sector. In an era where data reigns supreme, the panelists unanimously agreed that effective data management, visualization, and leadership-supported S&OP and Integrated Business Planning (IBP) processes were critical in unlocking the full decision-making potential of data.