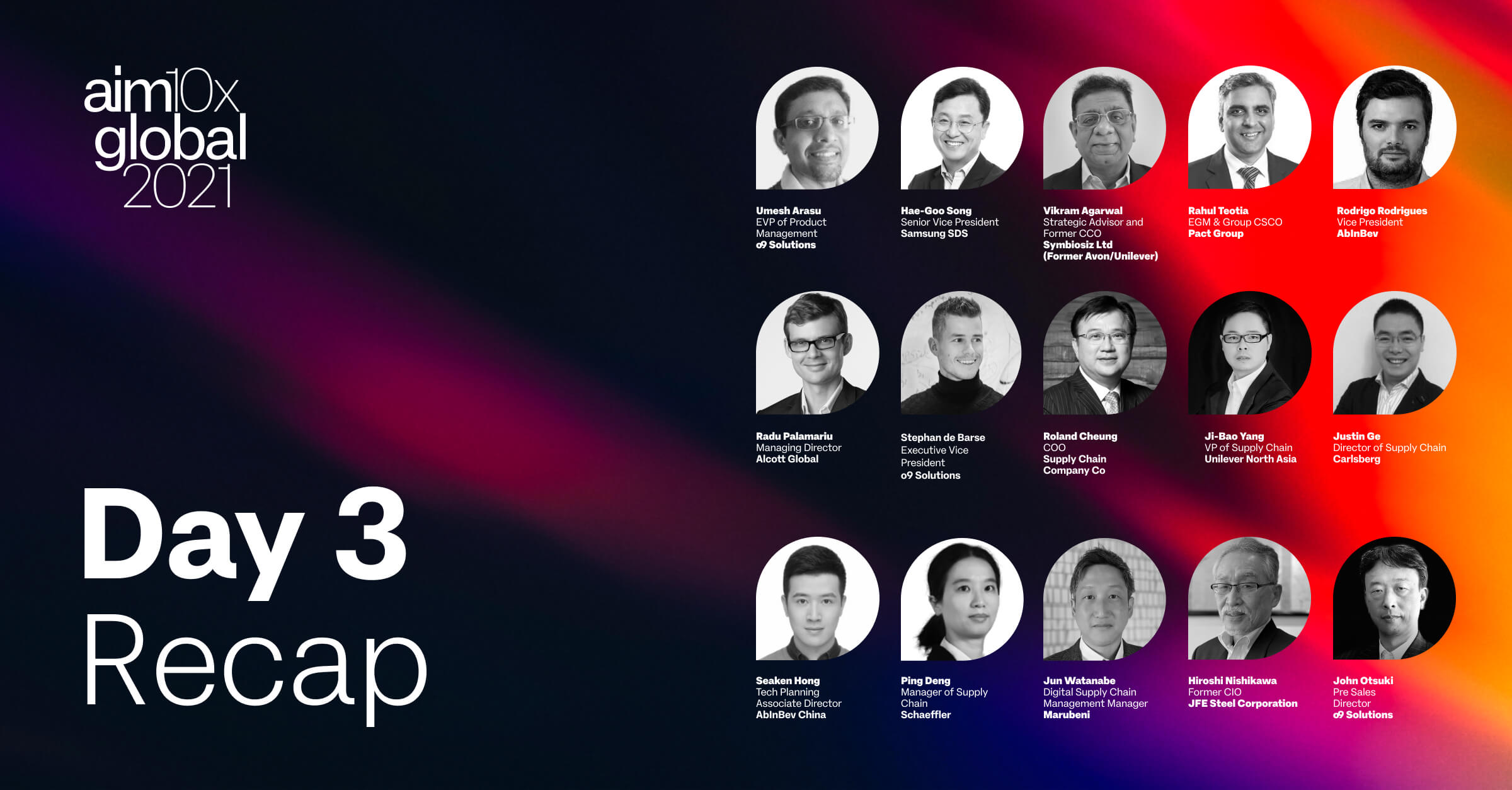 Hello one last time from the aim10x Global team!
Day 3 of our aim10x Global event turned its focus on Asia and the topics that are top of mind in the region.
But first the day started with the highly anticipated "behind the curtain" session, looking at the technology that enables the o9 Digital Brain. Umesh Arasu, head of Product Management at o9, explained the key elements of the o9 platform and how they uniquely enable data-driven planning and decision-making – this capability that everybody agreed is so central to making companies more digital. Umesh also zoomed into the Enterprise Knowledge Graph that, similarly to the way the human brain works, transforms data into knowledge. He also highlighted some of the latest innovations that o9 is deploying. This session nicely complemented Chakri's Day 1 session on "Why companies need a Digital Brain?" by answering the question "how does it work?".
It was then time to hear how one of the iconic companies of the region, Samsung, with Hae-Goo Song, Senior VP at Samsung SDS. With dramatic changes being the new normal, a resilient supply chain is required – and this cannot happen without fully embracing digital technologies, especially in planning. Hae-Goo Song shared six innovative ideas that he sees as requirements to digitalize supply chain planning. Central is the notion of both vertical and horizontal integration in planning, breaking down the silos that prevent an end-to-end view and resolution of issues and opportunities. Other key ideas are the ability to incorporate many more information sources and better decision-support analytics and algorithms to improve the decision-making. Overall, a visionary and inspirational success story from a company that is making concrete progress on its digital journey.
The next panel brought together representatives from four companies to discuss how businesses in the APAC region had to change their way of operating both during the height of the COVID crisis as well as in the "new normal" we are in now. A key issue that companies faced was the ability to clearly understand the implications of the changes on their business, and then how to best react. In these situations, the tools and processes too often were inadequate, and a lot had to happen manually. This reinforced the need for more robust planning tools that can rapidly pinpoint the issues and help create different scenarios on how to react.
The next session took us to China with a lively exchange on how AI technology for demand and supply planning was helping companies in China.
Finally, we finished our tour of the APAC region with a session on DX in the distribution industry, looking at data and supply chain management in Japan.
Our three-day conference is already over! Almost 5,000 people registered and we sincerely hope all of you enjoyed the content and the exchanges. Want to (re)watch any session from the event at your own pace? All sessions have been recorded and can be viewed on the event platform until Friday.
Finally, mark your calendars: aim10x Global will be back on March 28 – 30, 2022. Register here to stay in the loop. Thank you for joining us and we look forward to seeing you again soon!
About Patrick Lemoine
VP Global Product Marketing at o9 Solutions, Inc.