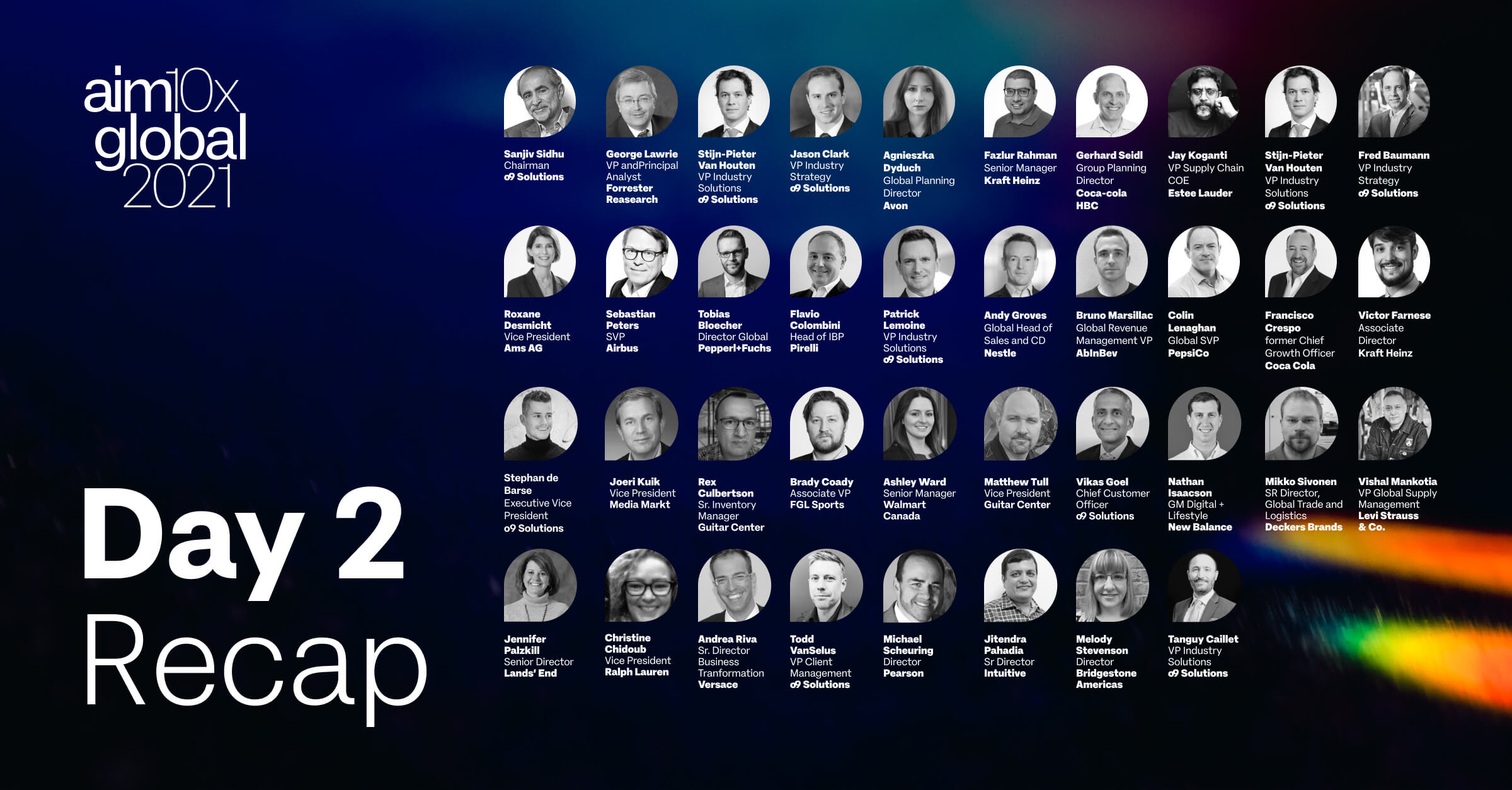 Day 2 of our aim10x Global event continued with an agenda packed with the same high caliber presenters as Day 1 and with even more real-life supply chain transformation stories.
The day started with Sanjiv Sidhu, Chairman and co-founder of o9, talking about the contrast between consumer AI that has become so smart (think of Google Search or Waze) and the world of the enterprise applications – and planning in particular. He described the hurdles that companies are facing and what they can do to overcome them. Sanjiv then described the key elements of a successful digitalization strategy – clear vision, value approach, circles of learning – and highlighted what the requirements are from a technology point of view.
Looking at how companies are best preparing for the increasing volatility, a topic already widely discussed yesterday, George Lawrie from Forrester Research explained the importance of supply chain design to create the flexibility that is so critical to handle disruptions. He emphasized that companies needed to find the right balance between two opposite strategies, efficiency and redundancy, and called this resilience. He concluded by highlighting the 5 steps to resilience, one of them being to implement the right technology with a focus on end-to-end visibility and scenario planning.
It was then time for a deeper dive into digital transformation in planning. 18 companies, representing all industries from consumer goods, fashion, and retail to industrial manufacturing and high-tech, shared their experience in a series of industry-focused sessions.
In the consumer goods session, the participants agreed that it was more critical than ever to better use all the external market data available to better predict demand – the outside-in approach recommended by Project Zebra yesterday. Also, in the CPG industry, breaking down the functional silos in planning – as Sanjiv mentioned it in his session – is key: Running an IBP process and not having the commercial organization as an integral part of it is "like trying to run with one of your legs tied behind your back" as one of the participants said.
In another consumer goods session, this time focused on revenue management, everyone was unanimous in calling revenue management the #1 use case for AI and advanced analytics: With so much data available today and so many products/locations/promotions to plan, it was impossible to continue to work the old way, with yesterday's tools.
In the discrete manufacturing discussion, it emerged that there was a high degree of similarities in the core planning processes despite the difference between industries as diverse as consumer electronics and commercial aircrafts. In many sectors, short-term demand planning is very critical, the "holy bible" as one participant called it. The new AI/ML forecasting are very promising here. But one critical aspect is to hire the right talent, the data analysts who can identify the relevant demand drivers and adjust the models. The other aspect is to identify the right level of aggregation for the different forecasting horizons.
So, what is the best way to get started? The last session introduced the audience to the Digital Process Prototype (DPP). A DPP is a low-risk way for companies to test how o9's Digital Brain platform can address their specific planning challenges before they move ahead with a full implementation. In a concentrated 10-12 weeks, companies can experience real software, running their own data. In addition, a DPP provides a valuable digital transformation roadmap. Clearly an innovative approach – very much in line with the short increments of value approach that was recommended by Sanjiv Sidhu in his session.
There was of course a lot more discussed than can be captured in this summary. We encourage you to view the sessions you missed or return to the ones that inspired you: All sessions are available on demand directly in the platform. And so are the o9 Talks, a series of short interviews with supply chain leaders.
Tomorrow, we turn our focus to our friends in Asia – with a schedule more aligned to the APAC time zone. See you tomorrow for more sessions, including a not-to-be-missed deeper dive into the technology that enables the o9 Digital Brain!
See you tomorrow!
About Patrick Lemoine
VP Global Product Marketing at o9 Solutions, Inc.